Removals from France to Spain
We are one of the leading companies offering excellent services of removals from France to Spain and from Spain to France. We have been in the industry for a few decades now, that is why nothing is going to surprise us in serving these directions. Over years, we have helped hundreds of individuals, families or businesses with their removals needs. Although we offer cheap removals from Spain to France, we always handle your goods with extra care and attention and this is exactly what you need when you think of moving goods abroad.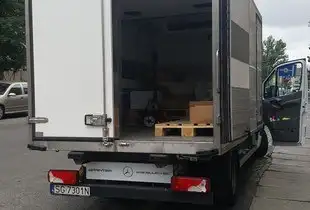 House removals to France from Spain have never been easier than with our professional yet cost-effective help. Abroad removals do not have to be a stressful event as long as you have a right team on board. A perspective of a new life in a sunny place, full of tourists, colours and vibrant atmosphere can be really exciting. We will help you focus on this excitement, instead of tons of worries on how to arrange moving 4 bedroom house to Spain. It may appear very complex at the first sight, and perhaps for someone that has never moved before it can be a nightmare, which is why the members of our removals team of cheap removals to France from Spain, will take all the stress off your shoulders
Throughout all these years in removals business we have established proven methods and standards, to make our clients sure their relocation will be efficient and also safe. Once you get in touch with us, our friendly team will offer you a clear quote for house goods removals to France from Spain, or for office removals. Depending on your needs, we can offer you a complete moving solution if you are looking at moving full house to Spain from France, or provide you with a solution for moving smaller loads. To get an idea about the moving rates you should compare moving quotes before booking our services. We will customize our offer to your particular needs, making sure you will not pay more than is really required by the specifics of your moving project. Moreover, we always strive to deliver your goods on time, as agreed in advance with you.
Furniture removals from Spain to France
Taking into consideration the size of your move, that is, having assessed how many pieces of furniture you intend to move, what's their size and weight, we will be able to offer you different solutions. Obviously, minding also your time frames and budget. If your move is rather big one, dedicated van to Spain from France seems to be the best option. However, if you need moving a few pieces of furniture, shared van will be perfect for you. No matter the type of service, we are providing door-to-door delivery, in order to make moving furniture from France to Spain as easy and straight-forward as possible. Whenever you need even more help due to lack of time or experience in furniture removals Spain to France, we can also export wrap your possessions to guarantee their safety during the move.
We're aware that moving needs of our customers tend to be really different one from another, and some of them are only looking at sending boxes to Spain from France. Some people tend to leave all the furniture behind and just take their personal effects, be it 30 or 50 boxes. Boxes delivery to France from Spain usually takes place by shared van, but not to worry. Our removals company operate regularly between France and Spain, so we're all the time available to answer your needs.
Man and van to Spain from France
Both dedicated and shared van to France have their advantages, and should be selected as based on your particular needs. Using a dedicated van to France from Spain, you can freely choose your departure date, which is a great advantage if you are either short of time or appreciate a smooth moving logistics. This solution also allows you to more or less assess the arrival date and time, obviously taking into consideration traffic conditions.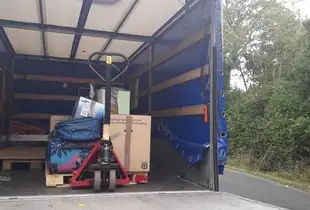 Our driver will appear at your door at an agreed time, safely load your possessions on thSpain to France man and van hire vehicle, and then head directly to your new house. Our cheap man and van to Spain from France is not only about taking the goods from one town to another, but we always do our best to offer services that our customers may need. To this end, we can arrange a period of storage if for some reason your new place is not ready to accept the goods yet. There's also packing service available, subject to prior notice, if you need professionals to protect your items for moving abroad.
If your load isn't big enough to fill the entire van, you're not bound by any specific deadlines, or you're just working to a budget, you should go for a shared man and van from France to Spain rather than hiring services of removal companies. It is still possible to arrange a fixed collection date within a particular time frame, use a packing service or storage option, yet the delivery time can be a bit extended. Load sharing means that our driver needs to stop from time to time to collect or deliver other people's loads, and it's more time-consuming than a direct delivery. However, this inconvenience of using shared van Spain from France translates into lower cost incurred by individual customers. We also cover other locations in Europe. So if you need removals Ukraine to UK, we can arrange it easily.
Cheap man and van France to Spain is available at your call and offers a first class service between these two popular European countries. Thanks to the attractive rates, quick man with van Spain to France service is so popular among our clients that we usually dispatch our vans 1-2 times a week. If your load is rather small, choose cheap man van from France to Spain and pay only for what you have, not for the entire vehicle. Sending boxes to Spain or furniture delivery to France or Netherlands to France removals can be easy and cost-effective and still take a reasonable time.
Sending items from spain to france
You have made a huge decision to leave your current life behind and start anew in Spain or France. No matter why you take this step, we are sure it may entail both excitement, as well as stress on how to move goods to Spain from France or back. If you'd like to take care only of the pleasant aspects of your move, suffice it to call our friendly team. They will guide you through the process of moving house to France from Spain step by step so that you can have a peace of mind that you are well prepared and your goods will be safe throughout the journey. Our team will advise you on the necessary paperwork, explain the issues of packing your items, help to assess the volume of the goods, the best time to collect them and how long it will take for them to arrive at your new place. And obviously, how much it costs to move items to France or Spain. We also do Ibiza man with a van one way hire.
If you are looking for a professional removal companies from Spain to France, which suits every pocket, we will be the right choice for everyone in a need of moving house to Spain from France. The needs of our customers is what we value the most, and that is why we offer a broad range of services our client can choose from. Offering cheap man with van to Span from France, we put our focus on the following principles, which guarantee customer's satisfaction. They are:
Offering the customers an outstanding service, exceeding their expectations;
Handling the goods with an utmost care;
Providing tailored solutions at the most competitive rates;
Offering door-to-door service between Spain and France.
Express removals from France to Spain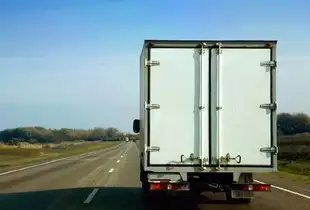 Taking into consideration the proximity of these two countries, the average journey of your goods should not exceed 24 to 48 hours. Obviously, the exact delivery time depends on the distance between the particular pick-up and delivery place, but also on the size of van that you choose as well as mode of transport (whether it's a dedicated van to Spain or shared service). The quickest possible option is to send a full van, that is about 15 m3 load. In this instance, if the distance is not too big, you can even expect a delivery on the same day as collection. It is possible as the full van, having been loaded with your belongings is immediately dispatched to the destination place.
On the other hand, smaller loads of 5 m3 or 10 m3, undergo a shared load procedure, therefore it takes a bit more time for your goods to arrive. The delivery is slightly postponed as the driver needs to include other customers' addresses on his way. However, it is still worth considering, as this solution generates significantly lower moving cost. Delivery shouldn't take longer than 48 hours so that you'll have ample time to ask someone for a helping hand in loading the goods off the van.
CHEAP MAN WITH VAN SERVICE FROM SPAIN TO FRANCE
Are you looking for expert house movers in Spain? With us, your relocation will be cost- and time-effective, and the job will be done in a safe and responsible way. Once we receive your request, we will do our best to provide a service tailored to your needs, and to your budget. We are a perfect solution for customers aiming at moving house to France from Spain, cheap apartment removals to Spain from UK, or moving a business. We will make sure to provide you with a van of appropriate size, and all the services you may require. We guarantee that your cheap man with van France to Spain will deliver anything you need at a reasonable price. Our professional drivers and movers are trained how to handle your items to make them perfectly safe. Regardless of the destination, be it man with a van going to Latvia or to Spain, we will take care of your goods so they arrive safely.
It does not matter whether you're sending 10 boxes, moving full house to France from Spain, or sending office furniture to a new business location, we will accommodate all your needs. It is important not to look for the cheapest option, but to trust people with experience and also insurance for the complete peace of mind. Do not wait any longer and submit your request to obtain a moving package from our removal companies to Spain from France that can be tailored to your individual preferences and requirements. Our customer-oriented attitude means that you will find it easy to move from France to Spain - we can also arrange exress man with a van to Estonia from Spain.