Removals to Belgium man and VAN
Cheap last minute removals to Belgium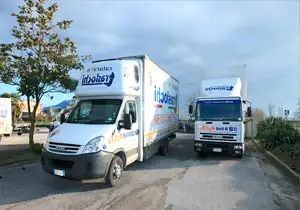 Contact us to see how much is removals to Belgium from the UK and all of Europe. Our urgent delivery and house moving costs are highly appreciated by all of our clients.
Our removal services include single items delivery, 1 bedroom house moves, full 4 bedroom house relocation, pallet courier services, groupage shipping, full 20ft container transport, dedicated long wheel base and Luton van hire, 7,5 ton - 18 ton and 24 ton full truck loads.
We will always give you as much time as you need to tell us about your move. The better we understand your requirements the more spot-on our UK to Belgium moving quote is going to be. This always allows us to provide you with very accurate and fixed man and van to Belgium removals costs.
Whether it's a full 3 bedroom house move that you have been planning for weeks or a last minute removals to Belgium with next day delivery to Brussels from London, to Antwerp from Glasgow, to Gent from Sheffield, to Charleroi from Bristol, to Liège from Birmingham, to Brugge from Liverpool or to anywhere you require we are the right moving company to do the job.
Contact us to find out how much is to book one way van hire to Belgium or how much it is to transport boxes, furniture and commercial goods from Belgium to the UK. Before moving, you must have valid covid-19 passport.
We specialize in express delivery, urgent and short notice moves as well as in economy moving. Our cheap UK to Belgium next day delivery services are provided at very competitive rates as we can offer both shared van transport and dedicated removal van hire. If you are looking for a cheap removals to Belgium from Ireland, Scotland, Wales or England you have to contact us for a free quote. Once you have received our price you can compare us against other UK to Belgium next day delivery companies.
We work for both private and business clients. Our cheap one way removal van hire to Belgium is available to you 24/7. Simply phone us at any time and book the job. In comparison to most of our competitors we can collect after 6pm, at midnight hour, 6am in the morning on Saturday and Sundays. If you book a cheap next day deliver to Belgium with us you can be sure our dedicated 1 man with a van hire will do the job as requested.
As we send our express removal vans to all Europe we are able to offer you same day and next day last minute removals to Belgium from Ireland, Spain, Denmark, Italy, Austria, Portugal, Switzerland, Finland, Sweden, Norway, Poland, Cyprus, Greece and more. Our moving vans for hire drive all possible routes for example we do urgent removals to Brussels from London, express next day delivery to Antwerp from London, heavy freight and car transport to Gent from Sheffield, employees relocation to Charleroi from Edinburgh or 1 bedroom flat removals to Liège from Liverpool. We can carry just one wardrobe, 3-seater sofa, corner unit, dining room table to Brugge from Birmingham, offer next day delivery to Namur, last minute one way moving van hire to Leuven from Leeds, chilled food, frozen fish, refrigerated meat trucking to Mons from Bristol or cheap removals to Aalst from Aberdeen.
Contact us to see average shipping costs to Belgium from the UK, Germany, France, Denmark, Cyprus, Greece and more. We know how much is to transport double bed with mattress to Belgium from London, Berlin, Barcelona, Paris and Madrid. We know how dear household goods are and will offer you a cheap man with a van to Belgium 24/7.
One way Man and Van to Belgium
We are a reliable Man and Van removals company that offers moving services from the UK to all Europe and back.. As a reliable company, we provide comprehensive last minute transport services for all sorts of clients. With cheap last minute man and van to Belgium you can compare next day delivery costs to Belgium from London, Glasgow, Chester, Coventry, Swansea and all the United Kingdom.
Most of our next day UK to Belgium movers are fully covered with a comprehensive pubic liability & goods in transit insurance however please make sure your quote includes all risk insurance cover.. We are also a registered company. As a company that mean business, we have invested heavily in the purchase of cheap removals vans for hire and this is why we have different sizes of van to meet every requirements. Besides, we are able to provide our clients with one to three helpers in a van depending on the size of their items. We charge per each next day delivery to Belgium individually. It is left for you to choose the one that suit you. You can either make payment online or pay cash on the removal day.
Why a lot of customers decide to book our cheap next day delivery to Belgium firm:
Last minute removal vans are available 24/7
Local and nationwide and international coverage
Option for all risk insurance cover by Aviva
Fully registered
Well equipped with different sizes of vans
Reasons why you should hire our UK to Belgium removals company:
We work with a team of well trained professionals and international network of freight forwarders
Our online moving quote system is available on 24/7 basis.
We provide our next day removals to Belgium services at the same rate throughout the week including weekends.
We offer our clients updates about their transport progress through SMS and emails.
Cheap last minute removals to Belgium from London and all UK offer to our clients wide choices of different sizes of removals vans for hire. This implies that you will be able to select a size of van that will be big enough to accommodate all your items like beds, wardrobes, side-tables, chest of drawers, armchairs and 2-seater sofas at the same time. In other words, you will not be paying for more than what you will require. This will also give you the rest of mind that no matter how large your vehicle is, we will able to handle them all.
24/7 collections and deliveries to Belgium
We have distinguished ourselves in the removals industry in a number of ways. Here are the various ways through which we have distinguished ourselves on the moving and international transport market. We provide efficient, timely and reliable comprehensive short notice man and van from the UK to Belgium, Mechelen, La Louvière, Kortrijk, Hasselt, Ostend, Sint-Niklaas and Tournai just to name a few. Our drivers are well trained; they are licensed and have good human relation; above all, they are punctual to appointments and move schedules.

We apply the highest level of diligent to ensure that we provide the best and safe moving van hire services to our clients.
We allow our clients to join in the removal vehicle without charging them a dime for the service.
Our clients are assisted with the loading of their items by our drivers that come to collect their items for delivery.
We provide collection services with vans that come with tool box, trolleys, blankets and others.
We can assist you in dismantling and reassembling your furniture.
For locations that are not more than 10 miles, we can provide extra pick up or drop off without charging additional money.
We offer one way van to Spain from Belgium
Last minute delivery to Belgium
We predicate our road transport services on timely delivery and thus our team of professionals will always be punctual to appointments and removal schedules with the right size of vehicle clean and equipped with all the tools such as trolley, straps and blankets required for the execution of the services safely and successfully. The members of the removal team that will come to collect and deliver your boxes, excess luggage and furniture are friendly and willing to help. Our movers will assist you in packing, loading and transporting of all your items from your current home to your new home. They will also unload them to the spot or space you stipulate. Our cheap last minute delivery UK to Belgium can be booked 24/7 via our 0800 number. Book now man with van to Montenegro from Belgium.
In order to ensure that our clients have the most successful, secure and safe next day UK to Belgium delivery, we have trained our remover professionals on packing. They will assist our clients with the packing of their items in order to offer them the protection required to make them secure against the impact and shocks that occur during transport as the removal vehicle speed on to the final destination. Our clients are only charged for the hours our remover team spent in assisting them. So, our urgent one way van hire to Belgium team do not charge them for any assistance including packing rendered to them by our removal teams handling their removal.
Reliable movers
Our same day man and van for hire to Belgium business started operation 10 years ago. Since that time, we have established reputation and credibility in the industry by providing our clients with top-notch same day and next day removals services. Besides, our team of removers are well trained and they are always ready to provide assistance to our clients every time.
Our UK to Belgium removal companies should be your first and last port of call for all your removal needs. Contact us immediately for free online removal quotes comparison. Once you call, one of the members of our support team will speak with you and will answer all your questions and provide you with the most affordable quote. But you can request for quote through the internet. The good news is that quotes requested through the internet will be emailed to you within a few hours..
If you choose our reliable UK to Belgium man and van services, you should have a rest of mind because your items are in safe hands. We will take care of all your requirements including the packing, loading, moving to the new destination, unloading and unpacking of your items starting from the very first time you contacted us to the completion of the job. We offer 1 corner sofa delivery to Genk, flat and house removals to Seraing, motorcycle transport to Roeselare, sending boxes to Verviers, car haulage to Mouscron, container shipping to Beveren, one way van hire to Dendermonde and next day delivery to Beringen from London and all Europe.
24/7 removals UK to Belgium are always available to provide answer to all your questions and clear all your doubts and concerns and so, if you have any questions to ask, don't hesitate to ask your questions and make your inquiries. Call our support desk and one of our polite and friendly customer care representatives will provide answer to all your questions.
Removals London to Brussels
We are reliable removal company that specialise in providing different kinds of removals from the UK to Belgium as well as other services that are related to moving. One of the services that we provide is our last minute man and van to Brussels from London, Leeds, Liverpool, Glasgow, Bristol, Brighton, Guildford and more. Having been in the removal van hire industry for many years, we are quite aware of the difficulties and challenges involved in removal of any type. We are aware that people moving to Belgium always find it difficult to arrange for all the services they will require including pick up, transportation, packings of items including fragile and valuable items, arranging awkwardly shaped items and others. This is why we have prepared our team of international movers to handle these things for you. They are able to sort things out for you.
With our next day man and van removals to Brussels services, we are able to provide you with different kinds of moves - 1 items removals, full house moving, 20ft container shipping, machinery transport and more. Be rest assured that we are the right short notice 24/7 man and van for hire to Belgium company with the most affordable quote to handle all your services for you. We can assist you in moving a single item, furniture of different kinds, light house and office removal, same day collection and next day delivery to Belgium of items purchased through E-Bay or Ikea and many more. Be rest assured that regardless of what your requirements are, we are able to provide them all. If you are in a need for a proficient and reliable removals London to Brussels, shipping to Turnhout, moving Dilbeek, delivery to Heist-op-den-Berg, transport to Sint-Truiden, haulage to Lokeren, one way van hire to Braine-l'Alleud, removals and storage to Brasschaat, road delivery to Vilvoorde and Herstal and Greater London, look no further than us. We are the right choice for you. We are always available to assist you even at the shortest notice. So, do not hesitate to contact us.

If you are moving a single item or your personal effects at last minute, there is no cause for alarm. We have the latest models of removal vans for hire for the removal of such type of items. The moving vans are also the most suitable options for students moving house without any furniture involved in the move. Our man and van services are not only affordable, it is also timely and hassle-free. Our cheap next day delivery to Belgium mean that you will be provided with the right size of vehicle and then a driver that will drive the vehicle. These are the two things that you will require in our man and van service. The driver will assist you and take care of all your requirements.
There are other ways or assistance that we can render you. We can provide you with cleaning, packing and unpacking services. If the place you are packing out from requires cleaning or if there are certain things that you will like to fix in the house, we can provide you with help in that regard. We can also fix and clean your new home for you. In this way, you will have time to concentrate on other engagements. We are always willing to help and we go the extra mile in helping our clients. We carry out all the most challenging and hardest tasks for our clients applying highest level of diligence to ensure that you have the most successful and safest removal. We go the extra mile in delivering our services because the satisfaction of our clients is our utmost priority.
If you are moving office to Belgium from London or you require a light house move which will require you to move small to medium furniture, personal effects and other belongings, you don't have to worry yourself trying to find out how to do it on your own. We have a team of professionals who have been in the next day delivery UK to Belgium industry for many years and have acquired the experience required. They are skilful and very proficient in providing the services they are hired to provide. But they do it with joy, high sense of dedication and duty, greatest diligence and care. If you require light house move or office move, we have smooth-running and high performing bigger van that we will come with to your house for the removal of your valuable possessions.
We value our company and we don't joke with the reputation of our company. This will give you a rest of mind that we will handle all your needs and wants with high sense of duty in order to satisfy you and also protect the image of our business. As a way of protecting the image of our business and building enviable reputation for our 24/7 cheap man and van to Belgium from Paris, London, Berlin, Dortmund, Lisbon, Copenhagen, Warsaw company, we will always be ready to provide our clients with free quotes and sound advice to ensure that they do not make any mistake. So, feel free to ask us any question regardless of what your inquiries are. If you are not sure of the size of the vehicle you will require or the number of people to assist you with the removal of your item, you don't have to worry yourself and spend time trying to determine the answer. With the experience of our professional next day delivery to Maasmechelen, Waregem, Châtelet, Ieper, Ninove, Geel, Halle, Hoboken company and supervisors, they will be able to look into your requirements and determine the right size of vehicle and the number of people required for the execution of your project. All you need to do is to call us and provide us email at a time convenient to you.
Cheap London to Brussels removals always work hard even to our discomfort in order to ensure that our clients are satisfied with the quality of our removal van and man for hire services that we provide. This is why we no longer believe in the idea of standardised man and van services. Urgent UK to Belgium movers handle every move as unique because we are convinced that each one of our clients has its unique requirements especially within the busy city of London. With this belief, we always provide every client with a service tailored to suit his or her specific removal need. In this way, Last minute London to Antwerp removals are able to provide a service that will meet the taste of our client or exceed or meet their requirements. Contact us today and every member of our crew and staff starting from our friendly and polite receptionist to removal team will be happy to provide you with the help you require from them. They will help you to deal with the stress involved in house moving quickly and with high level of expertise. Compare man with a van hire costs to Belgium from Ireland, Denmark, Scotland, Spain, Germany and Austria.
We are very careful when employing the members of our staff. Cheap express next day delivery to Belgium from UK always go for the best. However, to ensure that you are provided with the best services, we retrained and continuously provide then with regular training so that they will be abreast with the best practices in the industry. Apart from that, we make use of vehicles that feature all the equipment required for easy removal services. With the wide range of equipment we have on ground and experience and expertise of the removal team that will handle your job, you will have a peace of mind that nothing will happen to your belongings when they are in our possession. You don't have to worry about anything because you are supported by reliable company and thus your project will be successfully completed.
Same day collect and next day deliver to Belgium companies are quite aware that you value and treasure your items and that is the reason why you will like to move with them. We assure you that nothing will happen to your belonging. We will take care of them and look after them as if they are ours. So, you should have a rest of mind and keep planning and doing other things in your programme without bothering about the safety of your item. Take time to plan for your new home or office and leave the move for us and we will do it rightly. Compare removals to Knokke-Heist from Wigan, next day delivery to Schoten from Brighton, cheap shipping to Grimbergen, one way self drive van hire to Lier from Bath, quick cargo transport to Mol, sending boxes to Wavre from Reading, machinery removals to Binche from Cambridge or heavy haulage to Lommel from London.
Moving to Belgium
Many Britons relocating to Belgium have no knowledge of the country. So, you don't have to be ashamed to accept this fact if you are planning to book an urgent one way van hire and to move Belgium because you are not the only culprit here. Definitely, all you know about the country are rumours about how the Belgians like beers and chocolate. But the truth is that there are more to Belgium than beer and chocolate. So, before you move to Belgium, it will be to your advantage if you take time to learn about the most important aspects of this great European nation whether they are positive or negative. Below are some important things that you should know about the country.
Where is Belgium located?

Belgium is a small land that spans only 30,528km2. In terms of size, it is the fifth smallest country in Europe after Luxembourg, Cyprus and Slovenia. This may be the reason why it is seen by some people as a part of France. Belgium is a sovereign country of its own with a defined territory and unique system of government. There are a lot of people moving to Belgium from UK each year.
Belgium as sovereign country is encircled by France, the Netherlands, Germany and Luxembourg. From Belgium, you can easily get a number of cities in Europe even though in terms of war, its location is not the best. A distance of 265km separates Belgium and Paris while from Belgium to London, the Capital city of England, it is about 320km. Amsterdam, the capital city of the Netherlands is 173 km from Belgium while Luxembourg is 187km from Belgium. The implication of this is that if you are living in Belgium, you will have multiple to choose from for weekend city trip. You can drive yourself to most of these cities. If you need to a cheap next day service to Luxembourg, Netherlands, Spain, Italy or United Kingdom we will tell you how much it will cost and will provide the service you need.
languages spoken in Belgium
When moving to Belgium from the UK you may get lucky and speak one of 3 languages which are used there. Belgium has three official languages which include Dutch, French and German indicating the three major tribes and language groups in here. But the language that has the largest number of speakers among these three languages is Dutch. Up to 57% of the population speak Dutch. This is one fact that you will not realize if you are living in Brussels which has a large number of expats from different parts of the world. French speakers comprise 42 percent while only one percent speaks German. See also man and van to Norway from Belgium.
Mind you! Dutch is the official language in the Netherlands but the Flemings in Belgium also speak Dutch. The Flemings who are known as the Flanders live in the northern region and all parts of Brussels. However, the type of Dutch or the Flanders Dutch is sometimes referred to as Flemish or Belgian Dutch. So, when you hear people saying that they speak Flemish or Belgian Dutch bear in mind that they are referring to the dialect of the Dutch language spoken by the Flanders.
The Belgian Dutch is unique because it has its own expressions and grammar constructions. The difference between the Netherlander's Dutch and the Flemings' Dutch is just like the difference between the UK and American English. Thus, any person speaking Flemish will be able to communicate effectively with another person speaking the Netherlands' type of Dutch. In this situation, the communicators only need to use a more standard Dutch and adjust their dialects. Regarding the term Flemish, it is obtained from the word Flanders. The derivative is an adjective which means people from Flanders. But it is pointing not to the language but to the people themselves.
English is commonly spoken especially in Brussels
If you are moving to Brussels from London, Glasgow, Bristol and other UK cities you will be surprised how many people actually speak English over there. Before you throw away your old English text books out of frenzy worry, you should have a peace of mind because Brussels which is the capital city and which is referred to as the capital of Europe is home to many English speakers. There are a lot of expats from different parts of Europe and other parts of the world who have relocated to Belgium and who are able to speak English. In fact, one surprise that you will have during your stay in Belgium is that virtually all waiters, shop owners and Belgium commuters are able to speak Basic English or at least give directions, useful information or answer certain questions in the English language.
Another thing that you will experience during your stay in the country is that there is a blend of culture, language and politics. Thus, if you want to understand how the country functions, it is important that you understand the language of the locality where you are living. Local matters and politics also go in this way.
Belgium is complicated
Though Belgium is a small land, it is quite complicate for its size. This aspect is captured in the words of the famous painter by name Rene Magritte as reported by The Guardian "Ceci n'est pas une nation." A look at how the country is divided will help to throw more light on this.
The two main parts of the country are the northern and south parts with the Dutch speaking people, Flemings, occupying the northern part and the French speaking people, the Walloons occupying the southern part. These two sets of people are living a contrasting type of lives. There is no national institution, no national TV station, political party of university that serves both parts of BEL. What they have in common are only the justice system, the army, foreign office, common royal family, and national football team. Apart from these, each part has its unique system and institutions.
The structure of Belgium is Byzantine-like and this makes it to be even more complicated to be ruled. There are three regional governments owing to the fact that Brussels which has multiple language groups is regarded as a region. Belgium also has a federal government. Besides these ones, it also has three governments for each of the three language groups it has, namely, Dutch, French and German. The German speakers who occupy the eastern part of BEL are very small. The government of the Dutch-language community and Flemish regional government operate as one. This means that in Belgium, there are six different governments.
There is no doubt that many people will think that such arrangement will result in anarchy and eventual collapse of the government. But the opposite is the case in reality. This tribe co-exists peacefully and harmoniously regardless of the complicated political arrangement and different languages they speak. It is normal to see Belgians cracking jokes about the complicated nature of their country as well as its linguistic intricacies. The Belgian government is able to keep the nation together and united. However, this does not mean that the BEL is free from occasional political turmoil or heated cross-cultural debate. But they do not allow this small political crisis to hamper the smooth running of their country.
Don't overlook the Belgian taxation system
If you plan on business removals to Belgium from the UK you need to check the tax rates over there first. Belgium has high tax rate and it is included in the list of OECD countries with high rates of taxes. Its marginal tax rate increase up to 54%. Workers pay 13% of their salary as their social security contribution while employers pay 35%. 11% and 33% are respectively taxed as the municipal taxes and capital gains tax. Taxation and social burden in Belgium is the highest in the world. The disposable salary or income of any taxpayer in Belgium is not up to 45% of their gross income. On the other hand, the disposable income of high earners in the country is not up to 40% of their gross earnings.
However, all about the taxation system is on the negative aspect. On the positive aspect, Belgium is highly ranked in the OECD's Better Life Index when it comes to the measures of well-being across the world thanks to the impressive social security system of the country.
Moderate weather
In Belgium, the mercury does not go very high or drop very low. It is neither too hot nor too cold. The country experiences few drops of rainfall. Normally, one of the topics that people discuss when they gather around the coffee table is the weather condition or what it will turn out to be. Nobody is sure of what the climatic condition of each day will look like. The weather in Belgium is classified by meteorologists as a temperate maritime weather. This means that the summer is warm with an average temperature of 17 degree Celsius from the months of July to August. The temperature during the winter period rarely gets to the freezing point. It has an average temperature of 4 degrees Celsius from December to February. In other words, the winter is mildly cold. There is snow fall during the winter season but is very little. Little rain fall is experienced throughout the year.
The phrase 'it is always rainy in Belgium' is common in Belgian souvenirs. But it would be better to use the phrase "there are four seasons in a day in Belgium." The weather can be warm and sunny in the morning with rainfall in the afternoon and brisk fog in the evening just in a day. Belgians are aware of the unpredictability of their weather condition and so they get ready for any eventualities by putting on layers that will protect them against temperature changes. So, if you are in Belgium, you should learn to behave like them. Make sure that you have your sweater with you always even when you are going out. As it can rain at any time in here, it is also advisable that you carry your umbrella as well as rain resistant shoes with you always so that when it rains, you will not have any problem. When it is not raining, there are cafés here and there that you should get into and enjoy the warmth as you sip a cup of coffee. A lot of Belgians also go to the cafés to enjoy their coffee. This explains why Belgium is ranked 6th in the list of the largest importers of coffees across the globe (about 878,087.95 Euros is spent in a year on the importation of coffee in Belgium).
Get ready for long hours in traffic
If you need a last minute next day delivery to Belgium from London, Glasgow, Aberdeen, Bristol, Manchester or from all the UK you need to take in to account the traffic over there. If you think that the traffic condition in the UK is worst because you have once or occasionally stayed in traffic longer than you should during the morning time, then you should look at the figures and statistics. Brussels has no equal when it comes to traffic jam. The average time spent by our vans for hire and drivers in traffic in Belgium is about 83.2hours. The number of hours that you are likely going to be stuck in a traffic jam in Brussels and around the capital of Belgium is longer than that of any other city across the globe. The situation is also similar in the second largest city in here, namely, Antwerp. Motorists spent about 77.5hours on average in traffic in Belgium. In general, Belgium is ranked on top of the list when it comes to the average number of hours spent on traffic by a motorist. On average, a motorist spent about 58.1 hours in traffic in Belgium.
Definitely, you may be wondering why everybody is commuting with their van just to get stuck in traffic despite the fact that the country has impressive system of public transport. This brings us to another interesting aspect of Belgium. What is it? It is the company cars. Reports have it that the number of company vans being driven in Belgium is up to 786,000. In Belgium, one out of every five car on the road is a company car. The reason why many companies provide their employees with cars is because of the high taxation system as shown above. Companies find it more advantageous to provide their employers with cars than give them higher salary.
Belgium also has stunning and world-class highway system. Most highways in Belgium are lighted during the night as a result of apparent surplus of nuclear powered electricity. There are a lot of lights in the streets at night. Our cheap last minute removal vans for hire to Belgium can drive any motorways.
Don't bother about becoming overweight if you eat and drink like the Belgians
A lot of rumours circulating both offline and online about Belgium describe the country as a land of beer and chocolate. There are about 800 types of beers in Nigeria. The number of chocolates produced in Belgium on yearly basis is up to 220,000 tonnes. If you consume fries and waffles made in Belgium, you cannot but wonder how you will not gain 10kg within the first month of your stay in here. Rather than wondering, the best line of action to take is to do exactly what the Belgians do. Many UK companies import food to Belgium. Our removal services include express, same day and next day delivery to Belgium of refrigerated food including meat, sea food, fish and chilled trucking for fruits, vegetables and drinks.
Indeed, Belgium tops the list of the largest producers of chocolate among all countries across the globe. Our one way removal vans for hire transport it from Belgium to the UK, Spain, France, the Netherlands, Sweden, Germany and all Europe all the time. However, being the largest producers of chocolate does not mean that they are the highest consumers of chocolate. Brussels National Airport remains the largest selling point of chocolate across the globe. The same thing is applicable to beer. As shown in the figures released by the Union of Belgian Brewers, there is about a third decline in the consumption rate of beer over the last 20 years. The average quantity of beer taken by an average Belgian over a period of one year is about 74 litters.
Normally, a typical Belgium consumes three square meals on a daily basis. The breakfast which is the first meal of the day normally comprises Boterham/tartine or Koffiekoek and it is also quite light. The lunch can be light or medium sized and it comprised mainly a soup or casse-croute/belegd broodje. Belgian consumes large dinner but most of it seafood, meat, vegetables and potatoes. Belgians also live active life and this helps them to reduce weight or not to gain weight. In comparison with other European countries, Belgians have lower weight.      
Next day man with a van UK to Belgium from UK
If you are trying to get a cut-price last minute one way man & van to Belgium from UK due to Brexit you are on a super-duper web portal. For us no transition is too wee or too considerable! Our expert, short notice UK to Belgium one way van and driver organize each kind of relocation: private furniture delivery to Mons from Aberdeen, urgent one way hire man and van to Antwerp from Sheffield, bargain-basement haulage of motorbikes to Verviers from Londonderry, express nest of tables delivery to Tournai from Liverpool or transporting excess baggage to Mouscron from Chester.

Our recognised trustworthy mover offer responsible, express one way van hire to Belgium from France, Spain, Italy, Wales, Switzerland, Belgium, Luxembourg, England, Portugal, Germany, Scotland and from all Europe. Get in touch with us as soon as you can to learn how much it is for next day one way a man and a van to Belgium from UK. Compare same day 2 men and a van hire costs from Portsmouth to Liège, Hereford to Kortrijk or Wakefield to Sint-Niklaas, Hasselt, Brussels, Roeselare, Gent and many more within minutes.
Our discounted UK to Belgium cheap one way removal van for hire might be used for exporting 3, 18 or 50 wooden boxes, receptacles and packing crates to Mechelen from Newcastle upon Tyne, 40, 170 ft3 of furniture and goods for 24/7 transport to Leuven from Sunderland, last minute short notice one way man and van to Beveren from Brighton, urgent fresh food and cargo shipping to Ostend from Winchester, standard motorcycle and scooter moving to Seraing from Derby and different.
Compare express removals to Belgium from UK, Gibraltar, Holland and Denmark. Our next day removals companies are in position to carry your large cardboard boxes, a car, personal effects from Warsaw to Brugge, provide quick same day one way 2 men and van from Berlin to Genk, dispatch dustbin, sideboard, filing cabinet (3 drawer) and wall shelves from Budapest to La Louvière and provide cheap removals to Belgium from Bucharest, Madrid, Sofia, Naples, Cologne, Vienna, Paris and etc.. Compare average 1 bedroom property or one or four and one or two bedroom house removals rates from skilled 24/7 and last minute one way van hire to Belgium moving firms.
Cheap UK to Belgium removal van hire
The road transport services that we take up are not limited to the budget and short notice one way van hire to Belgium from Gloucester, Lisburn, Durham, Preston and Manchester and all the Great Britain. Our competent, best and urgent UK to Belgium removals firms are organized enough to do and include:
Packaging services, packing and moving
Office and warehouse removals to Belgium- meeting table, furniture, reception desk, production equipment
Express refrigerated, cargo freight forwarding to Belgium from UK, Austria, Sweden, Germany, Spain
motorcycle, new shipping and refrigerated ISO container shipping to Belgium from Austria, Ireland, France, Spain, Italy and all Europe
Storage Facilities, commercial storage, unlimited space storage
Your office papers will be 100% secure when we shred them
Furniture clearance
Last minute UK to Belgium one way van hire cost
Trusted one bedroom house and 4 or 5 or five or three bedroom apartment express removals Belgium to UK, Coventry, Lincoln, Chichester, Peterborough, Carlisle, Glasgow and similar.
Get free of cost next day moving van hire to Belgium quotes. Get and review charge less same day man and a van rough prices for moving 2 or 1, 16 or 20 moving packing boxes, chest of drawers (3), curio cabinets, highchair, freezer, washing machine, chaise longue, settee and kitchen stuff. Find out online cheap removals to Belgium from Stirling, Belfast, Armagh, Swansea, Birmingham, Dundee and all the United Kingdom. We adopt varied designs of 24/7 delivery lorries for rental - Big 17 Ton, Hi-Top Long Wheelbase, Jumbo Dropwell Type, 24 Tonne with Tail Lift, 17 Tonne 2000 cubic ft, Tail Lift Luton and more. All our last minute one way van hire to Belgium from Wales, Switzerland, Belgium, Luxembourg, England, Portugal, Germany, cheap man and van to Hungary and all Europe do very reputable cardboard boxes for moving, nightstand, vanity seat, tumble dryer, water heater, personal belongings, every day-use gear and racks & stands moving solutions at on sale and short notice man and a van UK costs. Our removal firm will never grumble they are tired-out, annoyed or that the work is too cumbrous.
Whether you order to compare urgent Namur to Prague removals, Dublin to London one way man with van hire, Aalst to Hamburg car, moped or minibike removal, Charleroi to Brussels express freight or fish and sea food collect and transport or Mons to Turin next day removal vehicle hire our same day UK to Belgium apartment or house and office and factory moving companies will be charmed to transport your goods. We also do next day delivery to Switzerland from Belgium
Requirements for moving and living in Belgium    
Holders of British passports whose passports describe as British citizens or British subjects can move to Belgium without any visa. But if you have any other type of British national, you should contact the Belgian Embassy closer to where you are living in order to find out what the current entry requirements are.
Though British citizens and British subjects are exempted from visa requirements for travels to Belgium, they are required to have valid British passport before they will be able to enter or leave Belgium as visitors. The Belgian authorities do not stipulate the minimum validity for your passport. But to be on a safe side, you are advised to have a passport with validity period that will cover the entire period of your visit. During your stay in Belgium, you should also ensure that you have your proof of identity at all times. Our vans can deliver goods to Belgium from UK with no problems.
Application for residency                          
If you wish to move to, live and work in Belgium as a British expats, you are required to register at the town hall of the locality where you are living before 8 days from the time you come to the country elapse. Though the implementation of residency differs from commune to commune but the registration process is the same in all the communes across the country. The registration process may take you some time to be completed but it is quite straightforward. Secondly, you may be required to provide certain certificates issued by the consulate. To deliver boxes and furniture to Belgium form the UK you can use our removal company. We offer cheap last minute same day and next day delivery vans for hire from all Scotland, Ireland, Wales and England, we can also offer furniture removals to Latvia from Belgium.
To register for your residency, you have to go to the town hall of the commune where you are residing with 4 passport-sized photos, original and copies of your passport, your apartment or house contract and proof of fund to show that you will be able to carter for yourself during your stay (this is inevitable). You will be charged around 20 Euros for the services. Bear in mind that the people that will attend to you are not English speakers and so you may encounter some difficulties with communication. In order to avoid communication problem, it is advisable that you go with a person that can speak Dutch or French. At the local commune, when you have provided the required documents, there are certain forms that you and your employers are required to fill out and return.
When you have provided all the required documents to the commune, your address will be verified by the police through a house call. The verification of home address normally takes place within the first and second week from the first time you visited the commune. If the police officer that visits your home does not see you during the visit, he will leave a card in your home and schedule an appointment with you at the local police station. The residence card is issued four weeks after your address has been verified by the police office. Bear in mind that residence card is not a travel document. The residency card will be delivered to you by the police or an invitation to the police office for the collection of the card will be sent to you by the police.
The initial card that will be issued to you is meant to be used on temporary basis for three months. A permanent resident card will be issued to you when you have joined the social security system of Belgium which will require you to register with Mutuelle (French)/Ziekenfonds (Dutch).
Health insurance and social security in Belgium
In Belgium, before you are issued with the social security card, you are required to register with a Mutuelle or Ziekenfonds. You are not issued with the card simply because you have employment. Even if you are working, if you are not registered with the Mutuelle, you will not be issued with the card.
The Mutuelles or Ziekenfonds is the authorised government body that runs the health insurance and social security system. The Mutuelle has connection with the various political parties in Belgium which include the Socialist, the Liberal, the Neutral and the Christian. Individuals are given the freedom of making a choice among these Mutuelles. You will be issued with Social Information System (SIS) card as soon as you start contributing to a Mutuelle. The card is a microchip card which contains all your details.
If you visit a doctor or you purchase medications from a pharmacist, you will settle the bill or the medical expenses first. However, a receipt will be issued to you, which you have to take to the Mutuelle so that you will be refunded. It is the medical services rendered that will determine the amount that you will be paid back. So, contact your Ziekenfonds in order to discover the various services they cover and at what percentage.
The contribution to the social security and health insurance is made through the Mutuelle by both the employee and employer. It is the Belgian government that set the amount to be paid by an individual.
There are different Ziekenfonds that you can subscribe to. Below is the list of various Mutuels to subscribe to.
Union des mutualite liberales
PARTENA
SECUREX
Union Nationale des Mutualites Libres
Mutualite Socialiste
Mutualite Christienne
Mutual Neutre de Bruxelles
Belgian State pensions
The basic state pension of the UK can be claimed in Belgium. The modification in the state pension started in April 2010. Now more people are eligible for a complete basic state pension. If you are not aware of the changes in the state pension, you should check the internet. Check the state pension age calculator in the website of the UK government in order to find out when you reach the state pension age.
If you have worked in the UK but you have moved to Belgium, you have to contact the International Pension Centre in the UK in order to claim your UK state pension. Office telephone number of the International Pension Centre is +44(0)1912187777.
If you have worked at a particular time in Belgium and you are still living there, you should contact the Belgian National Pension Office or RVP-ONP for your UK state pension. Bear in mind that application forms are issued only in French, German and Dutch. If you require the English version of the explanation of the system, you have to go to AngloINFO Brussels. The International Pension Centre (IPC) will receive your claim from RVP-ONP, the Belgian National Pension Office. Don't apply directly to the International Pension Centre because a direct application for claim for a UK state pension may be rejected if you have lived, worked and contributed to the Belgian system.
Relocating to Belgium when you have received your UK state pension
You are required to let the IPC know of the changes in your circumstance if you are relocating from the UK to Belgium so that you will not have any issue with the payment of your pension. Besides, letting the IPC know of the charges in your circumstance will also make access to the healthcare system of Belgium to be easy for you. Note that you cannot receive the pension credit of the UK in Belgium. If you are planning for a permanent relocation to Belgium, it is advisable that you contact the office that is responsible for the payment of your benefits before moving from Belgium back to the UK.
Belgian retirement pension and eligibility for it
If you have worked and made contributions in more than one country of the European Economic Area, your contribution in each of the countries that you have worked in may be taken into consideration when your pension or benefit is being calculated. So, when you are applying for your benefit or pension, you are required to provide detailed information of your work life in your application.
Kindly contact the social security provider of your locality for more information on when and the way of claiming your Belgian retirement pension. Your local social provider security will also be able to provide you with information on how your contributions in the United Kingdom can add to your local entitlement.
For more information, contact the Belgian National Pension Office RVP-ONP.
Voluntary contributions
You should also consider making a top up contribution on your own in order to add to what you have contributed to your pension entitlement. You can make the contribution in any of the countries. Kindly contact HM Revenues & Customs for more information on the payment of voluntary contributions in the UK. If you are in Belgium kindly contact the country that provides your social security or health cover.
Life certificates for UK pensions
If the UK pension Service issues you with a life certificate, you are advised to reply as quickly as possible to prevent your benefit from being stopped. You should get the right person to witness or sign your reply but ensure that the form is returned.
Any person who can witness a passport photo can also witness a life certificate as the list of eligible individual to witness a life certificate is the same with the list of people that can countersign a passport photo. These people are not required to reside in the UK before they will be able to witness to a life certificate.
Benefits in Belgium
There are some UK benefits that you have to apply for in the UK before you move to Belgium. They are:
Contribution-based JSA
Severe Disablement Allowance
Statutory Sick Pay
Statutory Maternity Pay
UK Benefits which you can apply for after you have moved to Belgium
UK Child Benefit
Maternity Allowance
Industrial Injuries Disablement Benefit
Attendance Allowance
Carer's Allowance (Care Component)
Disability Living Allowance
Contribution-based Incapacity Benefit/Employment Support Allowance
Non-exportable UK Benefits
If you are resident in the UK, you are eligible for the following benefits and they are not available for UK expats living in Belgium or any other land under any circumstance:
means-tested incapacity benefit/employment support
housing benefit
income support
council tax benefit
pension credit
Bear in mind that it is a violation of the rule not to inform the Department for Work and Pensions (DWP) if you are in receipt of benefits and there is a change in your circumstances. Below are some of the examples of changes in circumstances:
If you are already living in Belgium or you are going to live in Belgium
you become married or you are divorced, widowed and separated
you get employment, your earnings or savings increased
If you fail to inform the DWP about the changes in your circumstances, you may be prosecuted and imprisoned. Your home and possessions can be confiscated.
Visit the benefit theft website for more details about this.
Check this page on removals to Bulgaria from Belgium.
Belgian contribution-based benefits
If you are residing, working and paying your contribution in Belgium, you are entitled to the social security benefits here. These include unemployment benefit permanent and temporary incapacity benefit. If you are making contribution as a self-employed worker, you are not entitled to unemployment benefit in Belgium.
If you have worked and contributed to the social security system of Belgium for a little time and you are told that you are not eligible to receive the social security benefits in Belgium because you have not made much national insurance contribution, you should ensure that you stipulate the contributions you have made before in the UK. They can be added to the contributions you have made in Belgium. Ensure that your benefit application is handwritten.
Check the brochure titled "Everything you have always wanted to know about social security" published by The Federal Public Service (FPS).
Belgian unemployment benefit
If you have worked and paid your contributions in Belgium, you should apply for your unemployment benefit in Belgium. Seek for detailed information from your local commune.
You should also mention the contributions you have made previously in the UK. You can mention and provide proofs of the contributions you have made previously in the UK by completing a CA3916 and lodging application for a statement of National Insurance contributions from the HM Revenue and Custom to help you with your unemployment benefit claims.
Disability Benefit in Belgium
If you have been working and making contributions in Belgium, you are eligible to apply for unemployment benefits in Belgium. Your municipality's Social Assistance Centre (CPAS/OMCW) should provide you with detailed information on this if you contact them.
If you have made some contributions in the UK before working and contributing in Belgium, you should indicate it when applying for benefits in Belgium. You can declare the contribution you have made in the UK by completing CA3916 for and by sending application to HM Revenue & Custom for a statement of National Insurance contribution to assist sickness Benefit claims.
Belgian means-tested benefits
There are certain criteria that you have to meet before you may qualify to receive this Belgian benefits. These criteria include the following:
you are a low income earner
you are disabled or ill
you are between 18 and 65 years of age when you apply for this benefit
you have been living in Belgium for at least 5 years; two out of the five years must immediately before the date you are making the claim.
If you require more information on this, contact the Social Assistance Centre (CPAS/OMCW) of the municipality where you are living.
24/7 removals to Belgium
If you are arranging a quick and stress less cardboard packing boxes, baggage and goods removals from the UK to Antwerp, Verviers, Tournai, Mouscron, Liège, Kortrijk or to any place in Belgium we have a mind-blowing news for you. Wherever you are our cheap one way moving van for rental might be handy to deliver your equipment. We have the expertise to lug most hodgepodges of things, chattels, boxes and other load for both domestic and corporate purchasers.
For individual patrons our one way delivery vehicles for hire are trained to provide:
Urgent five or four bedroom home moving firms to Sint-Niklaas from Norwich, to Hasselt from Canterbury, to Brussels from Southampton, to Roeselare from Stoke-on-Trent, to Gent from York, to Mechelen from Salford and from all the UK, including UK to Belarus removals
Short notice hire a man and van removals to ship swinging sofa, nesting tables, playpen, refrigerator, ceramic, extra luggage and other goods.
Worth The Money long term storage and student storage
Reduced rates full 1 bedroom terrace flat removals to Belgium from Scotland, Gibraltar, Holland, Denmark, Austria and all Europe
Next day delivery to Portugal from Belgium
Courier packing service for removalists at discount charges
Same day several things, 6, 13 or 30 plastic crates, extra suitcases removals to Belgium from Barcelona, Munich, Rome, Stockholm, Milan and other.
Next day full load removals and intercontinental shipping unpacking services to Belgium from Ireland, France, Spain etc..
Cheap lorry, machinery, and motorbike removals to Slovakia from Belgium
For trade prospects our 24/7 one way removal vans for rental are in position to supply:
Express office removals - data storage, networked devices, adding machine paper, greeting cards, business cards
Removals to Luxembourg from Belgium
audit and collection of redundant it equipment, specially designed server cases and floor audit
Last minute meat and fish and frozen food removals to Belgium from Bristol, Worcester, Bath, Oxford, Salisbury and more.
We efficiently destroy your corporate documents
IT equipment recycling
24/7 one way van hire to Belgium from Italy, Wales, Switzerland, Belgium, Luxembourg, England and many more.
Urgent chilled food and pallet delivery to Belgium from Warsaw, Berlin, Newport, Budapest, Bucharest and different.
door to door house removals to Malta from Belgium or back
Warehouse transport - spares, palletisers, battering & breading, metalworking machinery, round pole milling machines and etc.
Short notice one way Luton van and man hire to Leuven from Cardiff, to Beveren from Edinburgh, to Ostend from Lichfield, to Seraing from Leicester, to Brugge from Wolverhampton and similar.
One way van hire to Spain from Belgium
Our transport firms are big enough to supply you with an illuminative, comprehensive and careful help and guidance on hiring last minute one way one man and van removals from Belgium to the UK and back. You will get a free van man bid based on cut-rate local relocation rates.

Check approximate moving truck hire prices to Belgium from London, Madrid, Hull, Sofia, St Albans, Portugal, Germany, Scotland and all Europe. Find out how much is to hire short notice city man and van removals to Belgium from UK. Move your table + 4 chairs to Dublin, transport bed to Dublin, deliver bean bag to Genk, move single bed to La Louvière, collect and deliver cooker to Namur, ship air conditioner to Aalst, send motor vehicle to Charleroi, pick up and ship van to Mons, transport palletized goods to Antwerp and deliver urgent refrigerated to Verviers at half-priced costs and be satisfied. Our Belgium to UK delivery trucks for hire can also transfer garage equipment, motorbikes, cargo and freight and other massive, ponderous and giant furnishings at bargain-counter rates.
Our express man & van hire can come with: combination trolleys, unit dolly trucks, black marker pens, blue tarpaulins, double mattress bags and other. Apart from effects, a motorcycle and bedroom furniture removals to Belgium from UK we also offer next day transport of miscellaneous groups of big commercial and wholesale factory equipment. We have the facility to forward barns to Tournai, haul bale sledges to Mouscron, drag telehandlers to Liège, carry beam saws to Kortrijk or send mortisers to Sint-Niklaas.
Taxation after removals to Belgium
Belgium and the UK have a double taxation agreement according to which expats of both countries pay taxes on the same income in the land they are residing and not in both countries. This means that the UK expats in Belgium pay their taxes on their income and not both countries. In compliance with the Belgian law and international law, people residing in Belgium both nationals and expats are obliged to declare their assets or the group of assets which may include securities, bank accounts, annuities, rights, insurance and others they have in other countries. Asset declaration is different from annual tax return.
Incorrect, late reporting and incomplete reporting can attract severe penalties and in accordance with the legislation you will be charged for criminal offense if you fail to comply with this requirement. The requirements and punishment for non-compliance are in accordance with the standard international tax practice.
You are advised to seek for expert advice because taxation is complex issue.
Car transport and import to Belgium
Importing your UK-registered vehicle from the UK to Belgium is simply and easy. Our cheap UK to Belgium removals firm can arrange a motorcycle or a vehicle transport. You can also drive your UK registered vehicle in Belgium for six months without registering it with the Belgian authorities. However, if you are going to stay more than 6 months in here, you are obliged by the country's law to register your vehicle with the country's authorities. Contact the vehicle registration service in order to obtain more information on how to register your vehicle in Belgium. To find out how much our next day delivery to Belgium vehicle transport company would charge you for shipping a car. See some info about removals to Italy from Belgium.
If you are driving a vehicle registered in the UK in Belgium, you are required to abide by all the UK requirements for road tax, MOT and third-part insurance that will cover the entire duration that you will use the vehicle in Belgium up to the maximum period of 6 months allowed.
Driving in Belgium
Before you will be able to drive in Belgium, there are some requirements that you have to certify. Here are the requirements for driving in Belgium.
You must be up to 18 years before you will be able to drive in Belgium.
You are advised to register your UK driver's licence with the Town Hall of the locality where you are residing.
This is important because in case of a loss or destruction of your licence or if it is stolen, they will provide an evidence that you have a UK licence before the incidence occurs. With the proof, it will be easy for a Belgian licence to be issued to you as a replacement for your stolen or lost licence.
UK licence holders can change it with Belgian licence at their locality commune.
Removals to Croatia from Belgium
You are required to renew your photo on your driver's licence after 10 years. But this can only be done in the UK. Besides, before you are issued with a Belgian licence as a replacement for your UK licence, you will be required by your local commune to provide a proof that you are still qualified to drive.
You need a certificate of entitlement issued by DVLA to present as a proof of your entitlement to drive. So, you have to apply for it at the DVLA.
Belgium motor insurance regulations
The insurance regulations of Belgian and the UK are not the same. Given this, you need to find out the cover provided by your policy.
Documents you should have in your vehicle when driving
If you hire a last minute one way removal van to Belgium from UK and are going to driver it on your own there are some documents you need to carry with you. The police can stop you when you are driving in Belgium in order to check whether you have the right documents. Here are the documents they will ask you to provide:
papers or documents of your cars
driver's licence
insurance paper
your ID document and those of your passengers (passport)
Traffic fines
If you are slammed with a traffic fine for violation of a traffic rule such as incorrect parking or over speeding your next day delivery van for hire to Belgium, you may be required to make the payment on the spot. Before you make sure a payment, you should ascertain the identity of the person that is requesting for the payment. You can request to provide proof of address and for the fine to be sent to you.
If you disagree with the fine you are slammed with and wish to appeal against it, it will be indicated on the document you will be sent to your via the post. If you are required to pay the fine on the spot, you can ask the office in a polite manner how you can appeal against it. Check also man and van to Sweden from Belgium.
Disclaimer
Bear in mind that the information provided here is meant to serve as a guide. You should contact the Belgian authorities if you want definitive information. Bear in that the information provided here is sourced from the website of the UK government which in turn sourced its information from the Belgian authorities. We are not responsible for any inaccuracy in the guide. We reserve the right to change any part or the entire guide with or without prior notice. Bear in mind that the immigration requirements for UK citizens to Belgium and other European countries are likely to change following the recent referendum of the UK electorates in which the majority voted for the UK to leave the European Union. The UK new government has not invoked the relevant EU article in order to finally pull out from the EU. Until that is done, everything remains as it is. We also offer Belbium to Monaco man with a van one way hire.