Next day delivery to Portugal
Cheap removals to Portugal from UK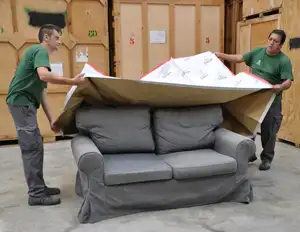 Have you been planning ahead and want to find out how much does it cost to book removals to Portugal from the UK or back to the UK? Or maybe you are after a last minute next day delivery to Portugal from the UK, Ireland, Spain, France, Germany? We are the right one way van hire to Portugal firm to contact!
Having regular deliveries we can offer 1 item transport, excess baggage or a few boxes delivery at competitive prices. Our dedicated man and van for hire can help you with moving to Portugal full content of 1 bedroom apartment or 3 bedroom house.
For commercial clients we can collect same day at the last minute and deliver the very next day different of cargo - food and drink products, goods on pallets, oversized freight or heavy machinery.
Everyone will find a service that fulfil his moving requirements. We also offer packing services or can provide packing materials for you to pack. Simply send us a quick email or give us a call to find out how much is to hire one way removals to Lisbon, Porto, Amadora, Braga, Setúbal, Coimbra, Queluz, Funchal, Cacém or Vila Nova de Gaia.
When you contact our 24/7 short notice next day deliver to Portugal movers we will offer you the cheapest and quickest way of moving your goods to your new home or to your customers. On request your personal items, furniture or commercial freight can be fully insured against the theft, loss or total damage.
There are no items we would not move. For example we can offer cheap furniture removals to Lisbon from London, last minute delivery to Porto from Glasgow, cheap one way van hire to Amadora from Sheffield, urgent car transport to Braga from Bristol, short notice freight to Setúbal from Birmingham, 1 man with a van to Coimbra from Leeds, 24/7 one way van hire to Queluz from Manchester or heavy cargo haulage to Funchal from Edinburgh.
The list of routes we have driven and items we have moved goes on and on. Whatever goods you need moving to Portugal from UK, Ireland, France, Denmark, Germany, Austria, Switzerland, Finland, Norway and all Europe contact us for a free moving costs estimate. If you do not know the details we can always provide you with average costs to hire one way removal van to Portugal from London, Paris, Berlin, Munich, Dortmund, Barcelona, Copenhagen, Brussels, Milan and from any other European city.
Our shared one way moving van for hire to Portugal can move 1 sofa to Lisbon from London, deliver 20 boxes to Cacém from Nottingham, send excess baggage to Vila Nova de Gaia from Leicester, transport furniture to Loures from Derby, ship 20ft container to Évora from Aberdeen, offer express removals to Rio de Mouro from Oxford, provide cheap one way van hire to Odivelas from Reading or organize a full 3 bedroom house move to Aveiro from Bradford.
Simply contact us to find out average removals costs to Portugal from Ireland, Scotland, Wales, England, Switzerland, Italy, Greece, Cyprus, Czech Republic, Estonia and more offered by man with a van.
Removals to Portugal
We specialize in cheap one way man and van removals to Portugal for both homes and offices moves. Our last-minute moving services are comprehensive in nature, and business owners, home owners and students can benefit from them due to the fact that our average one way van hire to Portugal form UK costs are very competitive.  We have a team of 24/7 UK to Portugal movers who are very proud of what they do, and because of this, they offer reliable and efficient services to all our customers.
Having been offering cheap express next day delivery to Portugal from London, Sheffield, Nottingham, Bristol, Brighton, Northampton and all United Kingdom for more than 10 years, customers with all sizes and types of house removals can get invaluable counselling and advice from us about the best way to go about their home and office removals to Lisbon, furniture delivery to Porto, motorcycle transport to Amadora, sending boxes to Braga, container shipping to Setúbal, Last minute one way removal van hire to Coimbra and more. Our cheap UK to Portugal removals company offer a safe and efficient packing, loading and unloading of any type of goods - sofas, wardrobes, boxes, pianos, safes, pallets, tables, beds and any other furniture and commercial cargo..
Cost effective house removals in Portugal

The fact that 1 bedroom apartment, flat or studio and 3 or 4 bedroom house removals to Portugal can be very stressful is not lost on us because this is what we are into. In order to minimize the stress and hassles associated with your removals to Lisbon, Loures, Évora, Rio de Mouro, Odivelas, Aveiro, Amora, Corroios or Barreiro we come up with properly planned last minute removal solution that breeds efficiency, to ensure the smooth running of your urgent next day delivery to Portugal task. With the method of assigning our removal van for hire to just one removal work per day, you won't have anything to fear about taking time to give you the best. The outcome is total dedication to your removal job. Compare short notice boxes, furniture and full 4 bedroom house removal costs to Portugal from Aberdeen, Perth, Stirling, Livingston, Bradford, Cardiff, Newcastle, York, and more.
Man and van to Portugal
We don't only offer house removals for Portugal from London, Berlin, Madrid, Rome, Paris, one way van hire from Lisbon to Bucharest, Vienna, Hamburg, Budapest, Warsaw or last minute next day delivery from Porto to Barcelona, Munich, Milan or Sofia, we also execute urgent one way man and removal van rental services for people who are in need of the transportation of light and single items and for lightweight haulage. Is it important documents that you want to transport furniture or freight to Portugal, or do you want to send a single furniture item to another office or your new home, just call on us and we will do this for you at very affordable moving van for hire to Portugal rates. Another good thing about our man and van is that we will serve you no matter how short the notice came.
Student removals and short notice moves
Cheap next day delivery to Portugal movers have been offering the short notice removals and light cargo moves for a very long time, and many of the university students around has been taking advantage of this.  Students find it difficult to transfer their properties from UK to Portugal during the terms. Moving personal items from London to Lisbon for example could also be problematic with ordinary cars.  This is why they prefer to use our 24/7 express man and van to Portugal from Prague, Brussels, Cologne, Naples, next day delivery to Lisbon from Stockholm, Turin, Marseille or cheap one way van hire to Porto from Amsterdam or Valencia. Our vans are capable of accommodating all types of student furniture, no matter the size. Because of the fact that most of the students moving to Portugal and back to the UK are on very low budget, we have lots of discounts on offer for them, so that transporting their properties will not be a huge problem for them. For example if they book our cheap last minute removals to Portugal from the UK they can travel in the removal van for hire with the driver. Check also removals to Spain from Portugal.
Office removals for every type of business
Our short notice with next day delivery office and commercial removals to Portugal from London and all the UK can take care of every type and size of business. We have been able to complete lots of office relocations to Lisbon, Porto,, Monsanto, server relocations to Rio Tinto, São Domingos de Rana, Leiria, and refrigerated food, goods on pallets next day delivery to Ponte de Lima, Faro, Sesimbra, Guimarães or Ermesinde successfully in the past, and because of this, we've gained lots of recommendations. People enjoy our UK to Portugal office moving solution because it is planned in such a way that your business will witness the most minimal disruption. We work with flexible timetable and will do the removal during non-office hours to ensure that your work hour is not disturbed. We wrap and pack your furniture, electronics and computer equipment properly for safe transportation. For express delivery to Portugal from UK, Ireland, Spain, Germany, France, Austria, Greece or Cyprus we recommend using our cheap next day delivery to Porto or Lisbon from London.
Why you must choose us for your urgent UK to Portugal transport?
We do something that many other last minute UK to Portugal transport companies will take for granted, and this is the fact that we pay maximum attention to customer service and reliability.  Relying on word of mouth as good enough bond, we have been able to garner loyal customers all over the place.  Our insurance system ( on request ) will tell you to sleep and worry less about your properties, while the goods in transit insurance will give you even more protection and coverage. Find our average costs of urgent UK to Portugal road transport services.
Free removal quotes
We understand that you cannot plan a house move to Portugal from UK unless you know how much it will cost to hire one way removal van hire to Portugal from Glasgow, Bristol, Leicester, Wakefield, Bedford, Northampton, Bournemouth, Devon, Kent, Essex or Surrey. Because of this, once you call us, we will gather some information from you and with this, generate an instant free moving quote for you. This quote is not binding. Compare removal companies to Portugal from UK and get cheap short notice one way van hire to Lisbon or Porto from London, Cardiff, Dublin, Belfast, Galway, Cork and more. Find out how much is removals to Czech Republic from Portugal.
Last minute delivery UK to Portugal
We have been offering last minute next day delivery to Portugal from the UK and back to the UK for more than 10 years, and many homes and businesses have benefited from our quick and cheap one way van hire to Lisbon. Porto, Amadora, Braga and same-day collection and delivery within 24 or 48 hours to Setúbal, Coimbra, Queluz or Funchal . It is always our joy to see our local communities pack in and settle into new homes. This makes us a part of their new life, their new beginning and mostly their joy through the move.

Since we are a local, small and cheap UK to Portugal removal company, many young families, couples, students and businesses have enjoyed our 24/7 express next day delivery to Lisbon from London, removals to Porto from Sheffield, furniture transport to Braga from Dublin or cheap 2 men with a van for hire to Funchal from Manchester and other help when they needed to start a new life in their new homes.  They enjoy our urgent transport to Portugal from Paris, Madrid, Munich, Berlin, Brussels, Milan, Amsterdam, Vienna, Copenhagen, Turku, Barcelona, Sofia and other urgent removal van for hire services because we always pay attention to reducing the cost for them. Our cheap next day delivery UK to Portugal and back to the UK services are so friendly, and you will realize that our customers are always placed above every other thing. We go out of our way to satisfy them. Compare average one way van hire to Portugal costs in minutes.
While moving lots of homes and offices to Sequeira, Matosinhos, Gondomar, Águas Santas, Vila do Conde and providing short notice 247 cheap man with a van to Caldas da Rainha, Canidelo, Viseu or Sintra we gain a lot of experiences too. Because of the knowledge we have gained over the years, whatever we tell you about time saving, money saving and stress free nature of a move is the ultimate. This is because we have seen and experienced it all. 24 hours and 48 hours delivery to Portugal movers have an information desk that is dedicated to educating people on the tips and ways of getting smooth removals from packing to the setting.
Our cheap 1 sofa transport to Porto, boxes delivery to Lisbon or last minute food, drink, meat, refrigerated sea food and fish on pallets delivery to Portugal services will meet all your removal needs because we try to tailor the entire removal to your particular removal circumstance, thereby making you to undergo a stress frees and yet cheaper removals. We can move the smallest flats and can also move an entire manor house in an efficient and quick manner at the cheapest rates. We cover many locations in Europe. Check our UK to Andorra removals offer.
Removals from Portugal to the UK and all Europe
We can move 3-seater sofa to London to Lisbon, king size double bed with mattress to Glasgow from Porto or deliver boxes from Amadora or Braga to Edinburgh, Aberdeen, Bristol, Cardiff, Devon, Essex, Surrey, Leeds and to anywhere in Scotland, Ireland, Wales and England. Whatever you have to transport we offer quick removals from Portugal to any place in the UK or in the entire Europe - France, Spain, next day delivery to Netherlands from Portugal and more. Through the process, we serve you like a friend in a very cheerful manner. We work with a very open pricing system, and this will give you the chance to calculate and know the exact costs removals from Portugal to the UK you will be paying even before you sign the contract. There is absolutely nothing like extra charges or hidden costs within the course of the move. We are completely flexible, and we will continue to be so. We offer last minute next day delivery from Portugal to London, Liverpool, Sheffield, Glasgow, Edinburgh, Reading. Our moving services are of the highest quality without any stress. This is because we will not be here if you are not there, and your being there makes no sense if you are not satisfied. Because of this, we do not rest on the oars of the accolades we get from our clients. We keep on improving for the better. Compare Portugal to the UK removal companies.
Removals from London to Lisbon
We move from the use of 1 man and 1 van to take care of the removal of one bed house for you, to the removal of entire buildings and housing estates, and also to the renting out of perfectly working vans to those who wish to do it by themselves. The last line is that o our urgent delivery from London to Lisbon are prepared with both the engine power and the man power to offer the best removal to you. We understand the value of your items and the fact that you have passion for them. This is why our handlers will take utmost care to ensure that nothing damages during the same day or next day delivery from London to Porto. We also have full and comprehensive insurance coverage available on request against accident situations, so that you will have some level of peace of mind when you and your items over to us. When you want to relax and save yourself the stress involved in the entire process, you should allow us to offer you cleaning and packing services too. We have experts in this regard and they will take care of all your properties.
We also offer advisory 24/7 Portugal to UK next day delivery services to home and office moving clients. Our website will help you with lots of information that will help you to get good value for your money. You don't need to wait any longer because you will get nothing that can compare to us. Get on the road with your removal or call us for a free quote now. We have the time, resources, and tools to move you and your items to the new world no matter how far and how near. If you have a budget in mind, you should tell us so that we will choose the custom solution that falls within your budget, while you relax and watch us do the job for you.
Student removals to Portugal
We also carry out lots of student removals to Portugal, Paço de Arcos, São Mamede de Infesta, Torres Vedras and cheap delivery to Oliveira do Douro, Fânzeres, Charneca, Estoril and Carnaxide while helping many singles, couples and families to relocate from the UK. The short notice one way van hire to Portugal is suitable for any student removal services we have are ideal for them because it factors their financial status into the entire stuff. We know the amount they receive as student loans and will not want to take back the entire money from them. We have succeeded in helping many students move from Portugal to some of the universities far away, while some were moved from other towns or from within Portugal to the Portugal university. We are excited whenever we move students because it gives us the chance to be part of their new beginning.
Most times, the student removals have a lot of meaning for the whole family, not just an exercise to take their properties to school. Most times, this is the first time most of them are venturing out alone. This is why it is important to make it a smooth and stress free experience. We also do next day delivery to France from Portugal.
When you hand over your son or daughter's student removal to us, you should rest assured that they are in safe hands, while we on our own side will guarantee a perfect move.
A small removal step and a giant leap for college students
We offer the student removal as a means to moving higher in life. We take care of the job of removals to Portugal from, York, Peterborough, Dundee, Lancaster, Oxford, Newport, Preston, St Albans or Norwich while the students are allowed to concentrate on their new stage in life.
This is achieved by offering affordable removals to Portugal from London that is bereft of the drive to collect the small amount of pounds they have been able to save over the years. We ensure low cost removals with our 1 man 1 van policy.
Cheap furniture transport to Portugal
We also have lots of removal vans for hire made for the transportation of boxes and furniture back to the UK from Portugal. The one way moving vans for hire are available for furniture removals to Portugal, boxes delivery to Porto, moving house to Lisbon and removals to Pinhal Novo, Monte Estoril, Pontinha, Loulé, São João da Madeira or urgent one way van hire to Bougado, Valongo, Caparica and Belas. Our next day delivery vans to Portugal from Ireland, UK, Scotland, France, Belgium, Austria, Cyprus and Greece are so big that they can handle up to 2 students moves at the same time. When you book with friends, it will save you a lot on house moving costs. We have been doing this for a very long time. We have had to walk some students through their entire education, offering removals to them from the day they enrolled into the university till after their graduation. This is part of our pride, as we see them start a new family after studies. Compare last minute Portuguese one way van hire companies and find out how much it is to move pallets, boxes and furniture from Portugal to the UK and from the UK to Portugal.
We also take pride in the fact that we understand the value of the few possessions that the students have and will always be ready to take care of them in an utmost manner. Because of this, even though the student removal is offered at a very cheap rate, we still offer it with the highest concentration, dedication and ethics. We like being recommended by the students after we have served them, and we also will like to see a smile on their face all the time.
So, those who are starting university, returning home for the holidays or finishing university should contact us for the move. We have lots of advice given out free of charge in our website. You should access them. They contain our tips and suggestions to give you a smooth move Call on us for a quote today and you will soon be relocating in our van.
Van and driver hire to Portugal
Our aim has been to discover ways of making 24/7 removals to Portugal cheaper and easier for our clients, and one of the ways we have discovered and which we have been using for a very long time is the "you load" service. We were able to develop this short notice van and driver hire to Portugal service through our attention to the needs of our customers and what they have to say in the feedback pages.  The result of these is the London to Porto and Glasgow to Lisbon one way van hire with next day delivery service that is meant to save you huge amounts of stress, time, and money, while you also take control of the process too. It is only our "you load service" that can do this. Contact us to find our last minute van and driver hire to all Portugal including removals to Linda-a-Velha, Laranjeiro, Carcavelos, same day delivery to Camarate, Ponta, Delgada, and furniture transport to Entroncamento, Monção and Piedade.

The last minute van and driver to Portugal is offered for people who are living anywhere in Europe. The benefit is mainly cantered on the Luton van which has up to 750 cubic feet capacity and can transport full content of 1 bedroom flat or 4 bedroom house content, for you. The major system is that you will be provided with the last minute van and a driver hire to Portugal from, Zagreb, Kraków, Łódź, Seville, Riga, or next day delivery to Porto or Lisbon from Frankfurt, Zaragoza, Athens, Palermo, Wrocław and Rotterdam while you take care of the loading of the items. Many people have the major problems of getting a good van and good driver. This solves it while it gives you the chance to do the ones you can do and save a lot of money doing them. The troubles of going to hire a separate van are saved because you will not be driving. Our driver will come with the van for your loads. However you can travel with the driver in his van to Portugal at no extra costs. See also one way van hire to Germany from Portugal.
The trouble of going to the van hire to pick the van and drop it off after the removals to Portugal from London, Barcelona, Belfast, Dublin and more is also eliminated.  Yours is to load the Luton only, while our driver does the driving. You don't only benefit from the time it will save you, but also the huge money it will save you too. Now, for your clarification, this is like a cheap one way van-hire with a driver to Portugal and not a complete removal service from us, so while loading the van, you don't have any insurance cover on the properties. So any damages done to your properties this time, is either on you or covered by your home contents insurance. If you wish to save costs by taking advantage of the "you load service," take the bull by the horn and call us today. However, you must be relocating to an area that is not farther than 10 miles radius.
Moving to Portugal from UK

Many of the expats who want to move to new countries are always lost in the process of trying to make comparisons between their home country and their proposed destination countries. There are lots of advantages associated with moving house to Portugal from UK, as well as there are drawbacks.  However, while it may be good to look into the positives and negatives of moving to Portugal, people should not take them as dogmatic statements that must obtain in their case. However, amidst all these, the only better action to take is to make adequate preparations before you embark on the move.  The preparations should be geared towards getting you ready for the good part, the bad part and the ugly sides of Portugal.  This is to ensure that whichever situation you witness in the country will not swallow you. Because of this, you should look at the pros and cons of moving to Portugal as mapped below. Check our last minute offers dedicated for those who are moving to Portugal from UK due to Brexit.
Portuguese are welcoming and friendly people
The citizens of Portugal are very welcoming and extremely friendly too. They will help you whenever you need their help. Things like neighbours helping you with their home distilled wine, home grown tomatoes and happy hours of conversation should be expected. The language barrier does not hinder the good gesture you will enjoy from them at all.
If you have lived in the face paced areas, you may find the people here a bit frustrating. This is because issues in Portugal are dealt with slowly, and problems are not solved as soon as they arise. The popular phrase in the country is "devagar," and this means slowly.
The Portuguese weather
This country has a great weather in the general sense. You will experience some degree of warmness from March to the October times of the year. Among the mentioned months, July and august are the hottest. The temperature gets up to 104°F (40°C).
Portugal does no experience 12 months of sun, so you should be sure of having some really cold periods during the winter.  They are normally cold and also very wet. However, this country does not witness much of snow, apart from the mountain areas.
If you are the type that is in love with beaches, you will love moving to Portugal from UK. The whole southern and western areas of Portugal come with very beautiful beaches, and these are the clean and white beach type. The beaches witness less contamination due to lack of much population of visitors. But during July and August, the popular ones get over crowded.
Portugal visas
Expats are clearly told what they should submit for visa applications. The authorities are always eager to give express and clear information on the documents you should submit for your visa. Expats may find the red tape and bureaucratic attitude worrisome. There are lots of inconsistencies in the information given out in the public offices here, and this is brought about by deep seated bureaucracy in all areas.
Communication in Portugal
Portuguese like to speak English so moving to Portugal will not require from you learning the language immediately. The younger generations are trying so hard to learn the English language in their schools. They are also always interested in speaking it to expats as a form of practice. The Portuguese language is very difficult to learn fro Britons. Portuguese is one of the most difficult languages to learn. The pronunciation is sometimes very difficult. However, if you can learn the basics of the language, you will enjoy a lot of goodwill from the people.
Driving a van in Portugal
The traffic you will experience when driving one way removal van for hire in Portugal is always much lesser than what is obtainable in the northern European countries. This is only with the exception of the big cities where the rush hours will always witness some huge traffic. However the driving is sometimes dangerous in here. Most of the van drivers in Portugal are always driving fast to make a quick delivery, as if they are in haste, and they will normally not allow you to overtake them. This normally brings about lots of accidents on the road, so you have to be very careful when you want to drive here. This country has very good dual carriageways and highways in its cities, and you will mostly find them less busy. Most of the country's national motorways are under tolls so when you looking at one way self driver van hire to Portugal from UK get some change. However, as much as the roads are in excellent condition and normally experiences less traffic, there may be incessant increase in the price of the tolls.
Next day man and vans to Portugal from UK
If you are trying to obtain a discounted same day one way man with van hire to Portugal from UK you are on an unreal site. For us no work is too piddling or too great! Our right, last minute UK to Portugal one way van hire provide every span of load: private wares shipping to Vila Nova de Gaia from Oxford, short notice one way a man with a van to Lisbon from St Albans, special offer shipment of 20 ft container to Braga from Coventry, express playpen delivery to Ponte de Lima from Westminster or moving goods to São Domingos de Rana from Worcester.
Our faithful qualified moving firm provide responsible, urgent one way van hire to Portugal from Switzerland, Germany, Scotland, Ireland, France, Belgium, Spain, Italy, Portugal, Holland, Wales and from all Europe. Message us immediately to find out how much it is for next day one way man, van and driver to Portugal from UK. Compare express 1 man van rates from Preston to Setúbal, Inverness to Leiria or Sunderland to Odivelas, Cacém, Monsanto, Funchal, Rio Tinto and different within just a few minutes. Check also our Removals to Latvia and Hungary man and van offer.
Our local-cost UK to Portugal cheap one way removal van for hire could be used for transporting 3, 15 or 50 coffers, boxes and cheap moving house boxes to Aveiro from Wolverhampton, 40, 120 ft3 of goods and commercial products for 24/7 moving to Sesimbra from Dundee, same day last minute one way man and van to Loures from Bradford, short notice refrigerated and meat delivery to Évora from Stoke-on-Trent, reasonable machinery and minibike moving to Barreiro from Durham and many more.
Compare urgent removals to Portugal from UK, Austria, England and Gibraltar. Our next day moving companies may transport your packing boxes for sale, a car, equipment from Bucharest to Faro, offer efficient express one way van and a man from Cologne to Queluz, move snow sled, outboard motor, music centre and the contents of you household from Stockholm to Guimarães and provide cheap removals to Portugal from Milan, Prague, Barcelona, Berlin, Budapest, Brussels, London and more. Compare average 1 bedroom flat or 1 or 5 and five or one bedroom home move costs from executive 24/7 and same day one way van hire to Portugal removal firms.
Express UK to Portugal removal van hire
The transportation solutions that we make happen are not limited to the cheap and last minute one way van hire to Portugal from York, Lisburn, Southampton, Manchester and Glasgow and all the Great Britain. Our quick, reputable and short notice UK to Portugal cargo forwarding companies will cope with and extend:
Obtain and examine complimentary next day moving van hire to Portugal quotations. Review free express two men, van and driver hire approximate prices for forwarding six, 13 or 30 wardrobe moving boxes, double wardrobe, fauteuil, corner sofa, air conditioner, water heater, curio cabinets, hutch and garage contents. Review online cheap removals to Portugal from Newcastle upon Tyne, London, Hull, Armagh, Portsmouth, Plymouth and all the British Empire. We adopt sundry samples of 24/7 delivery vehicles for rental - Small and Large, Transit Panel, 17 Tonne 2000 cubic ft, LGV Box, 3.5 Tonne GVW Tail Lift Luton, 7.5 Tonne 24ft Dropwell Luton and more. All our same day one way van hire to Portugal from Ireland, France, Belgium, Spain, Slovenia, Italy, Portugal, Holland and all Europe deliver very affordable discount moving boxes, gramophone, benches and seating, tumble dryer, fridge, personal belongings, household gear and clothing removals services at bargain-basement and last minute man and the van rates. Our removal company will never complain they are effete, prostrated or that the relocation is too colossal. We also offer sending boxes to Greece from Portugal.
Whether you demand to compare short notice Amora to Madrid removals, Dublin to Paris one way van and driver hire, Amadora to Warsaw car, truck or chopper removal, Coimbra to Vienna urgent cargo or fish and sea food transport or Porto to Hamburg next day removal bus hire our express UK to Portugal apartment and office and factory relocation companies will be admiring to fulfil your requirements. We also offer shipping boxes to Cyprus from UK.
Cost of living in Portugal
Things like wine, food, bread and normal commodities you will get from the shops are sold at very good prices. Another good thing is that expats from the UK can easily obtain British foods at very affordable rates here. You may witness the consumer goods being very expensive.  The price of these may be up to 20 to 50 percent higher than what people will spend to get them in other countries. This includes the British foods. They are available but very costly. Expats moving with kids to Portugal from UK should also read up about this in the extended section. You should also look at the cost of living special page, so as to get the cost of everyday living in the country. If you have lived here as an expats, you can also send us your own experience of the pros and cons of the country. This information will help in preparing the intending expats about what they will experience in Portugal. A guide for British citizens that are moving house to Portugal, with information on residency, benefits, finance, healthcare, and property issues can be provided to you by many organisations. The guide is full of the most essential information for all the British nationals that want to relocate Portugal, with details about education, health, benefits, residency requirements, cheap removals to Portugal, house prices and a lot more. However, information on general lifestyle inquiries were not provided here, but you can get some of them through the links provided.  We also have a section with information on what the consulates can do for Britons in Portugal and what they cannot do. With this information, the travel advice to Portugal is enhanced.
Health system
The health system in Portugal is based on universal residence. The meaning of this is that anybody who is resident in Portugal, is registered with the immigration authorities or town hall and has also been given a residency certificate is eligible to register with any preferred health centre in his locality and receive the healthcare from the state.
But according to regulations from the EU, those who are receiving state pensions from one EEA country while they reside in another EEA country should have their healthcare covered by the country that pays their pension.  This means that if you live in Portugal while your state pension is paid by the UK, your healthcare should be covered by the UK as well. This is done by giving you the S1 form.
Because of this, if you get to the age of state pensions while you live in Portugal, you have to make a formal request for the S1 form. When you get this form from the DWP, you should hand it over to the social security office, normally named Posto de Atendimento da Segurança Social within your locality. When you hand this over to them, they will now make some changes on your coverage.
If you are registered with the health system from the state in Portugal, you must de-register with your provider in the UK. The same thing is applicable when you want to go back to the UK. When this is the case, you must at this time de-register with the authorities in Portugal. Get to the NHS website and read up how you can plan properly for your healthcare if you have the intention of living abroad permanently.
Those who are going to Portugal for their holidays should endeavour to go along with their European Health Insurance Card (EHIC) which must also be valid. They should also get a private medical insurance cover for their travel.
Education in Portugal
Every child from 6-16 years of age must acquire education according to Portuguese law, so far as the parents of the kid are on legal residency in Portugal. This education is free for all from the pre-school level to the high school level. But since the preschool which happens before the 6 years age range is not obligatory, it is not all kids that gain a place in it. This is because places are only available according to demand, and the demand in different parts of Portugal varies. You can find more information about this from the ministry of education in Portugal. If you are moving to Portugal and need to read more about the Portuguese government and their services, you have to get to Loja do Cidadão, which is a one stop shop for citizens of Portugal. Our website does not certify qualifications obtained in Britain. But you can get more information on the best way to get your UK documents recognized from an information leaflet.
Relocation and residency requirements
EU citizens can move and stay in Portugal for up to 3 months without any form of registration. But, once you intend to relocate for more than 3 months, then you have to get a registration certificate from any Town Hall or Câmara Municipal close to you. If you have this intention, then you should obtain these four months after arriving to Portugal. When you get this certificate, it will serve you for about 5 years from the date it was issued or till your intended departure time. The permanent residence certificate can be gotten from the office of immigrations named Serviço de Estrangeiros e Fronteiras. If you wish to be entitled to the local services like social security, healthcare and schools, then get to the Portuguese authorities and register. Our guide for those who want to take residence in Portugal can also help you.
Benefits
Discover the UK benefits you can claim while living in Portugal.  Information on retiring or moving abroad will help you here. The social security system in Portugal is manned by a department named Direcçao Geral de Segurança Social or DGSS. When you get to their website, you will get all the information you need about the social security system in the country in English language.  You will also get the addresses of the offices of the social security department within your locality. You can also contact them on phone or write them an email for more enquiries. They will answer you when you do.
Taking a car to Portugal
When you move house to Portugal, there will be no need exchanging your driving license which was issued in the UK. You can continue to use them in Portugal till they are no longer valid.  For those with the photo card driving license, it should be remembered that they must renew this before the date of expiration.
For those who will like to go on using their UK driving license while they live in Portugal, the Instituto da Mobilidade e dos Transportes and the I.P. must be officially notified within 30 days of being issued a residence certificate. You will be penalized, and it may include a fine, if you are resident in Portugal with or without a residence certificate, and is driving a vehicle registered in Portugal without a UK Portugal registered driving license. So if you want to take your car to Portugal from UK there is no problem at all. Here you can check some info on moving to Bulgaria from Portugal.
Those who plan to make this place a permanent home have a lot of good reasons to exchange their UK license for the Portuguese one. These licenses can only be replaced by the original body that issued it in case of loss, theft or damage. This will mean a very uphill task if you lose your UK license in Portugal, because the DVLA and many other authorities do not renew licenses to addresses overseas.
When your UK license expires in Portugal, it cannot be renewed by the Portuguese authorities because they did not issue it.  For you to get a fresh Portuguese license, then you will need to undergo a driving test, which you must pass for the Portuguese license to be issued to you. If you decide to use the better option of exchanging your license, then forward your application to the office of the IMT. The form should be completed in duplicate and handed in to the authorities with the following:
Last minute removals to Portugal
If you are preparing a urgent and calm large cardboard boxes, personal effects and excess baggage removals from the UK to Rio de Mouro, Corroios, Vila Nova de Gaia, Lisbon, Braga, Ponte de Lima or to any region in Portugal we have a magnificent intelligence for you. Wherever you are our cheap one way moving van for rental can be in the saddle to forward your movables. We have the right equipment to ship any standards of belongings, equipment, extra luggage and other items for both public and trade clients.
For domestic clientele our one way delivery vans for hire are experienced enough to cater:
For fiscal customers our 24/7 one way removal Lorries for rental are able to organize:
Our moving firms have the resources to hand out to you a systematic, top and adequate tips and helping hand on hiring same day one way moving van hire removals from Portugal to the UK and back. You will get a free van and driver bid based on bought for a song local relocation costs. Pick up rough moving truck hire prices to Portugal from London, Prague, Peterborough, Barcelona, Derby, Portugal, Holland, Wales and all Europe. Check out how much is to hire last minute one man and his van removals to Portugal from UK. Transport your filing cabinet (4 drawer) to Dublin, deliver chaise longue to Dublin, move bench to Évora, transport Windsor chair to Barreiro, collect and deliver refrigerator to Faro, send cooker to Queluz, pick up and ship van to Guimarães, ship moped to Amora, deliver frozen food to Amadora and move short notice chilled food to Coimbra at half-priced rates and be glad.
Our Portugal to UK delivery trucks for hire could also transport chest of drawers, sculptures, freight and cargo and other jumbo, abundant and bulky personal effects at real buy costs. Our urgent man and van UK can come with: door jamb protector s, extra strong packing tapes, piano skids, air cushioning, adhesive corrugated papers and other. Apart from container, private goods and sofas and beds removals to Portugal from UK we also carry out next day moving of miscellaneous arrays of huge money-making and business factory equipment. We could carry mower conditioners to Porto, deliver tooling to Rio de Mouro, haul bulldozers to Corroios, and move printing presses to Vila Nova de Gaia or transport bag making machinery to Lisbon. See also one way van hire to Ireland from Portugal.
The basic state pension of the UK can be paid in Portugal
The state pension of the UK witnessed some changes in April 2010. The changes imply that even more people are now eligible to receive pensions from the state. You need to read up the crucial changes and how they affect you.
The pension calculator can also help you with the exact time you will attain the pension age. If you live in Portugal but have not worked here, your UK pension should be claimed from the international pension centre in the United Kingdom. You can email them or call their phone line.
If you live in Portugal and have worked for some period of time, your pension application should be forwarded to the CDSS, which means Centro Distrital de Segurança Social. They will take care of your Portuguese and UK pensions. Those who have only worked in the UK ever, should also read up our page on how to apply for UK state pensions.
Those who were moving from the UK to Portugal must notify the International Pension Centre (IPC) of this move. This is aimed at preventing any issues with the payment of their pensions. The UK pension credit cannot be paid in Portugal. When you decide to move to Portugal on a permanent basis, the office that takes care of your benefit must also be informed before you depart.
Those with a life certificate issued by the UK pension office must reply to this as swiftly as possible to avoid their benefits from being stopped. When you complete the form, you have to get a witness to sign it before you return it.
You should ascertain the people eligible to sign a life certificate before you choose any. However, if you have the list of people that can countersign your passport photo, they are the same thing, though the eligible people may not live in the UK or Ireland and may not have a UK or Irish passport.
Buying a house in Portugal
You have to prepare carefully before you buy a property here.  The legal procedures and others involved in buying a property in Portugal differ to hose you got used to in the UK. This is why you have to conduct an intensive research in advance before you delve into this sector. You are better off with a legal advice on buying a house in Portugal, so as to avoid future disputes and difficulties in the process. Choose a lawyer with land law and property transactions experience and ensure that he is a registered member of the law society. Most houses for sale come with no furniture so if you need a cheap removals to Portugal from UK please contact us for a free quote. We can help you to compare and see how much is man and van to Portugal form the UK.
You can access some volume of independent services for property purchasing from some of the notaries around. The number of those offering this has doubled recently, and they are regarded as Casa Simples, Casa Segura. In Portugal, notaries are made up of trained lawyers, and they can advise you on legal issues and offer assistance with the property purchasing procedures. They will also help with issues about title registration and relevant duty payments.
However, if you intend to buy a river, lakeside or coastal property, check and see that the 2005 water resources law is not broken by the purchase. You will get advice about buying a house in Portugal from a lawyer or notary. If the land notary indicates that the property is on rural land, then do not buy. This land is meant for agricultural purposes, so you can only buy it after checking extensively with the municipal authorities to be sure that permission for full planning has been obtained for the residential purposes.
We cannot guide you on how to purchase properties individually. You can access more information on the services you can get from the consulates about this. If you need information on property purchase here, you can check the article on how to buy a property guide. Instead we can offer you a cheap one way van hire to Portugal from London, Scotland, Ireland, Wales, Denmark, Austria, Salzburg, one way van hire to Italy and more.
We offer this information in form of a general guide to you as it was given to the embassy by the local authorities.  This means that it could be changed anytime without any or little notice. If you are moving to Portugal please note that the British embassy in Lisbon and the FCO are not liable for the inaccuracies that may exist in this information. If you want to get more authoritative information on these, you need to contact the appropriate local authorities. We also do Portugal to Monaco one way van hire.