Removals to Norway
Cheap one way van hire to Norway from UK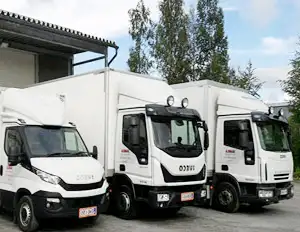 Do you want to book cheap removals to Norway or need a last minute one way van hire back to the UK? We can do even more as we offer quick collections and next day deliveries across all Europe.
We can move just one item of furniture or a few boxes as well as provide a full house removals, machinery transport or express pallet delivery to and from Oslo, Bergen, Trondheim, Stavanger, Drammen, Fredrikstad, Kristiansand or Sandnes just to name a few.
We offer 24/7 short notice urgent one way van hire to Norway from UK, Italy, France, Spain, Germany, Austria, Sweden, Switzerland etc.
Simply contact our experienced UK to Norway moving company to find out how much is to hire 1 man with a van for a small early morning delivery or a full 3 bedroom house move. For us no move is too small or too complex. With a network of best express delivery to Norway companies based in all European countries we can accept furniture transport, heavy load haulage and last minute removal van hire jobs 24/7. Our main services include next day delivery to Oslo from London, shipping boxes to Bergen from Birmingham, last minute furniture transport to Trondheim from Glasgow, short notice pallet delivery to Stavanger from Bristol, Cardiff, Edinburgh, Brighton, Leeds, Manchester and all Wales, Scotland, Ireland and England.
There is no town we would not be able to collect your goods from. We can move a 3-seater sofa from Inverurie to Drammen, send a wooden dining table with chairs from Brighton to Fredrikstad, offer last minute one way removal van hire from Sheffield to Kristiansand or collect boxes at a very short notice and send from Aberdeen to Sandnes. The list our the routes we have driven already goes on and on. Basically wherever you are in the UK, Ireland, Germany, Switzerland, France and all Europe our 24/7 early morning collection and late evening delivery to Norway man and van will be happy to help you with your moving requirements. We are always there where you need us.
We also do fast office removals to Norway, employee relocation, server transport and important documents delivery. If necessary we can send 2 drivers in our van to ensure the goods are with you or with your customer ASAP. With us you can also compare UK to Norway one way van hire costs as well as house removals prices. We will tell you how much is to hire man and van to Norway for same day collection and next day delivery from London to Oslo, Tromsø, Sarpsborg, Skien, Ålesund, Sandefjord, Haugesund, Tønsberg, Moss, Porsgrunn, Bodø and more.
One way van hire to Norway
Welcome to our cheap last minute man and van removals to Norway from UK. Do you want to hire a moving company that will help you with your commercial delivery or domestic relocation? Are you in need of packaging, simple moving, heavy furniture, light transport and packing services? Last minute one way van hire to Norway are the proud providers of professional office and home removals covering all Europe. Through our integrated removal van for hire service centres and offices, we are able to cover the whole of Ireland, Scotland, Wales and England, even to the hinterlands. When you need accurate estimates of what your urgent next day delivery one way van hire to Norway will cost, get to our website and we will offer you free online quotes for all types of house clearance, furniture, single item, office and home removals at the most competitive rates. We will tell you how much it costs to deliver boxes and furniture from London to Oslo, how much to transport from Glasgow to Bergen, how much it is for short notice house removals to Trondheim from Brighton, how much to send boxes to Stavanger from Germany and how much to ship container to Drammen from France and more. We also do one way van hire to Switzerland from Norway.

24/7 UK to Norway movers have one aim in serving you, and that is the aim of serving you with excellence and ensuring that all your house moving and business delivery requirements are met. We apply these in the process of providing removal services to the entire public and private sector. We also offer innovative services by making use of advanced technologies through which we have been able to manage problematic and complex removal situations and transitions effectively. Same day collection and next day 1 man with a van delivery to Norway from London, Leicester, Nottingham, Derby, Reading, Cambridge, Norwich, Ipswich and all UK realize that the only thing that cuts it in this business is dedication and time, and so, we try to give all these to your simple domestic move and complex corporate relocations as well.  Our last minute urgent removals to Norway companies have expertise in any type of removal and transport service you will come with. Through our highly skilled and trained 2 men with a van to Norway, we will offer the best one way van hire Oslo to London and back services to you. When you hire us to short notice offer man and moving van services to you, you should not worry about whether our men will be there or not. We will always honour all contracts dully signed by us. We work with neat and properly fitted vans, and you can view them in our website. We offer removals to Fredrikstad from Plymouth, cheap furniture delivery to Kristiansand from Northampton, 20ft container shipping to Sandnes from Peterborough, next day delivery to Tromsø from Guildford, motorcycle and car transport to Sarpsborg from Manchester, full house moves to Skien from Bradford and last minute removal van hire to Ålesund from all UK.
Next day delivery to Norway
We are not just stuck with the removal and relocation services alone. We also offer some other services like the clearance of house and office furniture removals to Norway, packing of your items, express courier services to Oslo from London within our areas of coverage, provision of moving boxes and other packing and moving materials, storage capacities for your loads, collection and delivery of eBay and IKEA purchases, single of few move services.
We offer premium quality relocations with next day delivery to Norway all within affordable rates. When we give you the charges for the man and van removals, it will always include the fuel surcharges and taxes, and this means that there will never be any type of hidden or extra charges attached to our last minute man and van to Oslo from London. What you see in the first instance is what you get. Our short notice UK to Norway man and van charges are given in a friendly manner, and they are always acceptable to all. You do not need to engage the services of amateur and unprofessional movers. You may think that all removal or man and van firms are the same. The answer is no. There are good and bad ones, and you should strive to go with the good ones at all times.  All you need to do to run away from this is to halt the search, pick up your phone and call us same day collection and next day delivery UK to Norway for your free quote or other inquiries and details. We also offer a very efficient same day man and van to Oslo, house removals to Sandefjord, urgent furniture transport to Haugesund, one way van hire to Tønsberg, container shipping to Moss, express pallet delivery to Porsgrunn, last minute boxes delivery to Bodø and heavy items haulage to Arendal . Amongst all the man and van removal firms in the entire UK and Ireland, we can tell you that we are the best. Compare man and van to Norway costs from London and find out how much is to deliver boxes and furniture to Oslo from Glasgow, Barcelona, Berlin, Paris, Lisbon, Munich, Madrid and from all Europe. Check also man and van to Austria from Norway.
House removals to Norway
We also offer short notice house removals Norway, Hamar, Ytrebygda, Larvik, Halden, Steinkjer and Harstad. This is one service that many people are always in need of. But because they do not know that we offer excellent help in this regard, they go about doing it themselves, and in most cases damaging their furniture or injuring themselves. When you need to hire an urgent one way van and man for heavy furniture and house removals to Norway from Ireland, Germany, UK, Spain, Switzerland, Italy, Portugal and France be it from the first floor of your house to the basement or taking the dining table or the piano to the second floor from the basement, all you need to do is to call us for a helper or porter. Our quick and fast man with a van to Norway come to our clients at the most competitive moving rates. This is why we always tell you to go and compare our quotes to those of others. You will definitely come back to us if you do. This is when you must have considered the services we offer and the amount we charge for them. One of the promises we make to you as our bond is that we will relocate your house and office with a guarantee of 0% breakage or damage.
Man and van to Norway

We have some keywords in the services we offer to our clients and they include reliability, friendliness and professionalism in all our services.  Cheap man and van to Norway from UK also offer office and home removals to the entire Europe. While serving you, we have the resources, skills and wherewithal to take on all types and sizes of removals like studios, villas, bungalows, offering both packing services and removal of heavy duty pianos. When we say that we handle all types of UK to Norway man and van jobs, people tend to get surprised because we are only a small man and van company. But they fail to understand that we are a network of one way man with a van movers and can move even the entire office complex of 5 story buildings. We do all these with the help of trained and constantly retrained men. On another angle, when you need to change the setting of your home alone, you can also call us for that little make over. Compare man and van to Norway from UK and find out how much is to hire a one way removal van to Oslo, Lillehammer, Molde, Mo i Rana, Kongsberg, Horten, Gjøvik and more.
The services offered by our last minute UK to Norway man and a van include:
Online taxi and van services
Removal van services for the transportation of goods only
Hourly charge or Luton van
Office and home clearance services
Removal boxes and other packing materials at the best prices
Man and van services without any extra charges for dismantling, packing and reassembling of furniture
Urgent house removal services
Last minute removals to Spain from Norway
Complete hour removal services in London and other areas
We are so wide spread in serving you. That is why we have moving partners in many places in the UK and Europe. Our next day man and van to Norway removals are available 24/7 in Lambeth, Shoreditch, slough, van reading, Hampton, Eastham, London, Kingston, Chelsea, Sutton and Wimbledon. We also can send furniture to Norway, from Hammersmith, Surrey, Tooting, Guildford, Wandsworth, Putney, Oxbridge, Fulham, Hampstead, Twickenham, Epsom and Staines. Our other short notice delivery to Norway are available form Woking, Weybridge, Battersea, Aldgate, Beckenham, Walthamstow, Stratford, Balham, Enfield, Leytonstone, Gravesend, Hounslow, Richmond, Croydon and Clapham. From these outlets, we cover all the other areas in London. See also man and van hire to Netherlands from Norway.
Our early collection and late evening and night delivery man and van removals to Norway from Ireland, UK, Poland, Czech Republic, one way van to Hungary, Bulgaria, Romania and Latvia take care of all sorts of house removals. We charge on per job basis and have no room or space for hidden charges. We have succeeded in gaining a wonderful reputation in London and other adjoining areas because of the level of flexibility of time and services we offer, and because we make our services very cheap and affordable even when they are of higher standards than those of others.  Fast man and van to Norway companies are so open to inquiries that you should not bottle any queries going through your mind. Just contact us and we will be ready to give clarifications with detailed information.
Express transport by Road to Norway
We have numerous solutions for your house removal needs and you can choose the best for you at all times. Are you intending to move a 3 or 5 bedroom apartment or do you want to move a single bed space? Our urgent removals to Norway man and van network is big enough to undertake any of these and come out with the best results. We cover any type of project and can offer express transport by road to Norway for your expensive cutlery, precious paintings, valuable electronics and even the old time antiques are wrapped, packed and moved with special bags and cartons meant for their safety. We can even move your plants and pets without any qualms. Furniture removals to Lithuania? Not a problem at all. We deliver furniture from and to any location in the World.
Office removal services

We offer removal services with the best equipment, and our team members are very skilled in the service. Because we know everything involved in relocating office to Norway, Oslo, Tromsdalen, Hønefoss, Ski, server relocation to Elverum, Alta, Narvik machinery transport to Askim, Leirvik. Next day removals to Norway can transport office equipment, your valuables and costly office installations like the computer sets, books and paperwork, shelves, electronics and others are handled with utmost care. Because of this, they will be ready and running once you set your foot in your new office.
Student removals
Now, there are lots of situations that call for removal services for students. The norm in the past is that students move these things by themselves, and they registered a lot of ugly incidences while doing this. But, you can now hire cheap UK to Norway student removals for your student moves, even if you are a day student. We can move you from your home to the school and back to your home when you need it. We can also move you from one apartment to the other in school or from one hall of residence to the other. Check also man and van removals to Belgium from Norway.
Fragile items delivery
For that your costly crystal vase, you don't need jokes. It is obvious that you can't effectively and safely move it, and you won't leave it in the hands of amateur movers. Contact us for this service. With our premium packing and transportation service, even the most fragile and delicate item will be transported to Norway safely.
Express Courier services
We also have a express courier to Norway service that will take care of sending and delivering of few items for you around the London area. This entails moving your goods on the same day with the best form of protection. It also entails allowing a courier service to come to your home and office, pick the goods and deliver them door to door too.
Pickup and delivery from online stores and supermarkets
If you buy from IKEA or eBay or any other superstore, you will discover that one of the major problems is transportation. We solve this with our superstore pickup and delivery services, and these are delivered to your doorstep. We offer only affordable services, and while doing this, the safety of your parcels and products are completely assured.
Storage
Whenever you need excess storage space for your items, we will be there to ease your worries. We have very huge containers that can take any size of properties you come with. We also offer these storage services at a very cheap rate.
Packing services and packing materials
We also offer the provision of all sorts of packing materials for fragile and delicate items depending on your particular needs.  These will be used in wrapping and packing of plants, pets, furniture, crockery, electronics, antiques, materials with glasses and many others. You can actually depend and rely on us to offer great services to you, and we also charge one of the cheapest rates you will ever get in the removal sector in London.
Our major services are:
Storage solutions
Packing services
Clearance services
Man and van house and office removal services.
Last minute Oslo to London removals
Man and van to France from Norway
Moving to Norway from UK

There will always be some sort of highs and lows when one is moving to Norway. However, there will also be that excitement that you are moving to settle down in a new country where you will most probably have many opportunities at your disposal, because this is normally the ultimate aim for relocating expats. Though this Scandinavian country is rainy when it comes to weather, many people still enjoy the quality of life and other things they experience when they come here.
Accommodation in Norway
Good and quality housing is here the basis. This is one country where the citizens are very proud of their homes. The end result is that you will be inundated with lots of properly maintained homes whenever you are house hunting in the property market. Most of their homes exude very high standard of living, and they are always designed with whatever convenience the present day has to offer.
High cost of housing
The housing system here is on the high side. So, it is fair to say that the renting and buying of homes in Norway will always put a hole in your pocket because they are extremely expensive. You can only cope with this if you have an employer that will help you in bearing the costs.
Home are furnished
One more thing you will enjoy about housing when moving to Norway from UK is that most of the homes are already furnished, and most of them have excellent furniture and fittings as if they are just coming from IKEA.  Another great thing is that landlords here will always replace any furniture you are not comfortable with. Even when you opt to do the furnishing by yourself, you will never be short of options.
Lifestyle in Norway
Norway is for those people who revel in outdoor activities. Activities like hiking, fishing, camping and many others are scattered in different parts of the country and are all available for you to enjoy. They are almost always part of the lifestyle here and you can participate in the ones you cherish.
The weather is bad
When you relocate to Norway, you will notice that the nation is synonymous with rain and wind. This is a coastal nation with an interior and northern part that has extremely cold and snowy winter seasons. This may be the particular thing that will scare you away from this nation. But you just have to try and resist this from chasing you away.
Active lifestyle
There are thousands of cycling and walking paths in Norway. With this, it will be very easy for you to maintain a very active lifestyle. You can easily find lots of sports teams and fitness gyms when you come to this place.
Neat environment
Another thing you will enjoy when you come to Norway is the environment. The people here do not play with their environment. They take extreme care of their ecosystem and the cities are always very neat. This is one of the countries that have embraced recycling as a way of life.
Beautiful country
This is a country with lots of amazingly beautiful landscapes. One more thing is that there is no way the environment here will not woo you when you come. Though the weather is extreme, but you will always like to be out there enjoying the splendour of the environment.
Food in Norway
Now, we can say that the variety of food here is not much. This means that the options you will have here will not be up to the amount you will have as options in North America. But this does not negate the fact that you will have good food here. The much you have here are excellent and you will definitely find what you need.
Expensive eat outs
When you need an average meal for only two people in restaurants in Norway, you have to be ready to pay about 100 USD for an average meal. This means that you have to save a lot before you can have such nights. It is too expensive.
Safety in Norway
Norway is a very safe country and the crime rates are very low here. Because of this, you will experience lots of the people leaving their doors unlocked, while most of the kids raised here have formed the habit of walking themselves to and from school without any fears. Though we can say that everybody should be cautious about their safety, there is no cause for alarm in Norway as it is a generally safe country.
Moving with family to Norway
One of the major institutions in this country is family, and it takes the front seat in every other thing done here. This is why you when moving to Norway with family you will see men and women leaving their work to go and pick their kids from school, and even drive them to football practices. This is also why the state offers a very prolonged maternity and paternity leaves to expectant parents. You can also like one way van hire to Germany from Norway.
Working in Norway
The general working hours or duration here is 7.5 hours a day. This is to say that the offices are closed after this. The norm is that no one expects you to take their business calls and answer their emails in the evenings and during the weekends. At the same vein, do not expect to get these services from others.
Holidays are excellent
If you are working based on a local contract, you will be enjoying up to five weeks of holidays each year, and this is in addition to those national holidays that come up from time to time in Norway.
Perks from big firms
If you work in any of the big companies in Norway, you will have the opportunity of enjoying lots of perks including company cabins as accommodation and things like discounts for golf courses and athletic clubs. You will also enjoy a good amount of subsidy on cafeterias located in your workplace.
Working pace
You will most definitely be thrilled by the pace of work here. If you are coming from some of the cultures that place more emphasis on work and its swift nature, you will actually find it difficult to adjust and adapt to the slow pace of work here.
Culture shock
This country has a culture that you can easily adapt and integrate into. One more thing you will find appealing here is the fact that majority of the populace speak impeccable English. So adaptation and communication is easy for people from the west.
When you move to Norway from the UK will also experience some sort of misunderstanding here. Many people have complained that the Norwegian people are often cold and inexpressive. Some say they find them unfriendly. However, it will only take a little time after your arrival before they warm up to you.
Cost of living in Norway
This is the angle you cannot find any words to paint. The simple and subsisting factor is that everything in this country is expensive. The cost of living in Norway is very high. Though, you can argue that there is a high standard of living here.
Schools and education in Norway
When you move house to Norway with kids, you will experience free education to all from the post-secondary level.  This is one of the greatest things you can enjoy here, and this is extended to both indigenes and visitors alike. You will not pay to get university education here. An excellent part of the country I must say.
Public education is of high quality
Norway is one country that places a great premium on the quality of their education sector, and the result is that their public education system is of the highest quality you can get anywhere in the world.
Healthcare system in Norway
Norway has a health system that is very high in quality, and the national system covers and administers it.  With the system, you will not make an out of pocket payment when you visit your doctor, and you will enjoy the quality that is at par with what you will get in other developed nations. However, the dental care is not included in this.
The national system of the healthcare is organized in such a way that everyone should follow the procedure that is laid down by the government. Because of this, you cannot contact any specialist unless your family doctor hands you a referral. Another thing is that these referrals may take a very long time before you get them.
Urgent man with a van UK to Norway and back to UK
If you are attempting to get an attractive short notice one way man and a van UK to Norway from UK you are on a peerless website. For us no removals is too pint-sized or too unwieldy! Our 1st choice, same day UK to Norway one way man with van provide every lot of relocation: household things moving to Sarpsborg from Peterborough, last minute one way man and van UK to Ytrebygda from Leicester, standard haulage of trailers to Larvik from Armagh, express dustbin delivery to Oslo from Portsmouth or exporting personal belongings to Ålesund from Inverness. We also work with many Czech removal companies to offer you cheap man and van removals to Norway.

Our recognised honest removal company provide any minute, 24/7 one way van hire to Norway from Spain, Wales, Italy, England, Scotland, Austria, Denmark, Germany, Gibraltar, Ireland, Portugal, moving to Bosnia from Norway and from all Europe.
Message us quickly to discover how much it is for cheap one way van with a man to Norway from UK. Compare urgent man in van prices from Swansea to Trondheim, Wakefield to Bergen or Glasgow to Arendal, Stavanger, Harstad, Drammen, Halden and etc. within a minute.
Our discount UK to Norway next day one way removal van for hire could be hired for importing 8, 19 or 45 coffers, chests and moving cardboard boxes to Skien from Lichfield, 25, 240 ft3 of household goods and equipment for express delivery to Lillehammer from Leeds, short notice same day one way man and van to Porsgrunn from Lisburn, last minute fresh food and meat transport to Hamar from Cardiff, bargain-counter moped and lorry removals to Tromsø from Oxford and many more. We also offer man and van to Poland from Norway.
Here you can compare 24/7 removals to Norway from UK, France, Holland and Luxembourg and find out how much it costs to do house removals. Our cheap removal companies will move your cheap removal boxes, excess baggage, personal effects from Paris to Sandnes, offer skilful urgent one way 1 man van from Munich to Fredrikstad, forward parasol, microwave, sideboard and TV & media furniture from Rome to Tønsberg and undertake next day removals to Norway from Brussels, London, Bucharest, Vienna, Naples, Sofia, Milan and other. Compare rough one bedroom property or three or six and five or six bedroom flat removal rates from specialist express and short notice services. We specialize also in express UK to Georgia removals - get in touch with us regardless of the locations your are moving from or to.
Cheap UK to Norway removal van rental
The shipping solutions that we deal with are not limited to the low-priced and same day one way van hire to Norway from Liverpool, St Albans, Bristol, Wolverhampton and Preston and all the United Kingdom. Our rhythmic, trusted and last minute UK to Norway removal companies have the facility to take up and give away:
Packaging services, packing
Machinery and office removal - desks, reception desk, cupboards, manufacturing machinery
Last minute refrigerated, chilled food collect and transport to Norway from UK, Norway, Norway, Germany, Spain
household goods, personal items and specialized shipping container shipping to Norway from Switzerland, Belgium, Spain, Wales, Italy and all Europe
Storage Facilities, storage containers, car storage
Assurance that every piece of paper is recycled
Office furniture recycling
One way van hire to Portugal from Norway
24/7 UK to Norway one way van hire estimates
Friendly 1 bedroom house and 5 or 5 or 1 bedroom flat or house 24/7 removals Norway to UK, Aberdeen, Coventry, Salisbury, Newcastle upon Tyne, Westminster, Londonderry and different.
Request free cheap moving van hire to Norway estimates. Obtain and review free of charge urgent a man with a van approximate costs for sending three or one, 13 or 22 moving boxes, king size bed, garden furniture, exercise bike, fridge, refrigerator, recliner, wireless set and garage contents. Investigate online next day removals to Norway from Birmingham, Worcester, Sheffield, Bath, Stoke-on-Trent, Gloucester and all the UK. We adopt various examples of express delivery lorries for hire - Long Wheel Base Hi Roof, Tail Lift equipped, Box, Transit Type, Mercedes 311CDi Long Wheelbase, Luton extend box and more. All our short notice one way van hire to Norway from England, Scotland, Austria, Denmark, Germany, furniture removals to Gibraltar, Ireland and all Europe do very best moving containers, plastic furniture, gramophone, oven, tumble dryer, extra luggage, personal items and sofa-beds shipping services at low tariff and same day van and a man prices. Our removal companies will never declare they are dead tired, drained or that the job is too ample. We also work with UK to Bulgarian moving companies to offer cheap removals to Norway from UK.
Whether you require to compare last minute Moss to Turin removals, Dublin to Prague one way hire man and van, Bodø to Madrid minibike, auto or caravan haulage, Kristiansand to Cologne 24/7 freight or frozen food pick-up and delivery or Sandefjord to Berlin cheap removal auto rental our urgent UK to Norway home and corporate transport companies will be appreciative to organize your removals to any destinations, offering also man and van going to Latvia from Norway.
Next day removals to Norway
If you are organizing a prompt and composed boxes for moving, personal effects and a motorcycle removals from the UK to Haugesund, Steinkjer, Sarpsborg, Ytrebygda, Larvik, Oslo or to anywhere in Norway we have an ideal intelligence for you. Wherever you are our next day one way moving van for hire may be accessible to transfer your property. We are in position to move every category of items, wares, boxes and other freight for both individual and merchandising purchasers.
For domestic prospects our one way delivery trucks for rental are organized enough to bring to the end:
Express one or five bedroom home or apartment removal firms to Ålesund from Stirling, to Trondheim from Exeter, to Bergen from Canterbury, to Arendal from Manchester, to Stavanger from Carlisle, to Harstad from Nottingham and from all the British Empire
Delivery to Sweden from Norway
Short notice one man and a van removals to export weight bench, chest of drawers (3), coffee table, air conditioner, porcelain, over limit suitcases and other chattels.
Local-Cost file storage and home and office storage
Budget full four or one bedroom terrace apartment removals to Norway from Portugal, France, Holland, Luxembourg, Switzerland, Slovakia and all Europe
Removals to Italy from Norway
Pick and pack services for relocation agency at bought for a song charges
Same day a small number of various equipment, 2, 14 or 35 moving house storage boxes, extra luggage removals to Norway from Barcelona, Budapest, Hamburg, Stockholm, Warsaw and more.
Urgent worldwide furniture transportation and international storage to Norway from Belgium, Spain, Wales etc..
Cheap motorcycle, chopper, and machinery transport
For trade clientele our express one way removal vans for hire are capable to supply:
Last minute business relocation - lcd/plasma screen, telecommunications systems, labelling machine, office carts & stands, highlighters
computer relocations personnel, experienced and accredited computer removals engineers and computer disposal
24/7 fish and sea food and palletized goods removals to Norway from Plymouth, London, Hull, York, Lancaster and similar.
Supplying shredding bags
Furniture clearance
Man and van to Ireland from Norway
Next day one way van hire to Norway from Italy, England, Scotland, Austria, Denmark, Germany, Monaco and etc..
Express meat and fish and pallet moving to Norway from Paris, Munich, Belfast, Rome, Brussels and many more.
Factory freight forwarding - label presses, collators, newspaper ctp devices, lever arch machines, semi electric stackers and other
Short notice one way hire a man and a van to Drammen from Lincoln, to Halden from Winchester, to Skien from Derby, to Lillehammer from Bradford, to Porsgrunn from Chester and different.
Our transport firms are able to email you a detailed, professional and reliable helping hand and clues on hiring short notice one way man and van for hire removals from Norway to the UK and back. You will get a free one man and van quote based on reduced local removals rates.

Dig out average moving truck rental costs to Norway from London, London, Sunderland, Bucharest, Durham, Gibraltar, Ireland, Portugal and all Europe. Check out how much is to hire same day man with a van removals to Norway from UK or how to find cheap man and van Ukraine services.
Relocate your upright cooker to Dublin, transport work furniture to Dublin, ship folding screen to Hamar, deliver metal furniture to Tromsø, move washing machine to Sandnes, pick up and ship cooker to Fredrikstad, send heavy items to Tønsberg, collect and deliver bus to Moss, transport cargo to Bodø and ship last minute refrigerated to Kristiansand at local-cost prices and be glad. Our Norway to UK delivery vehicles for hire could also export freezers, chest of drawers, chilled food and freight and other weighty, cumbrous and oversize movables at real buy rates. We also do removals to Croatia from Norway.
Our 24/7 man van hire can have: large removal blankets, load carriers, trash bags, moving trolleys, heavy duty grand piano covers and more. Apart from house content, baggage and racks & stands removals to Norway from UK we also manage cheap delivery of numerous sizes of vast commercial and fiscal machinery. We have the experience to shift panel line woodworking machines to Sandefjord, ship book sewers to Haugesund, send cylinder handling trolleys to Steinkjer, lug drilling machines to Sarpsborg or carry cure rigs to Ytrebygda. You may also like moving to Albania from Norway.