Guide to Planning Your International Removals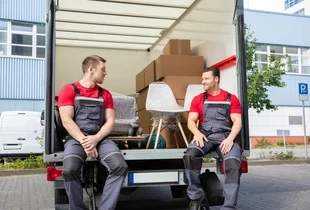 There's no denying that planning for an international move is no joking matter. Surely, the very fact of changing location is an exciting undertaking but as the moving day approaches, the tickle starts giving way to uncertainty. And that nasty growing sense of urgency verging on apprehension creeps in, as you beginning to realise the actual complexity of the task at hand. Thrilling as it may be, closing a chapter in life goes hand in hand with challenges of practical and emotional nature. Instead of fighting it, allow yourself some time to relax. You'll approach it with a fresh mind. Once you're ready, here are some packing tips when moving internationally.
Preparations for moving abroad
It all begins by taking an honest look at the move itself. A careful assessment will show you the way to tackle packing and preparations. Logistically and legally. We move for many reasons, be it changing jobs, studying abroad or taking up seasonal employment and that sets the scope of aspects to consider. You don't bring a wardrobe along for a fruit picking summer job, now do you? It may be as decluttered as a back pack or as much as a full household removal overseas operation involving multiple shipments and some well convoluted paperwork. Packing tip number one for moving abroad is: Have a detailed plan!
Have a detailed plan when moving internationally
Let's roll. Here are some questions to consider:
the duration of your stay abroad – moving permanently or for a limited time?
the type of accommodation abroad – the size, furnishings and appliances
essential personal goods – the bare minimum
the quality of goods – will the cost of shipping outweigh their actual value?
a list of banned items in country of destination
customs duties and tax requirements for imported goods when returning home after brexit
an itemised packing list of all your belongings listing their value
expert international removal services
do I need COVID pass to move abroad from the UK?
Addressing these issues will ensure your move goes smoothly, not to say uneventfully. Time is of importance. Yours also, as you may want to handle parts of the job or perhaps even the whole of it single handedly. That'll be stress, too. Alternatively, you may entrust the task to a professional removal company.
How long will you stay abroad?
We move for many individual reasons. Hitchhiking through a couple of borders to a vineyard is nowhere near a whole household removal from the UK to, say, Canada. A posted worker will not have to worry about bringing along all their furniture, much in the same way as a student will probably rely on what's available in place of destination, although each of them can opt for a rental and consider shipping some of their goods. An honest look at what you will need in your new place in relation to how long you'll be staying there is the first thing to consider.
Your new place and what it needs
Say, you're moving home to Germany and want a fresh start. Sounds like a perfect opportunity to declutter. However, before you decide what is going with you, get as much information about your new place as you only can. Some points to consider:
the type of accommodation
its size
furnishings and accessories available
region of the world you'll be moving to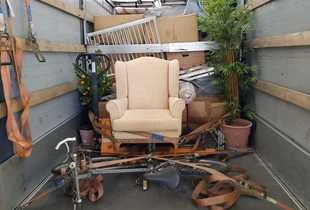 In essence, it all depends where you're moving to. Will you be renting a fully furnished flat abroad or are you moving into a newly acquired property that will have been emptied by the time you arrive? Consider the size of your new abode. Will your furniture fit in there and what is it that you'll really need for your comfort? The size of your new place will to a large extent determine what the bare minimum will be for your move in terms of your belongings.
An electric kettle or a microwave aren't anything in short supply, but, perhaps, the new flat will not have a coffee machine and yours cost you a bit. Or the stores. They may have some sentimental value for you – a Christmas present from your beloved grandmother. Have a thought. It is entirely your decision.
Moving to Greece from the UK will have a massive bearing on the type of household appliances you'll be taking with you. There simply may be no use for those thick, heavy rugs from your living room. Likewise, the outdoor furniture you've relished for so long in the UK may need to stay in the garden, as moving it will turn out too costly and there are local alternatives that are simply more practical to use. Do you need that worn out, heavy garden table in Greece, or will you get a new one locally?
The bare necessities
Replaceable items aside, we've all got our favourite things we use in different situations. Or ones that have an emotional value t us. At this point, it is crucial to define what your bare necessities are. Again, whether these are some essential household appliances you can imagine parting ways with, or your dear pieces of artwork, or even items of clothing, at the end of the day, the decision lies with you. Downsizing your inventory will likely generate some income, as you can sell or donate some of the stuff you won't need any more. Eve if it is that state-of-the-art, 60-inch plasma telly of yours. Why not sell it and get a nice upgrade locally? Since you're turning a page in your life, why not turn a few at once?
Quality vs. value
Finances are an important factor to consider while moving internationally. At this stage of decluttering, it is necessary to calculate how much you'll spend on shipping your belongings and whether it is worth the expenditures.
The bottom line is that instead of draining your pocket on moving non-essential clutter, you may really get a few extra quid by selling some of that stuff. Needless to say, the money can be reinvested into more practical things abroad that'll be better suited to your new reality. Don't forget that donating some of your stuff will have a good energetic value. Just sell what you will not need and let go of the rest. Your UK furniture will surely be of use to someone in the neighbourhood. Just a thought.
Regulations, restrictions and bans when moving abroad
It is instrumental to carry out thorough research into what may actually not be allowed in your new country of residence. Assuming you're planning removals to France, Germany, moving to Spain after Brexit or moving into other EU location, it will most likely be impossible to import weapons – if you have any. In an attempt to protect biodiversity, different countries will impose a ban on importing plants or even some dangerous breeds of animals. The same will be true of drugs and medications. Whole they may be legally available in the UK, countries such as Germany may have different regulations in place that will either ban importing some substances or require a fair amount of paperwork to do so. You know where you're travelling to – have a look at government websites for more information on banned and limited import products. Better safe than sorry.
Posts-Brexit customs duties and taxation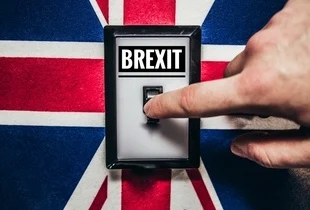 In the post-Brexit days, it is no longer possible to just chuck a bunch of things into your van and unload them once you have arrived. Anything that leaves the UK is essentially "exported". Likewise, arrivals of shipments into the EU comes down to "importing". What does this mean? Clearing goods at customs and paying relevant customs duties and taxes on the imported goods. There are, of course, work-arounds. A good example is the Transfer of Residency into the EU. If this is where you'll be moving, you will not need to incur any extra costs for importing your belongings with you. Here is what you need to present at customs while entering the country of your new residence:
an itemised packing list of all the goods being imported that will include information about their value and approximate date of purchase
proof of non-EU residency status spanning the last twelve months prior to arrival
documents confirming ownership of the imported goods for a minimum of six months prior to arrival
confirmation of the commencement date of residency in the country of choice
Prepare a detailed packing list
An itemised packing list of all the goods you'll be importing into your new country of residence is a must. Yes, it has to do with customs duties and taxation, so Customs will want it. So will your professional moving company, if you're getting helped.
Your list should include information on the most accurate value of those possessions of yours that are going with you. So now that you know what you'll be bringing along, work out a detailed description of your inventory. Make a few copies for al the parties involved, e.g. your movers.
A man with a van or removals company?
Depending on the size of your removal and the time on your hands, it may be a good idea to consider getting professional assistance. Hiring a professional removal company or local man with a van team means less stress for you. The market offers many tailor-made international removal services, ranging from partial removals to full household removal operations. In short, you may take care of some of the processed yourself or have the whole job done for you door-to-door. Give your local removal company a call to discuss your removal and see what they have to offer. It's so much easier, given that they know the ins and outs of the business and can do the paperwork for you. Don't forget to compare man and van firms to get the most affordable services.