Removals to Poland
Moving boxes, furniture transport, man with a van hire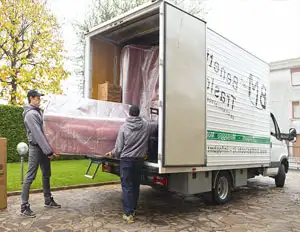 Are you after a professional but at the same time cheap boxes, furniture or full house removals to Poland? We offer deliveries in both directions UK to Poland and back. We also deliver to anywhere in Europe.
We speak both Polish and English which gives us a huge advantage over other movers that are monolingual. Thanks to our communication skills and daily UK to Poland removals we have managed to build a network of movers in both countries.
For example if you are moving from London to Warsaw we will pack and load your goods but we will send to Poland just the driver. In Warsaw our friendly Polish movers will unload, unpack and reassemble your furniture. Other removal companies would send the whole crew from the UK to Poland and would charge you both ways. We send just the driver and charge one way only which makes it much cheaper for our customers.
So if you need to transport a single item, have a few boxes or want to send the entire house content, commercial goods or heavy machinery we will find an affordable solution for you. If you are moving to a remote location we will compare UK and Polish removal companies to get you best moving service at most competitive rates. We have different sizes of removal vans which can be provided to you 24/7 with a very short notice. Usually we need just 2 hours to organize a moving van for you. For that reason there are many companies that use us in emergency situations for one way van hire to Poland. We offer a professional goods in transit insurance.
With us your goods are in good hands. We can send boxes from Birmingham to Poznan, transport furniture from Glasgow to Krakow, offer removals to Warsaw from London, Liverpool, Manchester, Edinburgh, Aberdeen and from all the UK. And the same moving services can be offered from Poland to the UK. We offer last minute pallet delivery from Warsaw to London, urgent house removals from Wroclaw to Bristol, heavy haulage from Szczecin to Sheffield, frozen food transport from Olsztyn to Leeds, man with a van to Warsaw, etc.
Poland is in European Union and there is not customs. You can import or export your household goods tax free as long as you are relocating.
We also offer excess baggage to Poland, express courier services, pallet delivery and refrigerated fish, meet and other food transport. Compare our UK to Poland shipping costs against our competitors. We are very confident that you will agree with us on our prices being very competitive. We know how much removals to Poland should costs. It takes us just a few minutes to calculate the moving costs for you. Our delivery time for one way van hire to Poland is just a few hours and the transit time is about 24 hours from the collection. We provide next day delivery for any UK to Poland moving requirements.
UK to Poland movers
If you the search for the man and van company to help you with perfect home and office furniture delivery to Poland from the UK we are what brought you here, you are welcome. Relax because you have actually gotten to the right place. Here is the place where you can hire the best one way man and van to Poland from the UK, Ireland, Dublin, Belfast, Cork, Limerick and more. We can boast of being the cheapest and also the fastest growing home and office movers to Poland.
We work with very competitive rates, which is actually one of the reasons why no other removal company has ever beaten us on price. Now, there is a removal service you will cherish from us. When you find any quote that is cheaper than what we offered to you, just come back to us and we will be glad to offer even further reduction to you. Our UK to Poland moving charges are directly proportionate to the size of your removals and they accommodate the cost of diesel when you have a removal to an area that is more than 5 miles radius away.  We wait to get your call, so that we can roll out the best removal service for you. Contact us to compare Polish removal companies to move you back to the UK. Apart from Poland and other Eastern destinations we also offer one way van hire to Malta from Poland.
What do we do?

Our major function is to engage in large and small scale office and home removals to Poland for all clients in London, Bristol, Glasgow, Warrington, Preston, Stockport, Crewe, Chester, York, Newcastle and all the UK. Our areas of specialization include single item removal for properties like freezers, pianos, sofas and also full or large scale removals of the entire house or office from all London and other areas of the United Kingdom. There is a consensus among our removal expats that it is not all our clients that can do it by themselves.  Because of this, we can assist you to take care of the entire move, from the disconnection, dismantling, and packing of your furniture and electronics at your current home and unpacking, assembly and installation of those at your new home. Last minute UK to Poland one way van hire companies take care of your valuables like gas cookers, washing machines, and many others. For the overly bulky furniture items, we have teams that can dismantle them if they fail to pass through the door of your house, only to assemble them inside the house. If you give us the leverage, your entire house will be set for you. You may also like removals to Germany from Poland.
How do we operate?
When you need our removal services, all you need to do is to contact our agents through our given numbers and email addresses. With this, we will get you to fill our UK to Poland house moving quote form with which we will generate the instant quote estimate for your reposed removals.  You have to be handy with some information like the size and dimensions of your properties and your location and destination addresses for us to be able to generate the unbinding quote for you. After looking at the quote, you will decide whether to work with us. When you accept to work with cheap Polish removal company, you will give us your instructions, and we will dispatch our team to your given address. If you have a large move, we can also increase the number of our staff to 2 or more for you. When our team arrives to your location, they will be ready to help you all the way, walking your through the entire removal process and also helping you with the loading and unloading of the given items.
Our areas of coverage
We cover all UK and Europe and more. We have best rates for removals from London to Warsaw, Wroclaw, Poznan and Krakow. But it does not end there. There are many other areas that we also cover, and they include Wandsworth, Birmingham, Tooting, Sheffield, Putney, Woolwich, Plymouth, Birmingham, Leicester, Richmond and Bromley. We also cover the entire Kent, Surrey, Wimbledon and Croydon. It is also good for you to know that we are not stuck in London and the UK alone. We also pick up and deliver to other European nations like Belgium, Greece, Northern Ireland, Germany, Spain and France, inclding also man and van San Marino services.
Polish man and van companies

If you have other destinations in mind but have not seen them in our mentioned list, do not think that we do not offer removals to those. The list above is not in any way exhaustive, so just give us a call and state where you want us to deliver for you in Poland, the UK, Europe and other parts of the world, and we will be glad to serve you properly.
Our moving rates
One of the high points of our top man and van to Poland company is the rates. We take pride in the fact that we offer the best of services at very competitive rates. This is our integrity and it must be preserved. This is also why we make a price promise, something no other firm will ever offer you. The promise is that whenever you find cheaper removal offers for the same route, come back to us and we will offer even cheaper rates. We will always beat the price here. Simply phone us to compare UK to Poland moving costs for your boxes and furniture delivery. You have no excuse not to call us for your removals today. We work with a cheerful and friendly team, and they will be happy to talk to you and serve you. Here you can check rates for man and van to Holland from Poland.
Low cost man and van services from UK to Poland
Before we  go ahead to tell you about our amazing offers, just bear in mind that all the goods and properties we transport in our vans are highly insured with full and comprehensive coverage against all sorts of theft, fire, damages, and others. Whether you want to move large or small items, we will provide hassle free solutions for you. With our insurance guarantees, your mind will be put at rest when you hand over your goods to us, and we also charge a fixed rate for our UK to Poland house removals services.  For all the families and business that are domiciled in the Bournemouth area, we are here to provide removal services at its best. We are renowned for this, as we have been offering these services for a very long time. We do not hold any bars in our services, so people that have special requirements and those that simply want to ask questions and make inquiries about removals should call us. We will be glad to answer them and clarify their worries even when they are not hiring us. We are proud of our records because we have successfully relocated hundreds of homes and offices from and to different locations here. Book cheap last minute Poland to the UK removals 24/7.
Guarantee of 100% on time delivery service
We can tell you that the level of furniture transport service we offer is one that no other Polish man and van company in this area will ever match. They have not succeeded in matching it and will not succeed because we are always innovating and improving. For over 25 years, we have been here providing house removals and clearance to numerous clients. Because of this, we have more experience than many other moving companies around.
Again, we do not accept anybody who applies to work with us. We only employ staff through a very rigorous selection process. They are properly trained before they are handed tasks and they also receive on-the-job trainings as they progress in the moving career. Because they are aware of the health and safety standards of work, they are in full grasp of what it means for a single item to damage during removals, so they work with extreme care and professionalism to avoid this.  Because they are experts and professionals to the core, our staff will always be punctual, and they come on uniforms with properly designed company IDs. We also provide removals to Belgium from Poland.
Self-hire vs. man and van services
Many people often put up the comparison between self-service and our cheap UK to Poland man and van services. But the fact remains that this comparison will never fly, as it is practically impossible. When you hire our man and van service, you will definitely pay higher than what you would pay when you hire vehicles and do it on your own. But our services will see our man helping you with most of the lifting, loading and unloading of the items, which you may not know how to do in the real sense.
However, when you opt to hire a vehicle, there are many other things you should note, and they include:
There is no insurance for the goods you are transporting in the hired vehicles, so you bear the responsibility for any loss or damage of our items
All the fuel costs will be paid by you. This is different from hiring us for the service where the fuel cost is included in your charges
Most of the companies that offer vans for hire will normally close for work by 12 pm every Saturday, which means that if you use the van beyond 12 pm on Saturdays, you will pay for 2 days. You have to realize that you will most definitely complete the removals within few hours, so paying for 2 days will be a very huge waste or money on you.
Most of the hired vans are not equipped with the normal GPS navigation systems, unless you make extra payments for these. But when you hire us, the vans we will serve you with all come with the GPS system, and with this, all delays are overcome and items delivered on time as scheduled.
The most important one is that you will do the lifting and loading all by yourself or with the help of family members. In the process, you can injure yourself or damage the valuable heavy duty furniture items, and this is absolute penny wise perm foolish, instead of hiring urgent removals to Poland to do everything for you professionally and ensuring that there are no damages. We offer very cheap prices, and you are free to compare our services and prices with those of other companies and get back to us. Here you can read about man and van to Sweden from Poland.
Our professional local services pricing
We offer services at the rate of as low as £15.00. However, there are nuances in prices according to the weight, size, and the amount of items being moved. When you need more accurate information about this, you should contact us and we will offer you the no obligation quote.
What is one way man and van hire to Poland?
One way Man and van removals to Poland or the man with a van is an acronym used to describe the process of picking up an item from one location and transporting and delivering it to another.  Now, the history is that most people will go out there, hire a taxi and ask the driver to offer these services to them. However, taxis are out to transport human beings only, therefore they do not like the hassles involved in this service. They have limited spaces in their car and therefore can only take one or a few number of items.
The pressing need for a removal company now crops up. But the well-established removal companies will come here, look at your small belongings and because their huge trucks and Lorries have to be fuelled and transported, and their staff paid, they will charge you for a full scale move. This is the situation that gave birth to man and van, and it is meant to breach the huge divide between the taxis that can only offer limited services and the full scale removal firms that can offer more than what you need.  They offer the removal of small and light or even few items without the huge cost of a full scale removal firm and the insufficiency of using a taxi.
What do we move from the UK to Poland?
We move lots of items of different categories, including:
All your white goods at home
Office equipment
Large aquariums and fish tanks
Beds and mattresses
Large pianos
All types of antiques
Furniture items
Computer equipment
One way van hire to Portugal from Poland
We offer cheap moving solutions for:
People that are on benefits
Local distinct councils
House and office letting agents
Business customers
Domestic customers
Local borough councils
Why you should choose us
Our services are on for 7 days of every week
We work with properly uniformed staff
We work with a fixed pricing system
All your goods are insured
We also offer van hire at cheap rates
We have more than 20 years of experience
Removals to Luxembourg from Poland
House removals to Poland from UK
We offer professional house removal services to Warsaw from Manchester, London, Birmingham, Glasgow, Edinburgh and from all the UK. But we do not only offer house removals, we also delve into some other logistics that are needed in the domestic and commercial markets. Polish movers have been here in the UK and Ireland for many years, and during this period, we have provided logistic business solutions to companies and individuals, and have helped them solve many of their problems. They always attest to the experience they have in our hands as very pleasant. Because of this, we have lots of running contracts with some of the biggest firms here, and also get a lot of repeat hire from others.  All you need to do is to get to our website and interact with us about any business or individual problem you have.
House removals
You will certainly pass through a lot of stress when you need moving to Poland due to Brexit.  But when you employ us, we will make the move very smooth for you. This is irrespective of whether you are moving a flat, a full family or a 5 bedroom apartment. What we will do is to come in with proper planning and organization to make the process a hassle free one. Emergency removals to Poland work only with vans that are fitted with cargo nets, trolleys, ratchet straps, and all the tools that will help in simplifying the process and for easy dismantling and assembling of that huge furniture in your home.
Student removals
You will always be excited when it is time for you to leave your home and move to the university. But this is also a daunting task. We have succeeded in moving to Poland many students to their universities in Manchester and other surrounding areas. We also bring them back during vacations and when they are through with their studies. Check our web-page about man and van to Denmark from Poland.
Office removals to Poland
One of the toughest projects you will embark on as a manager is to move premises. However, no matter the size of your business, we will move it. Do you want to transport your huge  2000 square meter warehouse to Poland or are you looking to take that small shop towards the end of the next street? We will help you to actualize all these.
Single item delivery
We also offer the pickup and delivery to Poland of single items at very cheap rates that will amaze you. When you need to move your huge freezer to the other end of the town or when your sofa is needed at the new house, we will help you. In some cases, we will deliver this with third parties, but not without adequate caution to ensure they do not get into the wrong hands. And to this, we ensure that a signature is given.
Logistic contracts and regular delivery services
One way van hire to Poland removals offer lots of one off and logistics solutions to many of the blue chip businesses around here. When you hire us for this, you will definitely get the most professional services ever. This is the practice that has gained us the most repeat hire in the industry. The fact that we always keep to deadlines makes these huge firms to fell in love with us. Most of the businesses we work with have their goods arriving at specific dates of the month. This is the period they need pick up and transportation, and we are always there to honour our contracts with them.
Emergency courier services
The fact is that the success and otherwise of many companies depends on deadlines and timing. We also understand that there may be documents, parcels, and paperwork that must be delivered to Poland at particular points in time. We offer the most efficient courier service delivery for these. We are always ready to serve you even when the notice is coming very urgent. We serve at the shortest possible notice because we are ever ready. We have successfully moved important signed documents to London and taken light generating sets to construction and railway repair sites even in the dead of the night. This is how effective we are.
Property clearances
We work with a waste disposal license from the environmental agency in England and Wales.  So all the wastes coming out from your home can be handled from us, and we will dispose and recycle this according to the environmental regulations of the state. We do both outdoor and indoor clearance works. We will either give you a quote before we start or we work according to hourly rates, depending on the one you choose.  For abandoned warehouses, bereavement clearances, fly-tipped wastes, commercial clearances and old tenant clearances, all you need to do is to contact us. We also offer removals to Austria from Poland
Vehicle recovery
We also have a partner company that offer vehicle recovery services.  We offer breakdown and recovery of all types of vehicles in and around the Europe. Visit our website and get better information on this or call our agents for more enquiries.
Living in Poland
This article is very important to all the British people who are currently living or are planning on moving house to Poland and those who wish to come here. It is filled with information about education, health, benefits, residence requirements, and may more.
Introduction
This guide contains a lot of beneficial information for all the British nationals that are resident in Poland. It contains advice about health, education, residence requirements, and many more.  You may not get more information about general lifestyle here. But most of the links you will see in the article will take you to where you will enjoy such details.  You should also look out for information about the things the consulates can do for the British nationals and what they cannot do.
Disclaimer
We are placing this information here for general guidance and it is strictly based on what we were able to gather from the embassy as presented to them by some of the authorities in the country under discussion. So they may be changed at any time without prior notice. The British embassy, coupled with the FCO does not take any form of responsibilities for inaccuracies in the information to be given below. When you need more details or when you need to be sure about some other things, you have to contact the local authorities for this.
Health
Any British national that are moving to Poland with an authorization to receive healthcare under the rules obtainable in the EEA, would also be qualified to access free healthcare services whenever they are on medical grounds from the country's National Health Fund (NFZ). When you need medical treatments under this arrangement, you only need to walk into any medical establishment where a doctor who is under contract with the NFZ is operating and show them you're European Health Insurance Card (EHIC). If you do not have this, then you must show a replacement certificate in place.  When you do, you may be referred to special diagnostic tests or to another hospital or specialist by the doctor you consulted.  The doctor on the other hand can also offer you a prescription.
Whenever you want to see a specialist here, you must move to Poland with a referral from the GP. However, when you need to see specialists in areas of dermatology, dentistry, obstetrics, psychiatry, oncology and eye issues, you will not need any referrals. Again, individuals with some special conditions will also not require any referral to see a GP. The conditions include: a HIV positive person, a person suffering from Tuberculosis, a persecuted person, casualties of war with wounds, alcohol addicts, psychoactive substance abuse patients and narcotics abuse people who are receiving treatments. Just for the sake of humanity above all laws, in cases of sudden illnesses, injury, accidents, intoxication, and other dangerous and life threatening situations, people are given the necessary medical attention and benefits without any type of referrals. The dental treatment in this country is not covered by the health scheme, so you have to pay for this.
When you have any type of medical emergencies in this country, all you will need to do is to dial 112 or 999 or help. You can also move directly to any hospital around you and get into the emergency and accident department. When you have such issues, ambulance transport for you is completely free of charge. But you have to show the European Health Insurance Card (EHIC) or its replacement certificate equivalent.
Polish Education system
This country has an educational system that is highly developed, and it is run by the state. The height of this wonderful system is that even foreign nationals that moved to Poland from the UK are allowed to attend school free of charge in this country through this scheme.  However, because of the fact that these state schools only teach in Polish language, the non-Polish families can send their children to international or private schools where they would be instructed in English language. Most of these private schools are situated at the capital city named Warsaw. This includes the British school. Some are located in other cities like Łódź, Wroclaw, Gdansk and Krakow. Public universities and private schools for higher education in Poland all offer instructions in English language. But in most cases, you have to pay for the programs that are taught in English language. If you are a student moving to Poland we can help you with your removals requirements. Read more about removals to Norway from the UK.
Recognized qualifications and employment
All citizens of EU member states will not need any form of work permit to work in this country. If you need more information about jobs and employment, coupled with the qualifications that are recognized for these, you will need to check with the Recognition of professional qualifications - Enic-naric.
Urgent 2 men and van to Poland from UK
If you are searching for a low tariff express one way van and driver to Poland from UK you are on an attractive site. For us no order is too mini or too stupendous! Our responsible, long distance UK to Poland one way man in the van give away any class of move: personal effects moving to Olsztyn from Bath, cheap one way city man and van to Kalisz from Salisbury, special offer carrying of bicycles to Płock from Londonderry, express sideboard delivery to Kielce from Stoke-on-Trent or transferring house content to Bytom from Manchester. We also do man and van to Slovakia from Poland.

Our high-class decent moving firms offer affordable, last minute one way van hire to Poland from England, Switzerland, Spain, Luxembourg, Portugal, Holland, France, Austria, Scotland, Ireland, Gibraltar and from all Europe.
Email us at your earliest convenience to learn how much it is for same day one way man, van and driver to Poland from UK. Compare urgent one man and a van costs from Peterborough to Toruń, Worcester to Tarnów or Winchester to Rzeszów, Legnica, Zielona Góra, Zabrze, Katowice and other within a short period of time.
Our half-priced UK to Poland 24/7 one way removal van for hire could be used for forwarding 6, 15 or 25 parcels, caskets and boxes for moving to Opole from Exeter, 22, 300 ft3 of movables and retail cargo for short notice removals to Włocławek from Southampton, next day express one way man and van to Szczecin from Liverpool, long distance freight and heavy load transport to Poznań from Sunderland, cut-rate truck and heavy items freight forwarding to Wrocław from Wakefield and etc..
Compare cheap removals to Poland from UK, Denmark, Germany and Italy. Our last minute removals companies would relocate your cardboard boxes for moving, container, commercial products from Cologne to Gdańsk, deliver second to none same day one way moving van hire from Paris to Ruda Śląska, forward fireplace grate, two-seater sofa, dehumidifier and single beds from Madrid to Częstochowa and offer urgent removals to Poland from Vienna, Bucharest, Sofia, Naples, Berlin, Rome, Barcelona and different. Compare average one bedroom home or one or two and six bedroom house relocation prices from recognised 24/7 and short notice one way van hire to Poland moving firms offering removals to Ukraine from Poland.
Next day UK to Poland removal van hire
The relocation solutions that we take care of are not limited to the bought for a song and next day one way van hire to Poland from Edinburgh, Coventry, Lichfield, Norwich and Birmingham and all the UK. Our skilled, best and express UK to Poland cargo forwarding companies have the experience to cope with and cater for:
Packing materials, packing and relocation
Office clearance removals - storage units, office furniture, warehouse racking, machines
24/7 fish and sea food, freight collect and transport to Poland from UK, Belgium, Wales, Germany, Spain
forty ft, dry van and 20 foot container shipping to Poland from England, Switzerland, Spain, Luxembourg, Portugal and all Europe
Storage company, file storage, file storage
Effective office files shredding solution
Office clearance
One way van hire to Italy from Poland
Last minute UK to Poland one way van hire estimates
Reputable 1 bedroom abode and 2 or 4 or 4 bedroom flat long distance removals Poland to UK, Inverness, Cambridge, Leeds, York, Derby, Hull and more.
Obtain and examine free of cost cheap delivery van hire to Poland quotations. Review free last minute one man and his van approximate rates for sending 3 or 1, 11 or 45 great cardboard boxes, bedside table, small chest, filing cabinet (3 drawer), cooker, water heater, bamboo furniture, blanket box and outdoor plants. Compare online same day removals to Poland from Plymouth, Carlisle, Sheffield, Swansea, Stirling, Newport and all Britain. We operate miscellaneous brands of urgent moving lorries for rental - Combo type, LGV Box, 7.5 Tonne GVW Box, 3.5 Ton Box, 780 cubic feet, 3.5 Tonne Luton with Tail Lift and more. All our 24/7 one way van hire to Poland from Holland, France, Austria, Scotland, Ireland, Gibraltar, Denmark and all Europe carry out very good crates, pedestals, folding table, fridge, refrigerator, personal effects, everyday-use property and garage contents shipping services at bargain and short notice van rental costs. Our moving companies will never lament they are prostrated, ready to drop or that the undertaking is too colossal.
Whether you target to compare next day Tychy to Stockholm removals, Dublin to Budapest one way man in a van hire, Bialystok to Warsaw lorry, bike or car shipping, Krakow to London express pallet or cargo moving or Bielsko-Biala to Hamburg long distance removal auto hire our cheap removals UK to Poland after Brexit, our home and office removals firms will be favourable to send the goods.
How to move to Poland?
If you are moving from the UK to Poland or from any of the European Union member states, you will not need any visa. But whenever you are coming in with the intention of staying for more than 3 months, all you need to do is to contact the Department of Foreigners. You can make this contact at their Voivode office where you will register your Polish address. You can also enquire about permanent residency in Poland from this office.
Benefits in Poland
Poland has social security systems for general and compulsory use, and they include:
Unemployment benefits
Family benefits
Health insurance
Insurance against occupational diseases and accidents at work
Maternity and sickness insurance
Invalidity pension
Old age pension
Social security
The social security system covers almost everybody under active employment over some selected risks. The coverage extends to the employees, their family members, and people that are self-employed.  The people who need this should be reported to the social insurance by those that pay the contribution, the self-employed, the clergy and the individuals. The social security system in this country will give exactly the same level of converge to both the EU and Polish citizens. Information from the Polish Social Insurance Company (ZUS) brochure or that of the European Commission will offer more clarifications on this.
Poland touring tips
Carrying your original driving license with you are in Poland is one of the legal requirements.  You move around with this and other things like your ID, insurance papers, ownership certificates and original vehicle registration papers. Whenever you want to cross the non-Schengen borders and when you are stopped by the police, they will demand for this.  This is applicable to when you move around with rented vehicles too.  Your vehicle may be impounded, while you may be charged for failure to provide these. There are local technical requirements for all the vehicles that are driven in Poland, and yours must meet this too. You must use seat belts in the back and front seats of these vehicles. When you move from the UK to Poland and you drive a car your car lights must be on all through the year whether it is day or night. You cannot use your mobile phone while driving. In all the built up areas, the speed limit is always pegged at 50 k per hour unless with special notice.
By the end of April 2007, all the low beam headlights must be on whenever you are on the road. This applies to the motorcycles too. Whenever you get to the zebra crossing, just know that the pedestrians must be given priority. Because of this, you must stop the vehicle once you see any pedestrian crossing. You will be charged if you are caught jay-walking. You can only cross at the mapped points, and you will be fined when you are caught crossing at the inappropriate places.
Poland started implementing the collection of tolls on some of its express ways and motorways as at July 2011. You have to seek for details of this if you wish to drive here.
Driving in Poland
Poland is not that far away from Great Britain. For example It takes only 20 hours to move from London to Warsaw, Krakow, Szczecin, Poznan or Wroclaw. If you need anything very urgently our last minute cheap one way van hire to Poland from the UK can be booked at a very short notice and we can deliver pallets, frozen food, boxes, furniture, machinery, documents the very next day. If our cheap van and driver for hire to Poland drives all night your goods can be with you within as little as 18 hours. Poland has a very strict law on driving under the influence of alcohol. The limit here is pegged at 0.2 mg/ml which is much lower than the average in the EU. Here, it means that you should't drink more than a unit of alcohol if you want to drive. This means a complete intolerance for drinking and driving. You can be heavily fined or even imprisoned if found guilty of this. The same thing is applicable to cycling and biking. The strong advice when you arrive here is, do not drink and drive.
Finance
People who own homes in Poland pay taxes based on their total income here. This is irrespective of whether the income is earned in Poland or not.  This makes the tax obligation unlimited. But those who do not own their homes are taxed according to the level of income they earn in this country. This means limited obligation in polish taxation.
Same day / next day removals to Poland
If you are managing a contemporary and halcyon removal cardboard boxes, goods and personal belongings removals from the UK to Gdynia, Dąbrowa Górnicza, Gliwice, Koszalin, Łódź, Rybnik or to any area in Poland we have a tremendous info for you. Wherever you are our last minute one way delivery van for rental might be prepared to send your things. We have the expertise to drag most types of stuff, wares, boxes and other load for both individual and remunerative patrons.
For household purchasers our one way moving trucks for hire are professional enough to market:
Express two or four bedroom apartment moving firms to Bydgoszcz from Lisburn, to Elbląg from Belfast, to Warsaw from Durham, to Radom from Brighton, to Wałbrzych from Westminster, to Sosnowiec from Gloucester and from all the British Empire
Short notice man with van removals to carry small fridge, double bed, magazine tack, air conditioner, wine glasses, extra suitcase and other belongings.
Bought For A Song short term storage and off site data and goods storage
Budget full three or four bedroom semi-detached house removals to Poland from Germany, Italy, Belgium, Wales, England, man and van to Lithuania and all Europe
Parcel packing service for furniture removals at discount fees
Cheap some specific gear, 8, 14 or 35 cheap removal boxes, baggage delivery to Poland from Milan, Brussels, Munich, Prague, Cologne and many more.
Shipping to Greece from Poland
Urgent worldwide shipping unpacking services and European money transfers to Poland from Switzerland, Spain, Luxembourg etc..
Next day auto, bus, and moped transportation
For business customers our same day one way removal vehicles for rental have the right equipment to complete:
24/7 commercial removals - IT, server, filing supplies, business forms, video conferencing
downtime service level agreements, complete resource and infrastructure and a rack design services
Last minute refrigerated and palletized goods removals to Poland from Portsmouth, Dundee, Chester, Aberdeen, Cardiff and similar.
Secure mobile document destruction
Office furniture disposal
Same day one way van hire to Poland from Portugal, Holland, France, Austria, Scotland, Ireland, Latvia and other.
Express frozen food and chilled food moving to Poland from Paris, Madrid, Bristol, Vienna, Bucharest and etc..
Factory removal - wood lathes, jointers, compaction machines, graders, spares & manuals and different
Short notice one way man van to Gorzów Wielkopolski from Bradford, to Chorzów from Canterbury, to Lublin from Leicester, to Olsztyn from Oxford, to Kalisz from Preston and more.
Our transport firms have the resources to supply you with a thorough, superb and proficient clues and instruction on hiring urgent one way man with a van hire removals from Poland to the UK and back. You will get a free 1 man van proffer based on real buy local shipping prices.
Settle rough delivery truck hire rates to Poland from London, Sofia, Salford, Naples, Lincoln, Gibraltar, Denmark, Germany and all Europe. Peg down how much is to rent 24/7 hire a man and a van removals to Poland from UK. Relocate your bench saw to Dublin, move settee to Dublin, collect and deliver glass furniture to Pock, ship bench to Kielce, deliver oven to Bytom, transport washing machine to Toruń, send scooter to Tarnów, pick up and ship vehicle to Rzeszów, move meat and fish to Legnica and collect and deliver short notice fish and sea food to Zielona Góra at standard costs and be satisfied. Our Poland to UK moving vans for hire could also move freezers, chest of drawers, freight and pallet and other chunky, copious and awkward furnishings at low-priced prices. We also provide removals to Cyprus from Poland.
Our next day hire a van can possess: polythene double covers, brown tapes, chainsaws, TV boxes, packing paper and many more. Apart from extra luggage, baggage and house and garden items removals to Poland from UK we also cater for express removals of multiple samples of big fiscal and bartering manufacturing machinery. We are in position to move furniture to Zabrze, transport drain jetters to Katowice, haul steel working machinery to Opole, deliver buckets to Włocławek or carry military engineering vehicles to Szczecin.
Whether you desire to ship 3 or twenty removal boxes, just a couple of items of electronic equipment or are having a browse around for a full four or three bedroom house removals firms to Berlin from the UK and all Europe we will be pleased to move your private goods.
Bringing medications into Poland
To avoid running into problems with the custom officers when you move house to Poland from the UK, you must always carry a note from your health provider which explains any prescription drug you want to enter into Poland with. If you are moving around with drugs in Poland, there must be a label from the pharmacy or hospital that issued the drug to you on the drug container. On this label should be written your full names, the name of the pharmacy, and the name of the drug given to you, the dosage and the prescription copy from your doctor or the person that prescribed it.
This information is also beneficial in terms of lost or stolen medication. You also have to document the generic and trade names of the drugs alongside the prescriptions. You may discover that some of the herbal and homoeopathic products, dietary supplements and over the counter drugs you use in your country are illegal here. Some may require prescription unlike what obtains in your country.
If you have the need for syringes and needles for your medications, you also have to come with a note from the medical provider or your original medical certificate. You may be in serious trouble if you are found with needles and syringes on the streets without explanations.
Get more information about these from the information centre of the custom services of Poland.
Pros and cons of moving to Poland

One of the greatest overseas adventures you will enjoy in life is living in Poland.  However, you have to make it adventurous for yourself because it can also be so challenging to the locals and foreigners alike. If you know nothing about Poland and does not have any root here but simply decides to relocate to Poland and live in this country, it may be a very difficult learning curve for you.  However, it's not something that cannot be done. One another hand, those expats that have seen it all, working in places like the Middle East and some Asian nations, however, may feel very much at home with this place and see it as a haven for them.
Accommodation in Poland
Pro: Affordable and always available
Warsaw the capital city of Poland has very affordable accommodation when considered alongside other EU cities and countries.  When you move away from Warsaw, it becomes even cheaper for you. On the other hand, you also have to consider the fact that Poland has a very low salary scale when making the comparison. But people who work with international firms and earn good money will obviously find good homes at very good prices. Poland has cities that are fairly populated, so you will always find a fitting place for you to live according to your taste, and based on the level of accessibility to good transportation. If you are moving to Poland from the UK before Brexit and need and fast, reliable, cheap one way man and van hire we can help. Our Polish movers will transport anything from 1 box, single item of furniture like 3-seater sofa, a chair, storage cabinet, fridge, washing machine, dining table or a piano to a full house removals to Poland from the UK.
Pro: Realtors who speak English
You will also enjoy the fact that most of the real estate agents speak English. This will help you to understand them well and to be able to give them the specifications of what you need. However, this may cost you more than the other non-English speaking agents will charge.

Con: Limited space and small apartments
The type of houses here are mostly apartments, and they are not spacious enough. So, you may be surprised at the amount of space they use for housing. You will see cases where the entire family is living in a 40 to 50 square meter house. They have this rule where the living room is also used as a bedroom. They do this with their fold out couch which they use as bed at night. You may find out that you are not used to this type of small space. So if you think of taking your furniture to Poland please first make sure what size your new home is going to be as your large corner sofa may not fit it.
Con: Furnishings are not always modern
When you opt for a furnished apartment at the areas that are cheaper, then you should be ready to make do with something not good enough. Even people who do not mind the interior of their homes will most definitely find the ugliness of the furnishings very hard to swallow.
Con: Complicated security systems
When you get to the suburbs, many of their apartments are locked with multiple keys and passwords. Most of them even have security guards who do not speak English language. Most times, it would be difficult for you and your friends to get into you. You can only get into the house by penetrating these perimeters.
Cost of living in Poland
Pro: Inexpensive when compared to other countries in the EU
When you consider the cost of getting our basic effects like public transport, eating out, shopping and others, you will discover that they do not compare to what is obtainable in other EU nations. They are lower here, and this includes house rents. Also, things like taking a bottle or glass of beer in a pub or bar, watching movies in small cinemas will cost you less than you will pay in other places.  But when you go to the big cinemas, you will pay fees that are more expensive than what it is in the other western countries.
Con: Petrol and clothing is costly
There is always the complaint from the citizens and even expats that items like new clothing and petrol are much costlier in Poland than in other western European nations.
Poland's lifestyle and culture
Pro: Normal European culture
When you relocate from the UK to Poland you will experience a culture and lifestyle that is the same with what you will experience in every other European country. Because of this, people coming from other European countries can easily make friends and build relationships and acquaintances.
Pro: Vibrant entertainment and night life

When you get to the cities of Poland, you will experience very lively and vibrant modern life. The urban areas will offer lots of food events, talk shows, concerts, exhibitions, music, and film festivals. There are also many galleries and museums to enjoy. The summer period is one that is highly enjoyed in the county, and during this period, everyone in Poland always tries to get outside and enjoy the long awaited sun. This season has a lot of wonderful activities to engage in, and they include kayaking, windsurfing, mountain hiking activities, camping, seaside visits, and biking.
Pro: Multilingual country
Another good aspect of coming here is that the younger generation can mostly speak other languages. One of the advantages is that most of them learn to speak the English language, and they also learn much about world events.
Con: Lots of bureaucracy
When you are dealing with government department and older people in some arenas here, you will experience a lot of the ancient communist customer service and bureaucracy system that has permeated the nation. When you are out there making efforts to get your work permits or residency sorted out, you will witness a lot of people in government offices who will not be willing to help. And this is where we can be of some assistance too. As our UK to Poland boxes and furniture movers speak Polish they can also help with filling out any type of documents. This is mostly noticed in the older women in this country, and you will most likely find them in the low cadre customer service roles in supermarkets and government agencies.  These lots will derive joy in making your life more uncomfortable.
Con: A lot of work presser and high working hours
This is a country that believes in work. Because of this, the citizens work very hard, and you will notice that they spend a lot of time at work. So, when you move to Poland from Ireland, Scotland, Wales or England, you have to come with the disposition because you may end up in a company that upholds this culture. The simple and steady jobs that come with good salaries witness a lot of competitions, and this normally brings about fructuous relationships between workers at the workplace.
Con: Huge Winter
The issue of winter here is that no matter how you cherish chilling conditions, you will discover that the shortness of the day and the fact that you have to stay indoors most of the time is actually very unpleasant. People who own homes in countries that do not experience winter should just take off to those areas. There are years when the winter season takes as much as 6 months here, and because of this, most of the population runs away from the country. When you plan house removals to Poland do not forget to include worm winter clothing as the temperature can fall up to - 40 Celsius degrees.
Con: The language
Now, one thing we cannot deny is that it is difficult for you to walk some miles in Poland without meeting someone who can speak the English language. But this does not apply to the older generation. So, when you move to Warsaw, Krakow, Opole, Gdynia, Legnica, Zielona Góra or Lodz, it is always good to have a layman's idea of the polish language for effective communication.  Now, I can authoritatively tell you that this is one of the most difficult languages you can ever learn. If you are Anglophone, learning the polish language will be a task. If you are the type that is good in languages, then you can commit a lot of errors, got laughed at several times, only to discover that you have not even gotten conversational after one year of learning the language. However, if you end up learning the language or when you show progress in learning it, the locals will love you, and they will always applaud you for that. Most people who come here do not even learn the basics of this language until they are done with their stay here. That's how difficult it s.
Healthcare in Poland
Pro: Private health care is inexpensive and of the highest standard

Poland offers the best healthcare you can ever think of in the entire world. The highest calibre of medical staff and medical equipment are found even at the smallest health establishments. When you compare the private healthcare with what is obtainable in other countries, it could be said to be cheap. People who work in international organizations and in some Polish firms will have the cost of private healthcare covered by their employers.  You can easily see English speaking doctors that will serve you.
Con: Long queues in public healthcare
The public healthcare system of the country is an ancient system that has too much to carry. This is why you should not pray for this to be the only Medicare you will use in this country. If that happens to be the case, then you have to be ready for awkward situations when you have to wait for up to 1 year to see a specialist. This is possible.
Con: Poor bedside manner for doctors
The doctors in this country lack a lot of bedside manner, and you may witness a lack of sympathy from them. They are still not at home with progressive ideas when it comes to the handling of patients, proper update to their patients, and birth plans. If you compare this with what you experienced in USA, Australia and other European nations, you will shout pathetic. You should expect such bad attitudes as impatience ad brusqueness in both public and private health establishments, especially when you try to complain.
Con: Bad Hospital food
If you have the bad experience of staying over in the hospital, then you should be prepared to have as low as a bread and gruel as your meal. Always make arrangements for your people to bring food to you all the time.
Education in Poland
Pro: High standard of education
People who move to Poland with family have no fears about the standard of education they will get, because it is always top quality.  It was in 2012 that the BBC made a report that placed the reading scores of Poland on international education assessment test as being above what is obtainable in countries like Germany, Norway, house removals to France, UK and the US.  They engage in lots of educational reforms from time to time, and that means a lot of improvements are brought in.
If you will like an international school for your kids, most of the universities in the cities offer this. At the university level, there are some courses that are treated in English language for those who wish.
Con: Little emphasis on individual development and overcrowded public schools
There are normally large class sizes in the public schools here, and in most cases, trying to maintain and enforce discipline takes the time that learning would have gotten. The teachers are almost not well paid, and because of this, their morale can always get low. They pay more attention to success through their tests and examinations and not on the development of critical thinking and analytic skills and creativity. Because of this, children will normally run away from trying new things so as to avoid failing. This does not encourage innovation and inquisition.
Here you can learn about one way van hire to Bulgaria from Poland.
Transport in Poland
Pro: Affordable and developed public transport

Most of the cities here have comprehensive transport systems that are well developed. Most of these cities, including the capital city of Warsaw also run city bikes, and you are free to pick them up and drop them off in some designated places. If you need to book a moving company in Poland you will not have any problems in finding one. There are many small and large man and van companies that are friendly and always happy to help you move your excess baggage, suitcases, boxes from or to the airport. They will also carry out a full house removals from Poland back to the UK for you.
Around the country, you will enjoy well developed transport systems that are also very affordable and properly developed. You will also be amazed by the fact that bus lines are available even in the remote small villages. Though the buses may run few times each day, but they serve the ultimate transportation purpose.  The rail network is well developed and it offers train transportation to all the major cities of Poland and even from Warsaw to the other European nations and back.
Flights that come into and go out of Warsaw make use of the Okecie Airport. This is located at the downtown side of the city and can save you the stress of using other airports that are very far from the city.
Con: Petrol is expensive and road infrastructure is not developed
If you plan to drive a car from the UK to Poland you must know that some of the roads here are properly developed highways. But majority of their major routes, for instance the major road from the city of Gdansk to Warsaw is simply of single lanes in opposite directions. When you consider the wages of people here, you will realize that it is costlier to own a car here than in the USA and other western countries. Some of the train and bus routes only come alive during some seasons. So you may face limited options when you want to get to the mountains or the coasts out of season.
Welcome to our Poland to the UK transport services
Poland to the UK delivery companies serve you without any form of hidden charges, and we offer free quotes at your home and in your office. This is to say that even when we come to your home or office and conduct the survey, we will still offer you the quote or estimate without any obligations.
We are a family owned man and van removals in Poland and run business that specializes in the offering of all types of home and office removals and clearance services. When we belong to an organization, it is because we know the benefits to you and our moving services. That is why we are proud to tell you that we are part of the CHECK A TRADE for better services.
We started with simple cheap one way man and van UK to Poland , and have succeeded in building a business that is focused on giving 100% to the customers. This has made it possible that 70% of your contracts are from clients who are rehiring us and people coming on recommendations from our clients.  We also work with many local firms in the entire United Kingdom. Now we also offer man and van to Spain from Poland.
We also provide adequate storage services to you through our partners.  This means that you can enjoy the entire services surrounding home and office removals from us as a one stop shop, without the rigours and costs of hiring any middle man. So, both people in need of part removals to Poland, single loads, full removals and storage services will enjoy our help.
Our mode of operation makes for excellence. This is because our UK to Poland relocation manager will sit down with you and do a meticulous planning of your move. However, if you want us to do everything without you, we will still come out with the best moving plan to suit the size and nature of your removal.  Polish removal companies work with three different resources that make us the best. They include our fleet of modern vans, a huge selection of trailers and a team that is very hard working. With this, your job will be quickly accomplished without stress and in an efficient and affordable manner.  When you are moving home and office to Poland , you can also enjoy our free advice and free site survey. This is because we don't place money over other things. We charge every fee upfront, and this entails that you don't have any fear of hidden costs arising in the middle of the contract.
We have the centre of our logistics head in London, Leeds, Glasgow, Wroclaw, Warsaw, Poznan and other officers in Berkshire, Guildford Surrey, Slough, Camberley, and Maidenhead.  We are able to cover other areas like Portsmouth Docks, Dover, Surrey – M4 – M25 – M3 – M40, Middlesex, Buckinghamshire, Hampshire, London and Berkshire, and all other areas of the UK. So we are always ready to help you with your local and long distance moves.
When you hire us, we will walk you through the entire removal process and storage in Poland and in the UK. The customer care you will enjoy from our staff is superb because they are trained in proper courtesy and modesty. Now, we are making a promise of treating your properties with utmost care because we are trained to handle even the most delicate and fragile items properly. We are also very swift with our services. You need to call us for your instant quote now. When you have other enquires about the removals, do not fail to contact us too.
Cheap UK to Poland man and van services
Always loved because its expertise, workable insurance and solitude, we have succeeded in building a man and van firm that is known for the unique professionalism on display when serving clients in London. Our removal services came into being some years back. However, the level of trust we enjoyed from the people living in Redhill and its environs spurred us to greater heights, and we got motivated, inspired and encouraged to always offer the best to our people.  We can now tell you that we are actually above every other man and van company in Redhill in terms of services and professionalism. We so have the pleasure to inform you that we have not relented in our struggle to be the best and to offer the best of man and van removal services to our clients. We understand that we must always innovate and improve so as to catch up with the world's industry best practices, so we still come out with solutions to offer absolute care, unique professionalism and seasoned technological expertise to our clients.
Our vision and mission
We have one vision and mission, and that is to utilize every experience we have gained through our long years of service in this industry to offer even better services and expertise in moving your house and office. We also focus on offering the best customer service ever with satisfaction of our clients at the top of our agenda. The use of modern technology, promptness and punctuality at all times, the use of professional packers and movers who have gained the best of moving skills through training and constant retraining so as to bring some revolution to the moving industry is what we practice.
Why you must choose us for your removals
There is always the criticism that the ordinary moving companies here are always resorting to the old and outdated removal methods. This is one thing you cannot criticize us for because from day one, we have always resorted to modern and contemporary policies meant to improve whatever we offer to you in line with current trends in the whole world.  Because of the nature of the revolution we have succeeded in bringing into the removal service in Redhill, we are named the best and we stand on 4 different pillars.
Man and van Poland
Now, we operate our man and van services from the UK to Poland but we also offer moves to other European countries for example we offer one way van hire to Ireland from Poland. But that does not prevent us from covering the entire UK and Europe at large.  At the end of it all, we make sure that our customers enjoy satisfactory work from us.  We are aware of the fact that many businesses will like to relocate their offices to new places.  During this process, there will always be the need to manoeuvre all their assets enclosed finishing, tables, Power-point machines, book shelves, file cabinets, computer sets, other electronic and IT installations, and all other things that are utilized in the office. Last minute UK to Poland transport companies can deliver furniture to Warsaw from London, move full 3 bedroom house from Glasgow to Wroclaw, ship boxes to Krakow from Edinburgh, deliver goods on pallets to Gdansk from Bristol, Leeds, Liverpool or Manchester. We will provide you with the skills needed in dismantling, packing, loading and unloading of these things. When at your new office, we can also help you to assemble, mount and install these and get them working and ready for the next workday. When we serve you, we do this with the latest technology, tools and equipment. You will pay the cheapest amount to enjoy these.
Customer friendliness in all our transport services
Now, many people may not know this, but we have a policy that we do not joke with. This policy may baffle some people, but we adopted it and it has placed us above equals. It is the policy that "customer is always right".  We decided to place it at the top of our priority when we started this Polish removal company 6 and it has been kept till now.  Now, to maximize this and achieve it no matter what, we developed a working atmosphere in which our employees are taught the skills of serving the customers till they are 100% satisfied.  We make everything easy and convenient for our customers, and can even go as far as offering free consultations even when you are not hiring us. With the training we give to our staff, they do not feel satisfied till the customer is satisfied.  Apart from offering cheap Poland to the UK man and van services, we have also delved into removal information. Through our blog, you can gain information about the basic guides, tips and techniques to help you understand the removal process and industry more.  24/7 Polish removal companies offer our cheap man and van Redhill with the intention of taking away the entire stress from our customers and making the entire process hassle free for them. With this, the process is made to be an enthusiastic one, eliminating the fears that make people to renege on moving, even when it is necessary and beneficial.
Punctual one way van hire services and immediate feedback
We strive to strengthen the bond between us and our customers through constant communication and direct conversations. We deal with our clients directly by monitoring our customer service department to ensnare that they are always offering the best at all times.  We monitor these for quality assurance from time to time.  We also monitor the officers to ascertain how prompt they are in taking care of your enquiries and the quality of boxes. pallet and furniture delivery to Poland from London, Aberdeen, Dublin, Belfast, Cork, Nottingham, Derby and all UK you get from them too.  We allow you to place orders through our online forms or through customer service officers, and also to throw any queries you have to them anytime you feel like. We work for 24 hours of everyday to answer your calls and reply your mails.  We will always guarantee the best customer service.
Professional polish movers at cheap rates
Through we work with the best technology and resources; Polish moving companies still manage to make the removal process a very affordable one for our clients.  We work with cheap rates that are very competitive, and in fact lower than what other man and van firms will charge you. We are so versatile and flexible that we encourage our customers to engage in market research, all in the bid to show them that they are clearly dealing with the best. We also encourage research to come out with new removal ideas.  We offer removal rates as low as £40.00 HR for 1 man and van. However, this standard charge will increase by £10 whenever another man is added. So, for 2 men, you will have £50.00 HR and £60.00 HR for 3 men with a van. We are not fixated on anything, so we import removal technologies from across the world and serve you with them, so far as they a good and acceptable.
Professionalism from our employees
We hire only the best and most professional movers to Poland from the UK and Ireland.  Now, during the rigorous recruitment process, all must pass the analysis tests that border on experience, sensibility and the knowledge of using the available removal tools before they are accepted into our team. When we bring them in, they also undergo a lot of training exercises by the senior movers, so as to get them acquainted with the best moving techniques and technologies.
House removals to Poland
We actually understand that your house harbour a lot of goods like expensive interior decors, kitchen utensils, white goods, electronic gadgets ad valuable furniture that you want to transport to Poland from Edinburgh, Chester, Preston, Swansea, Newcastle, Manchester, London and more. Because of this, our movers are specially trained on the best way to handle these items. So, whenever you hire us for your house removals, we will send these experts to you. We also know the huge amount you spend in buying these things, and the love and passion you have developed for them. This is why we incorporate all sorts of care, caution and professional handling techniques when handling these items. This is so as to preserve the care, love and affection you have for these things by not allowing them to damage or get lost. We also offer man and van Switzerland.
We are known to pack all materials and items with special techniques.  Your goods are packed with the best experience and sensitivity. Now, we pack your loads with original and brand new packing boxes that have been checked against handling ability and material quality, and confirmed fitting for each item. The other materials used for the padding and cushioning of the items are also separately selected and used. At the end, your goods and expensive furniture are carefully packed, transported to Poland and unloaded for you without any damages. We pack your items with those materials and boxes that you can easily handle, so as to make it easier and more convenient for you.
Our local Polish man and van to the UK professional removal service only work with trained staff. They have trainings on how to disassemble and assemble your loads. So, all those elegant, fragile and delicate office stuffs are safe in their hands.  Your business move is given the utmost care it demands, so as to make it a new beginning in your success story. In order to ensure that your delicate and valuable office items are carefully transported and delivered, we select our best hand whenever it comes to this aspect. In the same vein, we also select the best vehicles for you too. Compare moving companies to Poland form the UK and find out the moving costs for your house removals to Warsaw, Krakow, Poznan, Wroclaw and more.
Man and van to Poland rates
We offer the highest services at the cheapest rates.  Now, there is only one reason why we charge these cheap rates for your removals. It is because we understand that families that are embarking on a house move do spend a lot of money. So, we tend to help them reduce what they are spending for the removals by charging them less. We offer revolutionary rates through our innovative and world class services. Our rates start from £40.00 HR for 1 man and van and an additional £10.00 HR for any added man.
We have a natural and deliberate working procedure

We always tailor our working methods and solutions to fit into the removal needs of our clients we work with the newest and most effective methods and strategies. We always come up with a team of staff that adhere to our instructions and make the satisfaction of the customers their major focus.  They will move your workplace things with systems that are very unique and distinctive, so as to ensure lack of damage and the utilization of minimal resources.  Our call is for all the companies and organizations around to take advantage of our services that are completely secure and efficient.  We start by planning the move for you, packing the entire item for you, loading and transportation and unloading at the new home or office.  Express man and van to Poland have street runners that ensure perfect security for the entire process.  We will always demand for instructions from you on what you need. When we do, we will stick to the instructions you give to us.  When you hire us for transportation alone, things are placed at your new home or office in such a way that passing them on is easy. This is to ensure zero percent harm when the items will be installed at your new home. Another thing is that we work for you with the best security measures. And we also can offer man with a van to Monaco form Poland.
Our move plans and rates
1 MAN + VAN = 40.00 PER HOUR*
2 MEN + VAN = 50.00 PER HOUR*
3 MEN + VAN = 60.00 PER HOUR*
*Rates may be out of date
These plans will match any type of business and home removal you need. Our 1 or 2 men options are very affordable for you. These plans are meant for all businesses to choose from when they want to relocate their items. With the 1 man 1 van hire to Poland service, you will have a man to help you collect the items, pack them and load them onto the vans. This same man will also help you to unload these items and assist with other things at your destination. They will help to place them at their positions in your home.
House removal can be beneficial
Most times, people have the need to move their home to new locations. In some cases, it could be the relocation of just few items. These may include your television, future and kitchen items.  When you have this need, you will always be on the lookout for maximum value for you money, and therefore you go in search of the cheapest rates that will guarantee the best services in Redhill. Instead of utilizing your hard earned resources to hire firms that are not up to the task, just call us today and we will be there to serve you. We will serve you in a way that is well organized and sophisticated, and yet very cheap for you. You can also check removals to Croatia from Poland.