What Size Removals Van Do I Need
You will have realised by now that moving house – whether domestically or abroad – is no joking matter. It's both time-consuming and stressful, needless to say the whole undertaking can have a draining effect on your pocket. Chances are, your removal is not sizeable and you will be perfectly fine to tackle it on your own.
If a means of transportation is all you need, yet you're still asking yourself "What size removals van do I need?", here is something that will make it easier for you to decide and no extra money on thongs you may be made to believe you need.
Do you need van hire, man and van or removals company?
Whether you will be fine with a man with a van services or need a full household removal service that is unmanageable single handedly will depend solely on the amount and size of the goods that you will need transported to your new location. The distance over which you will be moving is of importance too, as it will determining the cost of petrol needed. The sooner you decide what your shipment will comprise, the better. This way, you will also more time to consider dismantling some of your furniture to minimise its overall size. Start planning your international moving as soon as possible!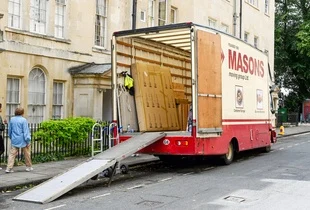 Apart from purely financial aspects, hiring a van for self-drive will have certain advantages over having to rely on a removal company. With an accurately assessed shipment size, you will be able to sort yourself out in a single run. With a hired van parked on your property, you retain a great degree of flexibility. Working to your own schedule – even if that involves some extra work dismantling and reassembling your furniture – gives a lot more freedom than having to conform to an often-strict time schedule or a removal company. It is you who the responsibility for any damage to the goods in transit rests with. It becomes clearer why this is an advantage, once you have had the dubious pleasure of hiring a not-necessarily-experienced partner before. Moving house is fairly complex in itself, so there is no room for extra hassle related to damaged goods and blaming games.
Hiring a van will be your shortcut to economising on your move. Surely, the bulk of the job can get done by professionals, but that comes with costs attached. Surely, the more you shop around the greater the chance for a good value-for-money service.
If you need budget-friendly moving services, you should request free man and van quote. This will allow you to plan your budget and avoid overpaying for transportation of your belongings.
Some inconveniences
Moving hose across long distances may mean some difficulty picking up and dropping off the van. Major van rental companies have their depots in all major cities, including foreign countries, but that is not always the case. Also, hiring a van means the necessity to pay a deposit. That's an extra temporary expenditure to factor in.
Since removal companies offer extra paid dismantling and packing services, it is for you to decide if having to do it on your own is a disadvantage. Today's removals market is fairly saturated and some of the services are below any standards.
What van sizes are there?
Vans come in a number of sizes. Different height/width ratios make for varying volumetric loading capacities. It is important in view of the fact that category B driving licence allows driving vehicles of a gross weight not exceeding 3,5 tonnes. Therefore, depending on the overall size of your household belongings and their gross weight, you may need to choose a suitably sized van, unless you don't care about driving to and from several times in a row.
There are several types of vans used in transportation services that come in different sizes and loading capacities:
medium wheelbase vans
long wheelbase vans
Luton vans
Luton lorries
Short wheelbase
With a volumetric loading capacity of 30 boxes (16 square foot), a medium wheelbase Ford Transit will be the smallest transportation vehicle available for partial household removals. Likewise, these are a good choice for transporting large pieces of furniture that cannot be disassembled and, owing to their size, are easily drivable in tighter city centres.
Next in line is its bigger version. With an extended storage compartment of 3 metres in length, your possibilities of transporting furniture increase. Take measurements of some of your furniture to get an idea of what could fit into the L2 van, disassembled or not. Intelligently packed household effects can fill up the remaining space, thus making this medium wheelbase van enough for your removal.
Let's look how height can be of importance. Medium wheelbase vans come in two heights – H2 and H3. The standard height for front wheel drive vehicles is 1.886 metres and 1.786 metre for the back wheel drive models. This is extra space under the roof that can be filled with soft household items, such as:
bed linens and soft bedroom appliances
hanging clothes transported horizontally
rugs
There can be even more space available with taller vehicles. The H3 models are 2.125 metres high – front wheel drive, and 2.025 metre for back wheel drive models. That's an extra cubic metre of volumetric loading capacity for your belongings.
Long wheelbase
We are getting closer to loading capacities that are enough for moving the contents of a one-bedroom flat in a single run. A more sizeable storage area comes at the expense of manoeuvrability.
The total length of a long wheelbase L3 van is nearly 7 metres. This has an impact on drivability. However, with a whopping 12-14 cubic metres of loading area, an L3/H3 van will be enough for a full removal of a one-bedroom flat with all the necessary household effects. With a number of runs while moving locally, it will be a perfect and cheap solutions even for a larger removal task.
Luton vans and lorries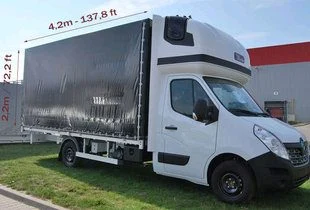 Luton vans are designed for gross weight not exceeding 3,5 tonnes. With a massive loading capacity equivalent to 50-75 square foot, Luton vans are the best and most comfortable solution for moving whole households in one fell swoop. An ideal choice for a smooth full household removal that can be done on one's own. A standard Luton van will have a volumetric loading capacity of 15 cubic metres.
Naturally, some removals may require an even greater loading capacity and cannot be split between separate runs. This is when a 7,5 tonne lorries come in handy. Only this time, a special driving licence will be a must. Their sizes allow carrying out large removal jobs that may not even require dismantling some of the bigger-sized pieces of furniture. Their volumetric loading capacity totals 30 cubic metres.