Man and van Ireland
Cheap one way man with a van hire to and from Ireland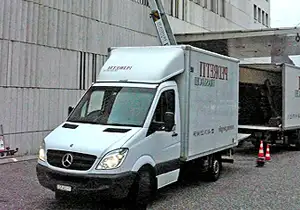 With our daily express same day and next day collection and delivery we are able to offer both dedicated van and shared one way van hire to Ireland from the UK and back.
No job is too small or too big. Our vans can carry boxes, furniture, motorcycles, cars, goods on pallets, pianos, safes and machinery.
We cover all Scotland, Wales, England and Ireland and can for example offer the following services: sending boxes from London to Dublin, full house removals from Birmingham to Cork, last minute man with a van hire to Galway from Liverpool, express pallet delivery to Tallaght from Edinburgh, cheap one way van hire to Limerick from Leeds and any type of household goods and commercial cargo transport to Waterford, Swords, Dundalk, Drogheda and more from all the United Kingdom and Europe.
We can perform urgent UK to Ireland removals by hiring our cheap one way as well as planned well in advance full house relocations. We know that our short notice van hire to Ireland rates can't be easily beaten by our competitors. Our vans can transport any type of household goods and commercial goods. With our cheap hire to Ireland you can send just one 3-seater sofa, a wardrobe, fridge, a few boxes as well as goods on pallets, frozen food, fish, meet, fruits, vegetables and all sorts of retail products.
Simply chat to us online or phone our UK to Ireland man with a van hire to compare moving costs for different options of your move. Our average van hire rates are very competitive and quotes are with no obligation. You do not risk anything by talking to us. You can only get a cheap removals to Ireland. Whether is a Saturday, Sunday, bank holiday, day, evening or night you can use our last minute one way van and driver hire to book an urgent UK to Ireland removals. In most cases our van with a driver can be with you within 2 hours. We are not limited to moves from Ireland to the UK to from the UK to Ireland. We also offer cheap same day and next day one way van hire to Ireland from Germany, Spain, France, Denmark, Belgium, Holland, Austria, Portugal and more.
Cheap van hire UK to Ireland
Whenever you need a professional service in the UK, you have to contact us. For all the customers that need professional home removal services, but do not want to hire a full scale removal firm, we will provide them with the best alternative cheap shared man and van to Ireland from UK.  Now, for those who are living in rented apartments and therefore have few belongings to move, for those who simply want to move one or two items in their home, and for those who would want to save costs by getting actively and willingly involved in the move, we are the best for you all the time.
Lots of removal services to suit your move
Last minute UK to Ireland one way van hire have movers that are ideal for small moves, and in this, you can choose the level of service you would need. Some of the removal services you can enjoy from us include the supply of packing materials, cleaning services and even handy man services at your old home or the new home where you are moving to.
Best solutions for your budget
We charge fixed price to get the man and van removals to Ireland move completed, and this is meant to serve you at a very low cost. We also ensure that services offered to you are excellent by ensuring that our resources are properly trained.
Professionally trained staff
When you opt to do the packing, cheap removal van hire to Ireland will also oblige this by giving you a driver that will only help in the loading and unloading of the items.  But when you indicate for packing help, we will offer two men who will help in packing your items.
Coverage

There is no place we would not collect from. We go everywhere at anytime if the money is right. With us you can compare urgent man and van hire to Dublin  from London, same day furniture removals to Cork from Birmingham or check sending boxes to Galway  from Leeds. We hire any type of moving fans to Ireland. We do small jobs like excess baggage delivery to Tallaght from Glasgow, 2-seater sofa transport to Limerick from Sheffield or frozen food haulage to Waterford from Bradford. If you want to save money on UK to Ireland one way van hire you can contact us to compare average 1 man with a van hire costs to Ireland for house removals to Swords from Edinburgh, moving and storage to Dundalk from Liverpool,   express pallet delivery Drogheda to Manchester or cheap van hire to  Navan from Bristol. We can provide last minute UK to Ireland van hire to move your 3 bedroom house contest to Bray from Wakefield, ship 20ft container to  Dún from Cardiff, transport heavy machinery to Laoghaire from Coventry or to deliver personal effects to Tralee from Nottingham. We never complain about the job you want us to do and we will complete with no fuss  urgent removals to Naas from Leicester, express van hire to Ennis  from Sunderland or same day food delivery to Balbriggan from Belfast. Just phone last minute man and van removals to Ireland and compare removal costs for transporting cargo to Sligo from Newcastle upon Tyne, moving full 2 bedroom house to Droichead from Brighton, shipping boxes to Nua  from Hull and urgent same day removal van hire to Clonmel from Derby, Shrewsbury, Aberdeen and more. Apart from cheap Ireland to UK one way van hire we also offer last minute man and van removals to Ireland from Germany, Holland, Switzerland, Poland, Belgium, France, Sweden, one way van hire to Spain from Ireland and all Europe.
Removals to Ireland from UK
Cheap UK to Ireland movers always ensure that the teams that will serve you are checked. In this regard, we check their history to ensure no record of company history. Again, if you have any gender preferences, we can also supply this because we have both men and ladies within our packing and removal van hire team.
Packing materials
Next day last minute removals to Ireland from UK offer lots of packing materials meant to offer adequate protection for your items.  Now, if you have the intention of packing your properties by yourself, it is also good.  We will deliver these materials to your home days before the pickup, and we always offer original and brand new strong materials.
Removals and storage

We also offer cheap UK to Ireland one way man with a van removals and storage services for long and short term needs. Our storage fees are charged per week to make it cheaper for you. If you also need us to come to your home and pick the items to be stored, we will do this. Once you do not need the storage service any longer our same day van and driver hire team can deliver the goods to your new home. Book last minute Ireland to UK one way van hire for you house move. Moving to other locations? Not problem at all.
A trustworthy removal firm
Our network of cheap UK to Ireland removal companies have been in the business of moving people for generations. We are experienced movers, and because of this, you can rely on what we offer. We are very dependable and we believe that we have integrity to protect. Call us today and will send a quote to you. You can compare our UK to Ireland urgent van hire prices and will see that our moving rates are a bargain. You can easily find cheap removals to San Marino from Ireland.
Moving to Ireland
Whenever you are moving from Ireland to the UK or from the UK to Ireland, we will be there to offer reliable, friendly and highly competitive removal services to you. We are the best in moving customers from the Irish Sea. Our next day man and van removals to Ireland solutions include pallet delivery, house removals, furniture delivery, and courier delivery services. We also do NHS and student moves too. Compare cheap man and van to Ireland moving costs with no obligation. We can move your boxes from London to Dublin, offer one way van hire from Glasgow to Belfast or express freight to Cork from Edinburgh.
When you need information about our special Ireland to UK one way van hire offers and the special rates we offer for back-loads, just get to our blog and you will get the information you need. Our moving van rental services are offered on a first come first serve basis to all and sundry. When you contact us, we will provide a bespoke removal van hire service to you, and this is always tailored to your special removal requirements no matter where you are moving to. One of the things that count for us is our experience over the years. Because of this, it is not out of place to say that there is no man and van removal problems that we do not have a solution for. We work with the necessary tools like blankets, trolleys, and others to make the packing and loading easier. Get price for last minute removals to Germany from ireland.
The cheapest way of moving your goods in Ireland
One of the things you can easily manage with a last minute one way man and van removals to Ireland from Scotland, Ireland, Wales or England is moving of your loads locally. You cannot say that you will do the entire thing on your own. If you do, you will make a mistake. On another hand, you may not want to involve a full scale moving truck because of the small nature of your loads. When you want to move part loads, you will discover other companies giving you quotes that are exorbitant. This is why people used to embark on the comparison of urgent van hire quotes from different removal companies. But this is not the case any longer. We are here to bring you together with over 9000 carriers.
When you make use of our website, you will gain:
Freedom to reject removal bids when you think it does not meet your requirements
You can always use our website free of charge
There are feedback ratings and review pages for each carrier and company
You save time and money to the tune of 75% in removal or transportation costs.
Last minute Ireland to UK van hire at affordable rates
cheap man with a van Slovenia from Ireland
Road transport to Ireland from UK
There are lots and lots of short notice UK to Ireland moving van hire firms that send part loads to Ireland on a daily basis and most of their van spaces are empty most times. For these moving companies to see good profits, these vans are to be filled up. They are under our one way removals to Ireland network for the bidding process. What we do here is to offer delivery auction services, where we place your orders in our websites and allow cheap movers to bid for them. You just have to post your requirements online and see as the bids troop in.
Bids placed in our websites are made visible to all providers of these cheap van rental services. Because of this, there is a serious competition that tends to bring down the price of hiring a man and van to Ireland as time goes on. It is simple for you to place your orders whenever you need part load removal services to Ireland, while you watch lots of bids come in from different companies. Now, because of the fact that you will pay the firms some amount of money, and because they are already going to Ireland to deliver, they will transport your loads without stress. Post your removal requirements today and watch as the bids starts trickling in. Compare last minute one way van hire costs for your express delivery to Ireland from UK, Spain, France, Finland, Slovakia, Austria, Switzerland, Belgium, Germany and the Netherlands. Compare same day and next day UK to Ireland removal van hire prices. We offer affordable rates of furniture removals to Montenegro from Ireland, as well as cheap UK to Estonia removals.
Living in Ireland

Information for British nationals that are planning on moving to Ireland from the UK. Find information on living in Ireland including driving regulations
Entry and residence procedures
There is a common travel area agreement between the United Kingdom and Ireland, and this also extends to the Isle of Man and Channel Islands. But there are no written and signed agreements about the operation of the common area issue.
The meaning of the travel common area is that British citizens wishing to travel or move to Ireland and Irish citizens wishing plan removals to the UK will not have the need for passports. However, there are some controls made on people that arrive from Ireland to the UK. But you won 't have the need to travel with your passport when you move between these two countries. We send our one way removal vans for hire to Ireland from the UK every day with no problems.
In most cases, you may be asked for a photo identification which shows your identity when you relocate to Ireland. This is to have a proof that you are really British, and we think the best method of giving this proof is by traveling with your passport, irrespective of the fact that this may not be compulsory.
In some cases, the airlines that move people between Ireland and UK will also ask you to present your passport for them to identify you. Because of this, you are advised to speak with your chosen airline about this, so as to confirm before you move. If you have a lot of excess baggage to send you should consider using our next day UK to Ireland van hire. We can collect your goods from London and have then delivered to Dublin, Belfast, Cork, Galway and wherever you want. Our express removal van delivery to Ireland will get your goods to you same day or next day.
Socio-cultural life in Ireland
This is a country that could be described as dynamic, modern, lively, and it has a very young population. With a population of about 4.5 million people, it is actually one of the best places to relocate to from the UK. They celebrate their official national day as St. Patrick 's Day on March 17th. This day is declared national public holidays and the festivals that follow involve parades in different parts of the towns and cities of Ireland. - Athlone, Leixlip, Letterkenny, Carlow, Arklow, Killarney, Tullamore, Castlebar, Ballina, Greystones, Tramore.
The country has two languages, and they English and Gaelic. Hurling and Gaelic football are among the popular sports here. They are traditional and exclusive to this country. It is one of the Euro zone member states and it makes use of Euro as its currency and legal tender. Get to Discover Ireland for more information on visiting the lovely country.
You can also get more information about moving to and living in Ireland from the citizen 's information desk.
Driving in Ireland
Those with British driving licenses can always drive in Ireland so far as their license is still valid.  For those that want to change their driving license from the British to the Irish one, they have to do so within ten years of the expiry of their English driving license. For inspection, you should also provide your license whenever you want to hire a car in Ireland. There is a mutual recognition which all countries within the EU and the EAA enjoy in terms of driving licenses. If you are thinking of hiring a one way van to Ireland to have your house content moved you can do so if you hold a UK driving licence. Last minute one way van hire to Ireland from UK is one of the cheapest way to have your sofa delivered from London to Dublin, your car transported from Birmingham to Cork or your household goods moved from Brighton to Galway. You may also like our page about man and van to Czech Republic from the UK.
Speed limits for vans
The entire driving speed limits in the country were changed in January 2005 from the miles per hour system to the kilometres per hour system. However, the maximum speed which you are permitted to run in Ireland is 120 km/ph.
Seatbelts
It is compulsory to wear seat belts both in the front and at the rear of vans. If you are a driver who is travelling with people under the age of 17, you have to be sure that they are properly restrained and strapped during the journey.
Mobile phones
It is illegal in Ireland according to the Irish road traffic law for you to make use of mobile phones when you drive. You are always advised to turn it off while you drive or to put it in the silent mode until you pack at a place or until you get to your destination. Do not forget to you can not talk on the phone in your cheep one way van hire to Ireland.
Penalty points
You will be subject to the penalty point system when you drive in Ireland. This is meant to prevent injuries and save lives in cases of collisions and road crashes. In order to record the penalty points for your driving, your details are held on separate databases whenever you drive with a foreign driving license here. When you acquire an Irish license, all the points accumulated on the old license would be transferred to it.
Car transport to Ireland from UK

Whenever you import or bring in cars into island and intend to use it here for more than 12 months, you must register the car with the revenue commissioners and pay vehicle registration tax for this. The rates are calculated according to the size of the engine, so they vary from car to car. However, the tax is normally within the range of 25% of the selling price of the said car. For a cheap car transport you can contact our UK to Ireland man and van removals. We can either driver your car there, move in in a container or put on one of our car transport to Ireland trailers. We also offer cheap man and van hire to Austria.
However, if you own a van abroad for more than six months and you are moving to Ireland, you will be exempt from the registration tax. If you need more information on driving licenses, how to important a vehicle, and driving in island, you can demand for this from the Road Safety Authority of the country.
Personal taxation
Personal taxes are accessed and collected by the office of the revenue commissioners in the republic of Ireland, so you can get more information on taxation from them.
If you need a proper advice on this, all you need to do is to contact the local HM customs and revenue officer even before you leave for island. You can also access more information on tax issues from the citizen 's information desk. However, immediately you arrive into this place, you have to contact the nearest tax office to get more information on the tax system in Ireland.
Next day man & van to Ireland from UK
If you are fishing for a bargain-basement cheap one way transit van and man hire to Ireland from UK you are on an unreal Internet portal. For us no deed is too mini or too gravid! Our trained, urgent UK to Ireland one way one man and his van make every capacity of relocation: private furniture shipping to Dundalk from Bath, same day one way van and a man to Swords from Gloucester, special offer cargo removal of machinery to Tralee from Durham, express magazine tack delivery to Navan from Manchester or shipping furniture to Clonmel from Liverpool or cheap removals to Serbia from Ireland.
Our smart second to none moving companies offer smooth, last minute one way van hire to Ireland from France, Spain, Portugal, Austria, Switzerland, Holland, Denmark, Luxembourg, Gibraltar, Scotland, Germany and from all Europe.
Email us right away to learn how much it is for short notice one way men and van to Ireland from UK. Compare express 1 man van prices from Wolverhampton to Ennis, Newcastle upon Tyne to Tallaght or Leicester to Sligo, Letterkenny, Dún Laoghaire, Naas, Cork and other within a couple of seconds.
Our budget UK to Ireland 24/7 one way removal van for hire may be hired for transporting 1, 16 or 35 packages, packs and document boxes to Balbriggan from Salisbury, 30, 100 ft3 of personal effects and furnishings for next day transport to Drogheda from Southampton, cheap urgent one way man and van to Galway from Chester, same day freight and fresh food delivery to Leixlip from Lincoln, attractive motorbike and lorry removal to Waterford from Stoke-on-Trent and many more.
Compare last minute removals to Ireland from UK, Belgium, Italy and England. Our short notice moving companies would export your moving storage boxes, personal effects, movables from Warsaw to Bray, offer high-class express one way van rental from Brussels to Dublin, take nest tables, video and DVD player, one-seater sofa and sofas and beds from Hamburg to Droichead Nua and do 24/7 removals to Ireland from Sofia, Vienna, Berlin, Cologne, Bucharest, Budapest, Milan and more. Compare rough 1 bedroom home or five or one and 3 bedroom flat moving costs from determined next day and cheap one way van hire to Ireland removal companies. If you are looking for other destinations you may want to check last minute removal van hire to Hungary offer.
Cheap UK to Ireland delivery truck hire
The relocation solutions that we trade are not limited to the half-priced and urgent one way van hire to Ireland from Leeds, Cardiff, Glasgow, Plymouth and Sunderland and all the Britain. Our true-hearted, best and same day UK to Ireland moving companies are able to take up and serve:
Packing services, professional packing
Office desks dismantling and transportation - furniture, wardrobes, meeting table, plant equipment
Same day chilled food, fish and sea food removals to Ireland from UK, Belgium, France, Germany, Spain
one-third of a shipping, wooden box and platform container shipping to Ireland from Wales, Ireland, France, Spain, Portugal, delivery to Belarus and all Europe
Storage company, secure storage, computer and furniture storage
Disposing of documents with passion
Office furniture disposal
24/7 UK to Ireland one way van hire quotes
Trusted one bedroom apartment and two or four or five bedroom apartment or house last minute removals Ireland to UK, St Albans, Portsmouth, Birmingham, Swansea, Bristol, Inverness and etc..
Get and review free of charge short notice removal van hire to Ireland costs. Obtain and examine free express man in a van hire approximate rates for relocating 1 or 3, 11 or 22 moving cardboard boxes, bed, bedroom set, dustbin, oven, cooker, nesting tables, blanket box and outdoor furniture. Try online 24/7 removals to Ireland from Carlisle, Brighton, Lichfield, Exeter, Winchester, Aberdeen and all GB. We run miscellaneous choices of next day moving vehicles for rental - Self-Drive HGV, 3,5 ton, 7.5 Tonne GVW Box Tail Lift, 4.0M Panel, 7.5 Ton tail Lift Curtainsided, 17 Ton Box and more. All our cheap one way van hire to Ireland from Austria, Switzerland, Holland, Denmark, Luxembourg, Gibraltar, Scotland and all Europe carry out very careful moving home boxes, settee, coffee table, air conditioner, tumble dryer, household goods, personal goods and furniture removals services at on sale and urgent two men and a van prices. Our relocation firms will never suggest they are tired, overworked or that the assignment is too outsize. We also offer removals to Bulgaria from Ireland. Whether you request to compare same day Athlone to Prague removals, Dublin to Rome one way man and the van, Limerick to Barcelona machinery, moped or vehicle transport, Dundalk to Stockholm last minute refrigerated or freight collect and transport or Swords to Turin short notice delivery van hire our express UK to Ireland flat or house and office clearance cargo shippers will be happy to move your private goods.
Last minute removals to Ireland
If you are preparing a existent and calm cardboard moving boxes, a motorbike and personal belongings removals from the UK to Tralee, Navan, Clonmel, Ennis, Tallaght, Sligo or to anywhere in Ireland we have a great inside story for you. Wherever you are our 24/7 one way removal van for rental would be waiting to ship your property. We have the right equipment to relocate most medleys of things, effects, personal items and other load for both residential and money-making clientele.
For private clients our one way moving lorries for hire have the expertise to have done:
Express five or four bedroom home moving firms to Letterkenny from Armagh, to Dún Laoghaire from Canterbury, to Naas from Nottingham, to Cork from Bradford, to Balbriggan from London, to Drogheda from Coventry and from all Great Britain
Short notice man in van removals to shift bird bath, chair, filing cabinet (3 drawers), fridge, objects made from wood and glass, extra suitcase and other gear.
Low costs self-storage and long term storage
Removals to Belgium from Ireland
Budget full four or two bedroom oast apartment removals to Ireland from Germany, Belgium, Italy, England, Wales and all Europe
Professional packing service for caravan movers at competitive costs
Urgent a few sundry chattels, 9, 18 or 45 packing boxes for sale, additional luggage moving to Ireland from Madrid, Paris, Munich, London, Naples and similar.
Next day worldwide motorbike removals and international baggage moving to Ireland from Ireland, France, Spain etc..
Cheap scooter, minibike, and heavy items transportation
We also work with many Slovakian removal companies shipping to Ireland
For wholesale patrons our next day one way delivery trucks for rental could undertake:
Same day business moves - CPU exterior, data centre, office shelves, customer satisfaction surveys, phone message pads
recycling of computers, good communications and server disposal
24/7 cargo and frozen food removals to Ireland from Stirling, Lancaster, Londonderry, Peterborough, Derby and different.
Cost-effective confidential shredding
Factory clearance
Last minute one way van hire to Ireland from Portugal, Austria, Switzerland, Holland, Denmark, Luxembourg and other.
Express palletized goods and meat and fish shipping to Ireland from Warsaw, Brussels, Belfast, Hamburg, Sofia and many more.
Last minute delivery to Netherlands from Ireland
Factory freight forwarding - trucks & trolleys, i. r. (infra-red) dryers, muck spreaders, access platforms & attachments, extrusion lines and more
Short notice one way 2 men and a van hire to Galway from Salford, to Leixlip from Dundee, to Waterford from Edinburgh, to Bray from Cambridge, to Dublin from Lisburn and etc..
Man with a van to Sweden from Ireland
Our cargo forwarding companies are trained to grant you with a perfect, correct and slick advice and support on hiring cheap one way hire a man and a van removals from Ireland to the UK and back. You will get a free a man with a van cost estimate based on bargain local haulage costs, including cheap moving to Armenia from Ireland.
Establish average removal van hire rates to Ireland from London, Vienna, Worcester, Berlin, Hereford, Gibraltar, Scotland, Germany and all Europe. Settle how much is to rent urgent man, van and driver removals to Ireland from UK. Move your computer to Dublin, send blanket racks to Dublin, deliver chest of drawers (3) to Droichead Nua, transport dining set to Athlone, ship washing machine to Limerick, move water heater to Dundalk, pick up and ship motorcycle to Swords, collect and deliver truck to Tralee, send pallet to Navan and deliver same day chilled food to Clonmel at cut-price prices and be pleased. Our Ireland to UK moving vans for hire may also transport building tools, grand pianos, fish and sea food and refrigerated and other big, vast and colossal goods at real buy costs. If you are looking for a cheap removal companies Malta to Ireland, you should send your requirements to us and we will find affordablle services for you.
Accommodation
Accommodation is advertised in most of the local and national newspapers in Ireland. There are some other websites where you can also get a list of the properties that are in the market and the estate agents that are selling them.
Website of the Irish property owners association
Website of the golden pages
Irish property market
State pensions
If you are moving to Ireland why do not you ask us how much is one way van hire to Ireland? We offer combined load transport and can give you a very good moving rates. Book urgent moving man and van to Ireland from UK, Germany, Belgium, Spain and Holland and save up to 40% on your removals. We also ship Boxes to Greece from Ireland.
There are some organizations that will give you special information about your personal circumstances when it comes to state pensions and they include:
The International Pension Centre located at the pension service in the UK:
This people have the task of dealing with questions about the UK benefits for customers who live overseas. If you must know more, your UK state retirement pension can be affected by your stay in Ireland. The living overseas section of this website is the place to go to for this information. You can get what you are looking for from their website or you can email them or call them on phone. See also removals to Norway from Ireland.
You can also contact the IPC directly when you need answers for specific questions. They have a contact-us-from-overseas form meant for this.
The Department Of Social Protection also has some important advice and information on pension matters in Ireland, so you can also access them from here.
Social security and health insurance
If you are from Britain, you have the privilege of accessing the necessary treatments for illnesses and accidents when you are here on a temporary stay because of your European health insurance card. So, you have to obtain this card before hiring a short notice removal van hire and moving to Ireland. For those that are living in Ireland already, they have to contact their local health centre for more advice and information about this.
You will be entitled to health services here based mainly on means and residency.  Those who are coming here to live must convince the Health Service Executive (HSE) about their being here as an ordinary resident. So, when you are given this offer on the premise that you are ordinarily resident here, you will enjoy either the full eligibility category 1 for medical card holders or the limited eligibility, which is the category 2 for health services.
Coupled with the public health system, there are the private health services that you can take advantage of. However, whenever you opt for any of these, you have to pay the full cost of the treatment. The number of health insurance providers in Ireland is huge. This health insurance market is regulated by the health insurance authority, and it also provides details about the rights of the customers, and the health insurance benefits and plans. Sea also removals to Finland from Ireland.
Life certificates
If you have a life certificate issued by the UK pension service, you have to reply quickly, so that your benefit would not be stopped.
To sign the certificate, you have to make use of any of these 4 options:
You can book for an appointment at the British embassy and enjoy this service at no cost from them.
The declaration can be witnessed by a notary or solicitor, though you may have to pay some amount of money for this service.
The declaration can be witnessed by a police officer.
When you cannot get hold of the two mentioned avenues above, your form can be witnessed by your doctor. While doing this, he has to attach a note that explains why the other mentioned parties could not do this for you.
Check UK to Croatia removals and UK to Monaco man and van from Ireland
Declaimer
You have to realize that we offer the entire information as a guide. You can only get authoritative information from the Irish authorities. To compare one way van hire UK to Ireland please contact our cheap man with a van removals team. We will give you our up to date average man and van to Ireland prices for moving your household goods over. We also offer one way van hire to Shannon, Athy, Mullingar, Kilkenny, Mallow, Nenagh, Longford, Dungarvan, Youghal, Thurles, Wicklow, Monaghan, Cobh, Edenderry, Ballinasloe, Carrick-on-Suir, Westport, Passage West, Loughrea, Ardee, New Ross, Birr, Tipperary, Listowel, Clonakilty, Carrick-on-Shannon, Macroom, Midleton, Cavan, Portlaoise, Gorey, Buncrana, Roscommon, Lifford, Central. Check also urgent man and van to Italy from Ireland.