Packing Tape To Seal Boxes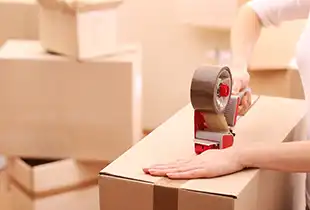 The truth about moving is that the main problems and task lies in packaging, and we have discovered overtime that you cannot package effectively without the use of good brown packing tapes. This is why we offer you all sorts of good packing tapes. The simple thing about overcoming the hassles of moving is that for you to ever get it right, you must come with the right tools and equipments. You need the packing tapes that eventually may turn to the most important moving material if you are moving by yourself. The tapes we sell come to you packed and installed in a very beautiful and effective tape dispenser. Because of this, you will be able to cut out the exact size you need and tape without any qualms.
If you are moving with our man and van team, you can either choose our full packing package, or alternatively you can do the packing on your own - in that case you can get professional packing tape from our company at affordable prices.
How to use packing tape?
When you want to use any of our packing tapes, you have to get the starting right, and here, make sure there is one strip that is gluing the two flaps of the top of the carton or box in place and together. After this, put two more strips on the bottom and top of the box, and get them stationed at some 9-0 degrees to the original tape or strip. With these two strips, you will comfortably seal the box and it will not open along the way to destroy some things.
However, for you to achieve these effects, you must place the tapes with a tape dispenser, so that it will be properly pressed down on top of the box. This is very important if you must enjoy effective service from the tape. You must apply with a tape dispenser.
However, on a general note, you need to have an inventory of all items in the box before you move. You also need to label each box with a bold marker. Label with a number and place the labeling on your inventory.
There are different sizes of tapes. The heavy duty 2 Rolls of 2" x 110 yards come with a tape dispenser. There are also the 4 Rolls of 2" x 110 yards tape. Others are the 4 Rolls tape for Bath Room, Bedroom, Living Room, Kitchen, etc. The next are 12 Rolls tape, the 9 rolls tape, the 6 rolls tape, etc.